We have all colored many coloring books as kids, and still, deep inside, we crave more. Coloring apps for adults are greatly de-stressing and a way to unlock inner potential despite how busy you are with life. Unlike coloring books for kids, adult coloring pages are filled with designs that bring instant calmness, like Mandalas, homely food, nature, and much more.
When you choose digital coloring over traditional coloring, there are many benefits. In the former, you can choose from an unending list of themes that suit your moods. In fact, you don't have to go searching for books and pencils; the apps are equipped with everything you will need to beautify your art pieces. Professional artists can even make use of the best drawing tablets to express themselves better.
15 Best Adult Coloring Apps To Relax Your Mind
Most coloring apps include color by number games, where you can tap and fill the space with the designated color. The apps are great for improving your motor skills while taking you to a high-life condition. You can download them from Google Play Store or App Store and start coloring immediately. Besides the apps for coloring, the best drawing apps for Android also give you the same calming experience. Here are the best coloring book apps you can try today itself.
1. Happy Color
Be happy with coloring apps like Happy Color that calm and relax your mind. It is a paint by numbers game where you can paint digital art. The app has a partnership with Marvel and Disney, allowing you to bring to life your favorite characters from them. You can choose a picture by tapping it and simply start coloring.
Another reason you would want to choose Happy Color is its varied art templates that tell stories of different cultures around the world. If you are stressed or anxious, the anti-stress effects of the picture collection bring a lot of positivity into your life.
Price:
Happy Color is a free coloring app. However, you can also make in-app purchases starting from $1.99.
Get Happy Color for iOS / Get Happy Color for Android
2. Color Therapy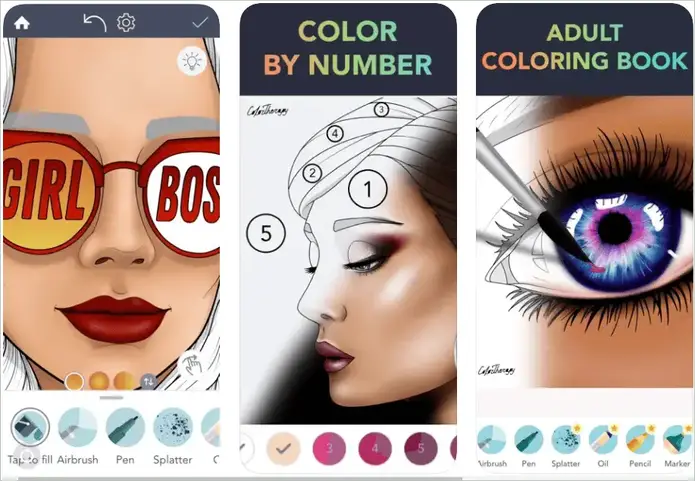 Color Therapy is a social coloring app made popular by millions of adults. It gives you the deserved 'me time' to immerse in mindfulness. Here, you will find over 5000 coloring pages in several themes, including Mandala, Animals, Art, Food, Fashion, and more. In addition, you get a whole color palette library with gradients and solid colors to beautify your images.
You can mix and match the palettes like neon, metallic, pastel, vintage, and ombre to give birth to amazing pieces. For serious artists, realistic brushes like oil painting and airbrushes give a real coloring experience. Believe it or not, you can also have some calming music for free in the app.
Price:
Color Therapy is a free version with in-app purchases starting from $0.99.
3. Pigment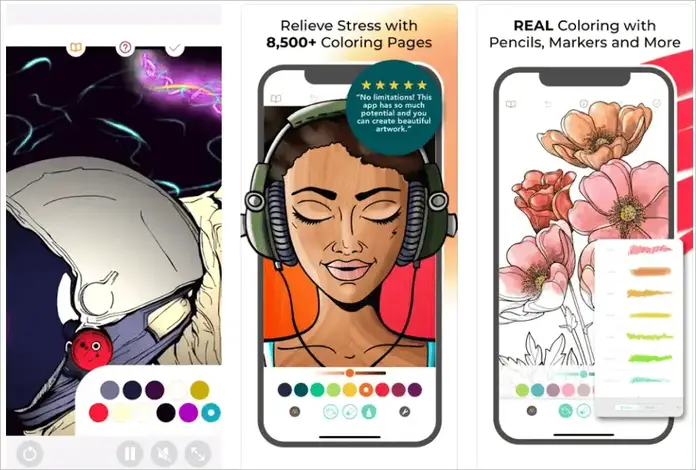 With thousands of coloring pages to fill, Pigment lets you draw, paint, and color to express yourself creatively. While many other coloring apps come with limited coloring tools, about 29 brushes, markers, and pencils are available here. These make way for a real painting experience as if on paper. You get new pages daily and new books every week.
Choosing Pigment lets you have an elaborate sketch with realistic coloring or go for tap-to-fill when in a lazy mood. The color wheel presents endless colors you can experiment with. You can even create your own color palettes and enjoy your time. Then, go to the Pigment Gallery to share your masterpieces and view others'.
Price:
You get a 7-day free trial after you can get premium subscriptions.
Get Pigment for iOS / Get Pigment for Android
4. Colorgram
Colorgram is a coloring book app that suits all ages. So, you can create great memories by coloring with your kids or friends. It comes with over 2500 pages, and you get new pages every single day. Choose your pages from mandalas, florals, patterns, and more to unleash your creativity.
Colorgram has more than 500 flat and gradient colors you will love. And want more? You can even create custom color palettes to give the pages a personal touch. You will get 12 filter effects to bring that magical element to your colored pages. Sign up with the Playback coloring Social Community to interact with colorists from across the globe.
Price:
Colorgram is free to download and use. You can also make in-app purchases starting from $3.99.
5. Zen Coloring Book For Adults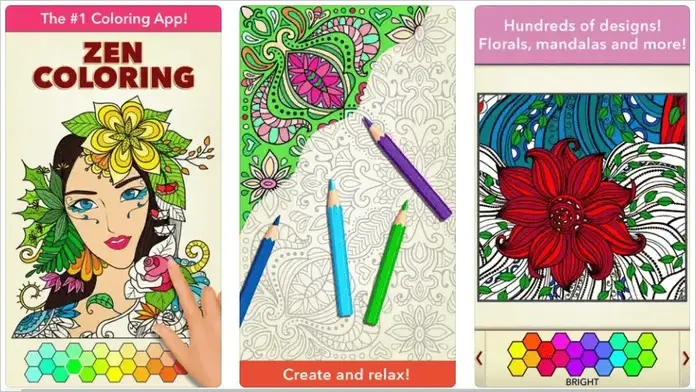 Zen Coloring Book for Adults is truly a coloring app designed for much-needed relaxation for adults. Like many other coloring apps, you get several coloring designs like Exotic, Garden, Mandala, and many others. Add soothing background music like a rainy day, ocean waves, or mountain streams, and nothing can distract you.
Unlike other apps, Zen Coloring Book for Adults allows coloring on different textures like brick, leather, canvas, and silk. So, select a color and tap on the design, and see how the part fills with color slowly. You can also expand your imagination by trying unique categories like Abstract, Gothic, Fantasy, and Fine Art.
Price:
It is a free coloring book app with in-app purchases starting from $2.99.
Get Zen Coloring Book for Adults for iOS
6. Chroma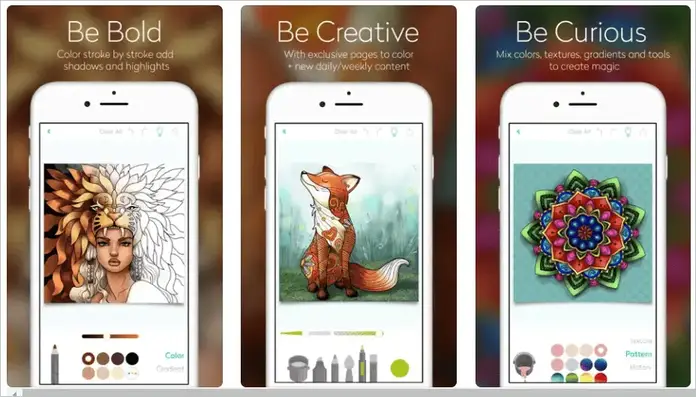 Chroma is a wonderful app you can get to entertain the kid in you. Brushes, markers, and pencils are available at your disposal to color away in different styles. Another highlight is that you can personalize the coloring pages beyond what the developers have done. For example, the outline tool allows adding extra details to enhance the existing outlines.
With Chroma, you will also get a freehand marker that lets your creativity flow freely. The app allows mixing different gradients, textures, and colors and helps you color within the lines. Once happy with your completed page, you can share it with the Chroma Gallery for others to see.
Price:
Use the app for free or upgrade to Chroma Premium starting from $2.99.
7. ColorMe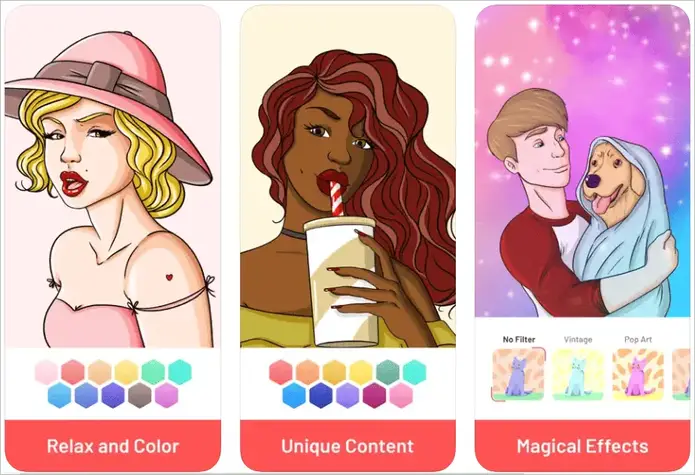 Coloring apps like ColorMe are suited for the whole family. Both kids and adults can enjoy the more than 200 coloring pages available. Select pages from themes like food, animals, love, and mandala, and just add colors of your choice. You will also find separate categories for boys and girls.
ColorMe comes with special categories like Oriental, Zodiac, and Patterns. In addition, you can take part in drawing games for adults and play around with different colors. Plus, there are painting and doodling games to make the maximum of your free time. Each picture is carefully chosen by experts to not compromise on the quality.
Price:
You will get a 3-day trial of the app, and then you can upgrade to a paid subscription.
Get ColorMe for iOS / Get ColorMe for Android
8. Recolor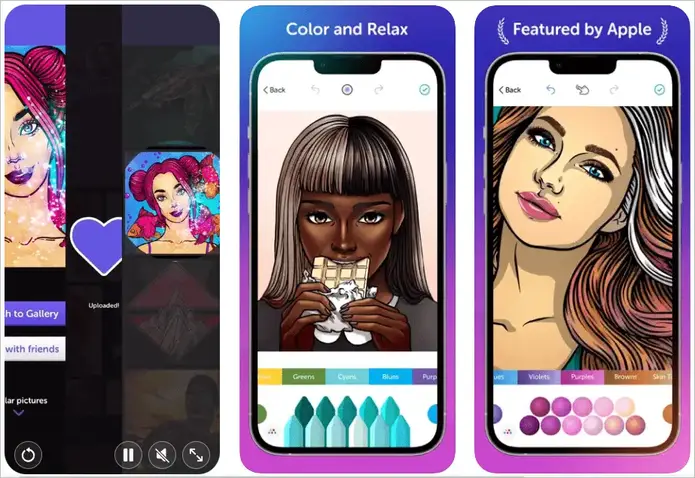 Recolor gives you 5000+ unique coloring pages with flowers, mandalas, animals, and more. An exciting feature we found in the app is that you can upload your own drawings and then get them colored using the app. Paint with the hundreds of colors available and share them with the world to know their opinions.
The app offers 70 color palettes, a huge number for artists to rejoice in. The coloring options like crayons, live colors, and gradients will also make you stick to the app. Finally, you can customize your pages using filters, outlines, and 80 incredible effects.
Price:
You will get free images in the app, but you can also make in-app purchases starting from $7.99.
Get Recolor for iOS / Get Recolor for Android
9. Coloring Book For Adults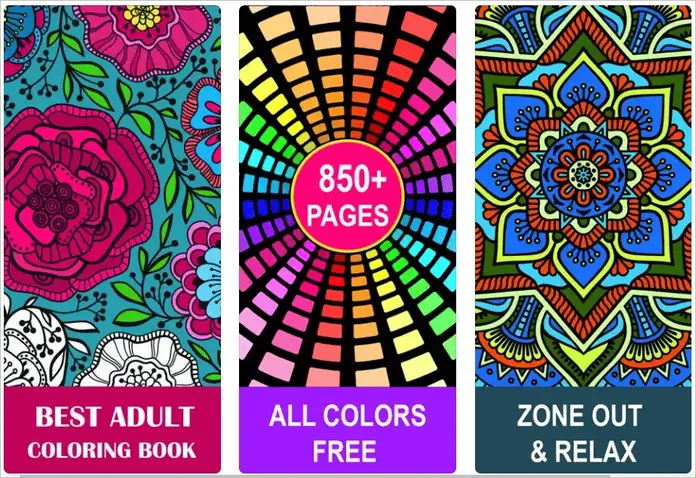 Coloring Book for Adults is one of the best adult coloring apps for free. You will find a range of categories to choose from, including messages, flower letters, doodles, Christmas, dinosaurs, and men's fashion, to mention a few. The UI is so easy to use that even kids can start coloring without help.
The app has a zoom feature to zoom in and color every area fully. If you want to experiment with different coloring ideas, use the undo option to reverse what you just did and apply new colors. When your picture is all done, save or share it with your dear ones.
Price:
Coloring Book for Adults is a free coloring book app.
Get Coloring Book for Adults for iOS
10. ColorArt Coloring Book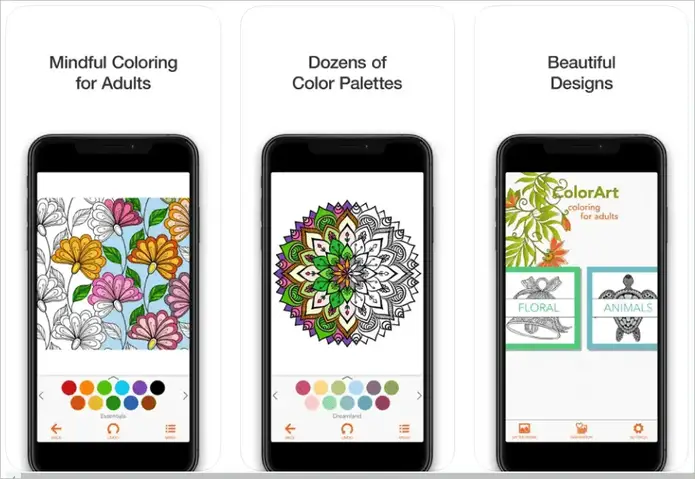 ColorArt Coloring Book gives you instant stress relief after a hectic workday. The app comes with beautiful color palettes that will enhance your creativity. You can choose from five categories: Patterns, Mandalas, Animals, Florals, and Holidays. You will find many pages in each category to paint your heart out.
If you want the best pictures not available in the free version, get ColorArt Deluxe. You will get superior quality palettes and pictures in this paid subscription. It is also your gateway to the latest pictures and palettes. When you opt for the paid version, you will never get any annoying ads.
Price:
Get the app for free, or go for ColorArt Deluxe starting from $2.99.
Get ColorArt Coloring Book for iOS
11. Coloring Book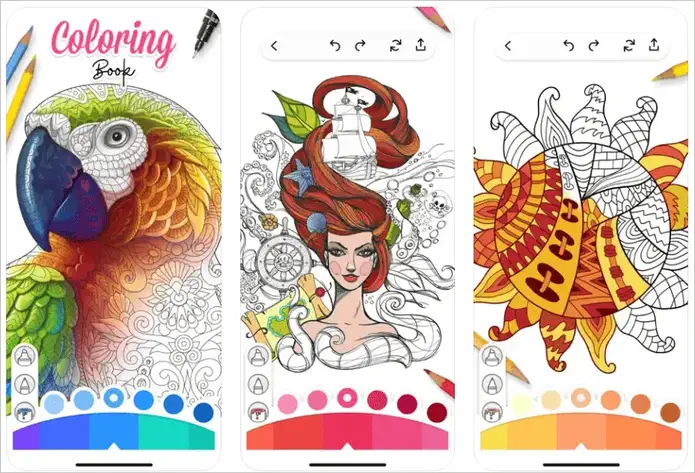 Coloring Book is one of those coloring apps with images with many details. It has a number of categories like Ice Cream & Cake, Flowers, Oriental, and many more that will steal your heart. Your coloring style is perfected without extra effort as it supports the tap-to-fill feature. So, there is no spilling and no going beyond the outline.
Coloring Book has two coloring tools to color the free pages: the marker and the pencil. It is a much-loved app for adults as it requires no internet connection to work on it. You can start coloring offline any time you wish. It is now possible to share your masterpieces on social media platforms too.
Price:
The app is completely free.
12. Adult Coloring Book
The Adult Coloring Book app is a platform where you will find mini coloring books to relax your mind. You will get hundreds of designs to engage in while you are sick of your busy life. Striking designs are available under categories like Mandala, Holiday, Flora, Fauna, Geometric, Gothic, and more.
Adult Coloring Book features a daily design that lasts 24 hours and is free. Before you start coloring a page, you can also see how others have painted the design. If you want to apply different color combinations for the same picture, get multiple copies and do them differently.
Price:
The free app also allows in-app purchases starting from $1.99.
Get Adult Coloring Book for iOS
13. Super Color
Coloring apps like Super Color let you color by number, which is the easiest way to color. You will get some of the brilliant pictures carefully curated here. Most of them are hand-drawn, making them highly attractive. It includes many themes to select from, like flowers, animals, and others.
With Super Color, you can color the same picture again and again and save them. A new day means new pages are updated, so there are no boring repetitions. The app is ideal for fast coloring if you have a short break and want to utilize it effectively. Then, share it on social media and see how people react.
Price:
The app is free, with in-app purchases starting from $0.99.
Get Super Color for iOS / Get Super Color for Android
14. Colorfy
If you want to visualize your paintings, no app is better than Colorfy. Colorfy features a new AR virtual gallery that gives wings to your imagination. The app is designed with categories like animals, mandalas, florals, etc. You can also upload images from your gallery to paint.
When you are at it, don't forget to try the Draw Mandala mode, which lets you create attractive mandalas from scratch. You can select from different brush types, depending on what picture you are coloring at the moment. So, get Colorfy and forget the internet connection to paint the best pictures.
Price:
Get Colorfy for free, or pick the Colorfy Plus subscription starting from $2.99.
Get Colorfy for iOS / Get Colorfy for Android
15. Paint.Ly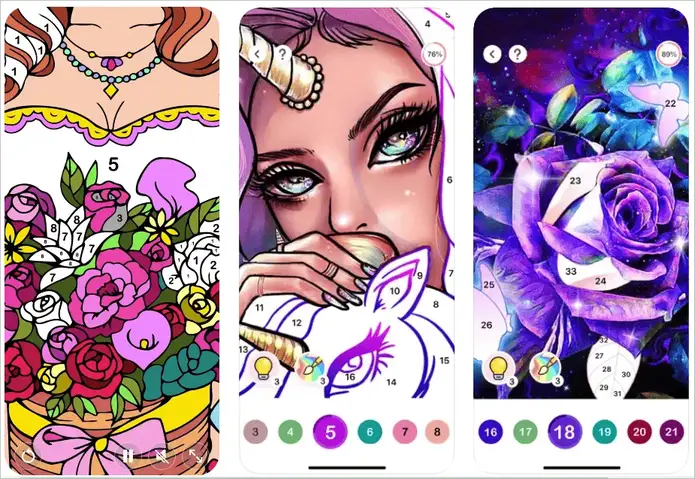 Many coloring apps come with a huge list of themes, and Paint.ly is one such app. Themes like florals, cute cartoons, and animals are hot favorites of both kids and adults. In addition, it is a paint by number app with numbers on each page to make coloring decisions easier.
Each day will dawn with new pages for color enthusiasts. So, open the app daily to uncover the best pictures to color. Then, you can share your artwork with your dear ones as easily as you paint. So, whether you are high or low, do a page in the app and get refreshed instantly.
Price:
It is a free app that comes with in-app purchases starting from $2.99.
Get Paint.ly for iOS / Get Paint.ly for Android
Final Thoughts
The best coloring apps for adults offer perfect ways for fun coloring while giving you many other benefits. They come in different categories consisting of several pages to color. Whether you're looking for deep relaxation or pure entertainment, the coloring apps greatly help.
The article gives you many options to involve in coloring games that lift your mood and gives you a lot of enjoyment. All of them have free versions you can download. You can also get the premium versions for advanced features and more coloring pages.