We have been using File Transfer Protocol (FTP) for transferring files for as long as we can remember. FileZilla is an FTP client for Linux, Windows, and MacOS that also supports Secure File Transfer Protocol (SFTP) for secure file transfer. That said, there are many best FTP clients in the market that you can choose as a Filezilla alternative. There are even FTP clients that support efficient file management.
There are many factors to consider while switching from FileZilla to another file transfer software. Instead of file sharing sites, you can use an FTP client that goes well with your OS. And when you make the shift, the security of local and remote files must not be compromised. In fact, there are many additional features that you can ask for, like the ability to connect to multiple servers, advanced search functionality, and a user-friendly interface, to mention a few.
15 Filezilla Alternative For Safe File Transfer
If you are looking for a Filezilla alternative with a robust FTP client, you are at the right place. We have also listed a few platforms that help organize your files while performing safe and secure file transfers. So, here we go with the best Filezilla alternatives on the market.
1. Serv-U Managed File Transfer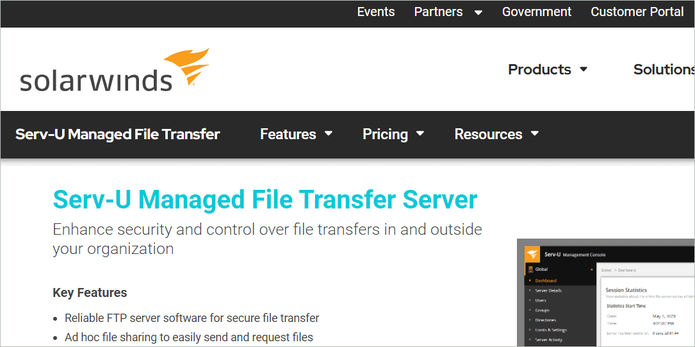 Serv-U Managed File Transfer (MFT) from SolarWinds can be your Filezilla alternative for centralized file transfer management. It is a trusted FTP server software that supports file transfer from mobile or web platforms. It is capable of encrypting both files at rest or in transit, thereby offering all-around protection.
Like Filezilla, Serv-U MFT's drag-and-drop feature and the simple interface make the transfer operations effortless. It even supports ad hoc file sharing. The service maintains regulatory compliance, so it is up to the standard. It is self-hosted and makes for easy installation. Lastly, it supports FTP and FTPS file transfers.
Price:
You can get a free trial and proceed to buy the server.
1 server: $3479
2-4 servers: $2969 per server
5-9: $2608 per server
10-24: $2387 per server
25+: $2294 per server
Buy Serv-U Managed File Transfer
2. Cyberduck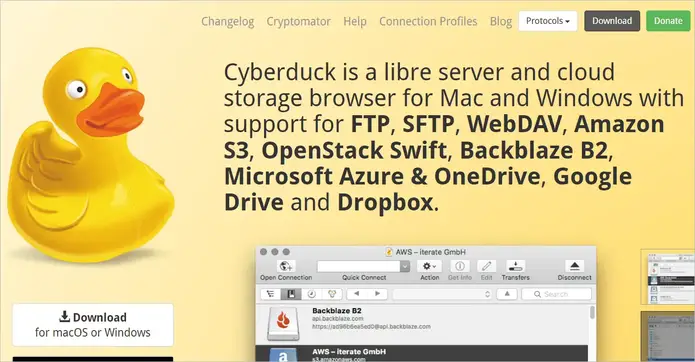 Cyberduck is a free and open-source FTP client and a cloud storage browser for Mac and Windows operating systems. You can expect it to transfer files using FTP and SFTP safely. In addition, it can be integrated with cloud storage services like Google Drive, DropBox, and more to enable efficient file syncing between remote and local directories.
Cyberduck's Cryptomator enables client-side encryption to ensure complete data protection on the cloud or server. You can easily edit the stored files using any external editor application. The filter field lets you search for your files and organize them. Thus, not only transferring but file management is also possible here.
Price:
Cyberduck is free to download.
3. WinSCP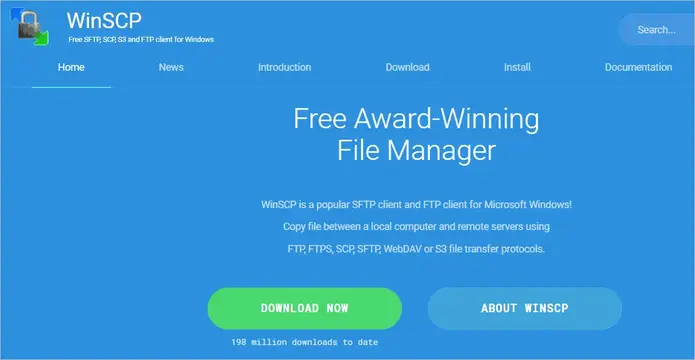 WinSCP is an FTP and SFTP client that can be a possible Filezilla alternative for safe file transfer needs. Specially designed for Windows, it supports transfer protocols like FTP, FTPS, WebDAV, SCP, S3 and SFTP. With the graphical user interface, users can easily find what they are looking for and do operations quickly.
WinSCP has an integrated text editor to perform edits on your files. Plus, you can do all file operations, like searching and organizing, so the management is handled well. You can encrypt the files being transferred for an extra layer of protection.
Price:
WinSCP is free and open-source.
4. CuteFTP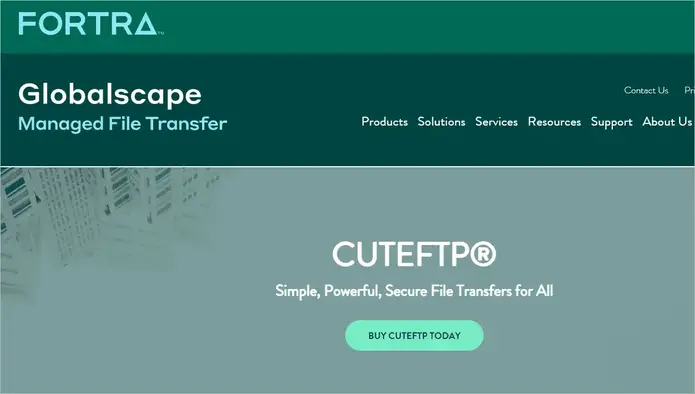 CuteFTP from Globalscape can be a cute FTP client for a beginner and, at the same time, an experienced guide for administrators. It makes file transfer between different locations fairly simple and secure. If you are just starting your file transfer endeavors, you can use CuteFTP. But for advanced-level transfers, you may get CuteFTP Pro with Globalscape EFT.
CuteFTP is powered to enable up to 100 transfers simultaneously. You can schedule script transfers using the Transfer Engine of CuteFTP to save time and effort. A color-coded HTML editor integrates with the service for editing HTML documents easily. The interface is also simple to use.
Price:
CuteFTP 9 (Windows): $59.99
CuteFTP 9 with one year Maintenance & Support (Windows): $89.99
5. Multi Commander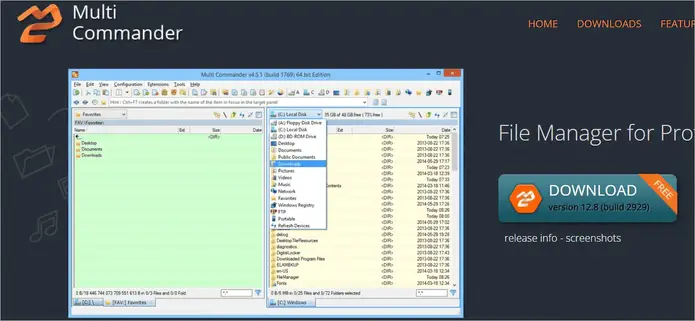 Multi Commander can also be a Filezilla alternative due to its file-managing properties. Multi Commander is basically a file manager for the professional in you. With its dual-panel layout, the interface is easy to navigate. You can rename, move, copy, and do all functions as in Windows Explorer.
But what makes Multi Commander desirable are its advanced features like searching and viewing pictures and files, browsing inside archives, auto-sorting, and many more. In addition, most of your jobs can be made easy by automating tasks using the built-in scripting support. So assign your favorite keyboard shortcuts and get going with your file organization.
Price:
Multi Commander allows free download.
6. Core FTP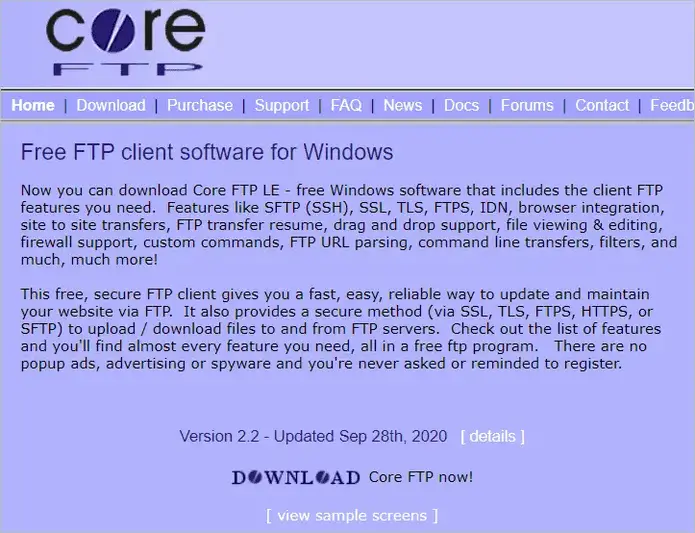 Core FTP is a free FTP client for Windows users. When you get Core FTP LE, you can access endless features like browser integration, SFTP, support for drag-and-drop, viewing and editing files, and command-line transfers, to name a few. In addition, you can move files to and from FTP servers using SSL, HTTPS, FTPS, TLS, or SFTP.
Maintaining your websites with FTP is made possible by Core FTP, and the whole process is fast and easy. Those who need advanced features can get Core FTP Pro, an advanced software version. The main attraction of the service is that it is more pocket-friendly when compared to Filezilla.
Price:
Core FTP is available for free.
7. Total Commander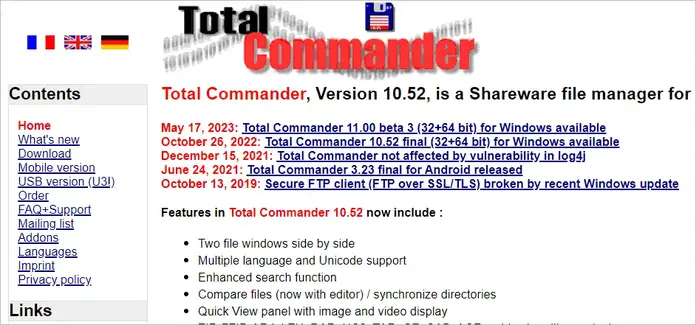 Total Commander is a Shareware file manager and the best Filezilla alternative to manage your files, so you no longer have trouble finding what you want. There are two panels side-by-side to make file viewing easy. Like Filezilla, it also comes with a built-in FTP client with support for FTPS and HTTP proxy.
Total Commander is a service for Windows and is lightweight. Navigating the interface with a tabbed interface, history button, and favorite button is simple. In addition, there is a Quick View panel to preview the images and videos. Other notable features are an improved search function and multi-language support, making it a universal software.
Price:
You can get Total Commander for free.
8. Progress WS_FTP
Progress WS_FTP is a secure FTP software that offers an FTP server and an FTP client for each user. It is powerful enough to automate many tasks and integrate the transfer processes with the existing applications and workflows. It gives prime importance to data security, whether before, during, or after file movement.
Progress WS_FTP suits businesses, given the robust file encryption protocols it follows. Built-in integrity checking and end-to-end encryption make your confidential data safer than ever in transit. You can schedule recurring or one-time file transfers and put an end to the hassle of initiating the transfers every single time.
Price:
You may log in to get the price details.
9. Transmit 5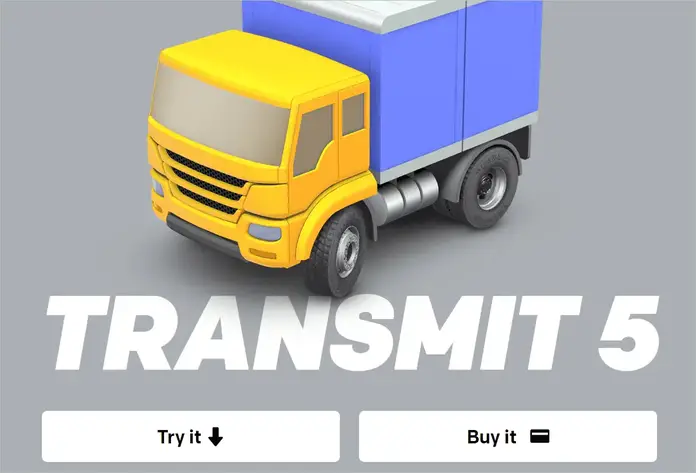 With the entry of Transmit 5, MacOS file transfer has a new benchmark. The Filezilla alternative supports S3, WebDAV, FTP, and SFTP while bringing more into the table with Google Drive, Dropbox, Microsoft Azure, and more. With an easy drag-and-drop function, you can accomplish complex transfer activities easily.
Transmit 5 allows better control with the file sync feature that enables remote-to-remote and local-to-local synchronization. Compared to Transmit, the latest version, Transmit 5 has improved speed. In addition, you can get the new activity view to see what is happening at the moment. The added features like Batch Rename, Places Bar, and Keys have only made it more lovable.
Price:
You can buy Transmit 5 at $45.
10. ForkLift 3

ForkLift 3 is another file transfer client for MacOS. It is also a file manager, like Filezilla, and features a dual pane. It supports connections to Rackspace CloudFiles, Backblaze B2, SFTP, FTP, and many more. Interestingly, you can connect to several servers simultaneously and drag and drop files.
Synchronizing files is yet another capability of ForkLift 3. It can compare the remote or source files and identify the new, old, modified, and deleted ones. If you want, you can do quick edits on files stored remotely or locally. When you select a file, you can have a preview of it in the preview panel, a feature that saves your effort of opening the file to view details.
Price:
Single-user License: $19.95
Family License: $29.95
Small Business License: $69.95
11. Cerberus FTP Server

Cerberus FTP Server is a file transfer solution you can use as the best Filezilla alternative. It supports FTP, FTPS, SCP, and SFTP. With FIPS 140-2 encryption, your data is secure with the software. With the Enterprise edition, you can even automate the file transfer process by scheduling transfers suiting your needs.
Cerberus FTP Server enables high-volume file transfer, which happens at top speed, which is something it is popular for. The HTTPS web client allows transferring through any browser on your chosen device. It also comes with auditing and reporting tools.
Price:
Professional: $999 per year
Enterprise: $2,499 per year
Enterprise Plus: $4,999 per year
12. Free FTP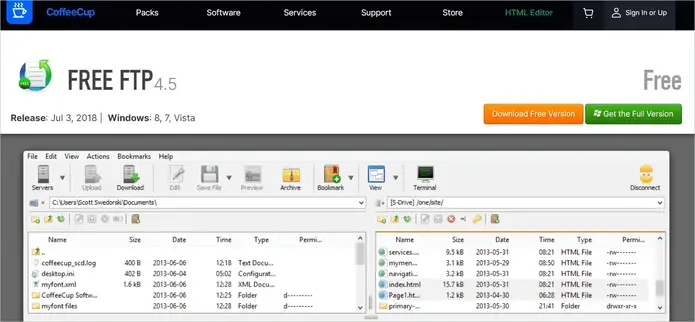 Free FTP is synonymous with efficient file transfers. You can connect to the server with a mouse click and then get started with your file transfers. As it supports drag-and-drop, moving files is not a big thing anymore. The FTP Activity panel tells you how long the uploads and downloads have progressed. So, no more digging the FTP logs.
If you want to access a file you have long forgotten, just click the drop-down box in the Free FTP interface, and you will find your browsed folders here. It is also a great file manager, letting you move, add, or open files with ease. A feature also allows you to take a backup of important files as a ZIP file.
Price:
You can get a full version of Free FTP at $39.
13. Odrive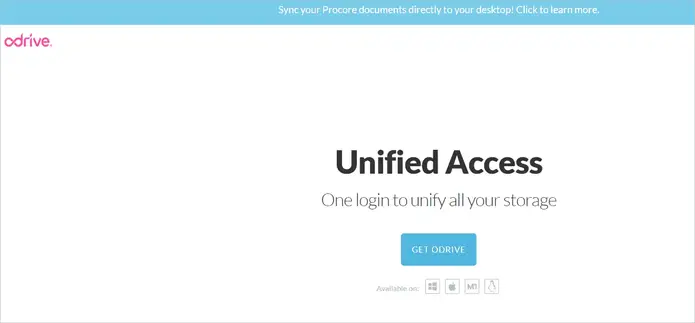 Odrive is a Filezilla alternative that unifies all your storage for easy access. With support to over 20 providers, you will never need another solution. Connect to servers using FTP, SFTP, or WebDAV, or access storage like S3 or Backblaze B2. Odrive is the best platform to store all your personal and company files without getting into each other.
Using the Infinite Sync feature of Odrive, you can store your data as placeholder files. Once you access them, they will be downloaded, thus saving space. In addition, backing up and encrypting folders are all possible with the software. This ensures your files are secure in the Odrive folder for as long as you want.
Price:
You can sign up with Odrive to get the prices.
14. SmartFTP

Apart from the standard FTP, SmartFTP supports WebDAV, FTPS, SFTP, OneDrive, Google Drive, and more. You can choose the tool if you want to publish your website and maintain it to drive more traffic. In addition, it allows easy movement of files, like movies, photos, and documents, between your computer and an internet server.
SmartFTP even automates the transfer of files to lessen your burden every time there is a transfer requirement. Plus, it backs up and syncs your data between the remote locations and the local storage. It also features a modern graphical user interface and an integrated editor.
Price:
You can have a free trial before buying an edition.
Professional: $89.95 or $49.99 per year
Ultimate: $149.95 or $74.99 per year
Enterprise: $359.95 or $179.99 per year
15. ShareFile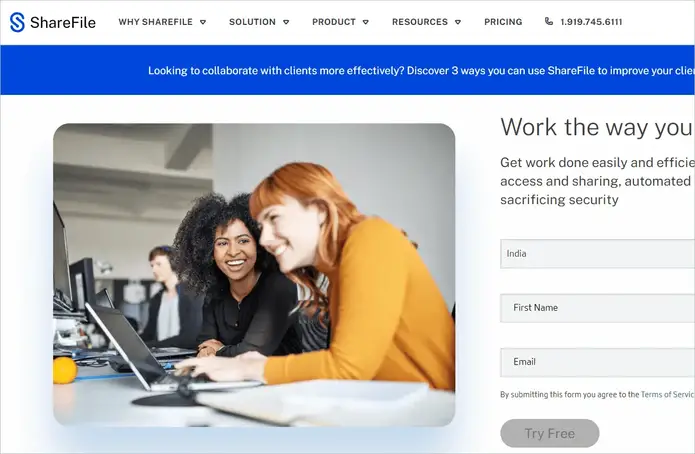 For any business to flourish, the workflows must be streamlined for a better user experience. ShareFile is a Filezilla alternative that makes all your work collaborations efficient. When you opt for the platform, it offers a single place to share and access your files, no matter where they are located.
ShareFile ensures that the confidentiality of your data is maintained by securing it. So, you can trust your sensitive data with the software. In addition, processes like routing, approvals, and many others are automated, accelerating your activities. Overall, getting ShareFile is a sure-shot way to a better client experience.
Price:
Standard: $50 per month
Advanced: $80 per month
Premium: $122 per month
Final Thoughts
Filezilla is a trusted FTP client that operates cross-platform. Many users prefer the software over others for the fantastic features it offers. But choosing a Filezilla alternative is not a bad idea if you want to explore other free and paid options available.
The article gives some excellent Filezilla alternatives for secure file transfer and management. These are similar to Filezilla in operation but may offer extra benefits. Most let you have a free trial before getting a paid edition. So, choose yours carefully by first trying it out.