In this guide, we will discover: 9 Best iMovie Equivalents for Windows 11 – Easy Beginners Guide
Are you looking for an iMovie equivalent for Windows 11/10? Find out the Windows alternatives to iMovie that you can try for video editing.
iMovie is a video editing application that is available to Mac users for free. This software can be downloaded on Mac machines, and you can edit videos without any technical experience or expertise.
Unfortunately, iMovie isn't available for Windows users, and for this reason, people often look for Windows alternatives to iMovie. Here, we've done our research and curated a list of the best iMovie alternatives for Windows users.
iMovie Equivalent for Windows
1. Clipchamp
Windows 11 users get Clipchamp as their built-in video editing software with their OS. Windows 10 users can also download the free version of this equivalent to iMovie for Windows from Microsoft Store. You can consider it as the free iMovie equivalent for Windows.
Highlighted Features
Create a video using multiple video clips and images
Add different text forms like captions and annotations to videos
Includes video effects popular on social media like TikTok or Instagram
Timeline mode for quick video editing
Create and apply a brand kit that includes media assets, themes, and color palettes
Trim and crop videos for length adjustment
Here is our article on the complete set of Clipchamp features and its working process.
2. Openshot
Openshot video editor is a powerful software that is easy to use and comes with a flat learning curve. This open-source application can be downloaded for free and used on all popular operating systems, including Windows, macOS, and Linux.
Highlighted Features
Create unlimited layers during video editing for track record
Complete drag-and-drop support with the native file system
Supports most video and image formats for import and export
400+ video transitional effects that can be adjusted with keyframes
Audio mixing and editing, advanced timeline, 3D effects
Video effects such as brightness, gamma, greyscale, hue, bluescreen, greenscreen
Templates available for creating titles and subtitles
3. HitFilm Express

HitFilm Express lets you achieve your vision regardless of your skill level or experience. The ultra-fast technology of this iMovie equivalent for Windows lets you create and edit videos at lightning speed.
Highlighted Features
All basic editing tools like trim, crop, slice, cut, split, flip
Ready-to-use, drag-and-drop transitions
Customizable presets for the color grade, text, transitions
A library of professional video clips, templates, music, and sound effects
Smooth workflow to sync audio with video
Create 2D and 3D titles with seamless addition of subtitles
High-quality glows, light leaks, and 3D light leaks
Green screen tool to fix edges and change the background
Presets and filters for color grading and corrections
4. Davinci Resolve
Davinci Resolve is an iMovie equivalent for Windows where you can edit videos and perform all the post-production work. It comes with an elegant interface that anyone can use without any hassle. This powerful tool retains the original video quality throughout the editing process.
Highlighted Features
Fairlight audio processing quality for the best sound
32‑bit float processing technology for image editing
Latest HDR workflows with wide-gamut color space
Drag-and-drop and traditional three-point editing tools for quick video making
An automatic trim cursor that changes with your click
12+ transitions, effects, and titles
Imports almost all professional video and audio formats
Timeline editor for insert, overwrite, replace, place on top, ripple overwrite, etc.
5. Movavi
Movavi is an all-in-one software that works as a video maker, editor, screen recorder, and converter. Whether you want to create a video for your YouTube channel or office presentation, this software can help you with its powerful features.
Highlighted Features
AI-powered background removal for instant background swap
Effects, filters, and editing tools for slideshows and videos
AI-driven audio denoiser for removing car, wind, or other unusual noises
Add pointers and shapes to your videos
Exclusive effects for your YouTube videos
Direct video sharing on TikTok
AI upscaling to make your videos 8x times better
6. Shotcut
Shotcut is another open-source video editor that made it to this list of Windows alternatives to iMovie. Its intuitive interface makes it easy for novice users to create their own videos. It's a cross-platform tool for Windows, Mac, and Linux.
Highlighted Features
Support for numerous audio and video formats and codecs
Native editing with multi-format timelines, resolutions, and frame rates
Drag-and-drop editor with menu and toolbar
Multi-format timeline to mix and match the resolution
Frame accurate seeking for specific video formats
Text, color, noise, and counter generators
Drag-and-drop asset fetching from File Manager
SDI and HDMI for media input and preview
Multiple panels for media properties, job queue, encoding, etc.
7. Lightworks
Lightworks is an alternative to iMovie for Windows that lets you unleash your creativity through video editing. It has a free version that you can use if you don't need any professional-grade features.
Highlighted Features
Timeline feature to edit multiple audios, videos, and FX tracks
Instant auto-saving and output videos with no watermark
Support all file formats for importing media
Built-in effects for title and transitions
Direct access to stock music and audio to use in your movies
Audio EQ & Mixing with four separate customizable bands
Import files created on Adobe, Avid, Fusion, and ProTools
Custom UI layout templates and video mask effects
8. Animotica
Animotica is a free and simple movie-maker tool where you can create videos for your school, birthday, anniversary, and different social media platforms. To use it, you don't need any special skills. Just download and install this app, and you should be able to create your video in five minutes.
Highlighted Features
Join multiple photos and video clips to create a movie
Trim, split, and cut videos for the right length
Add and edit audio files for background music
Smooth transition effects to join multiple clips
Include titles or captions with a preferred font, color, and background
Animated GIFs, stickers, and text for your video
Rotate the video and adjust the aspect ratio for the output file
9. MiniTool MovieMaker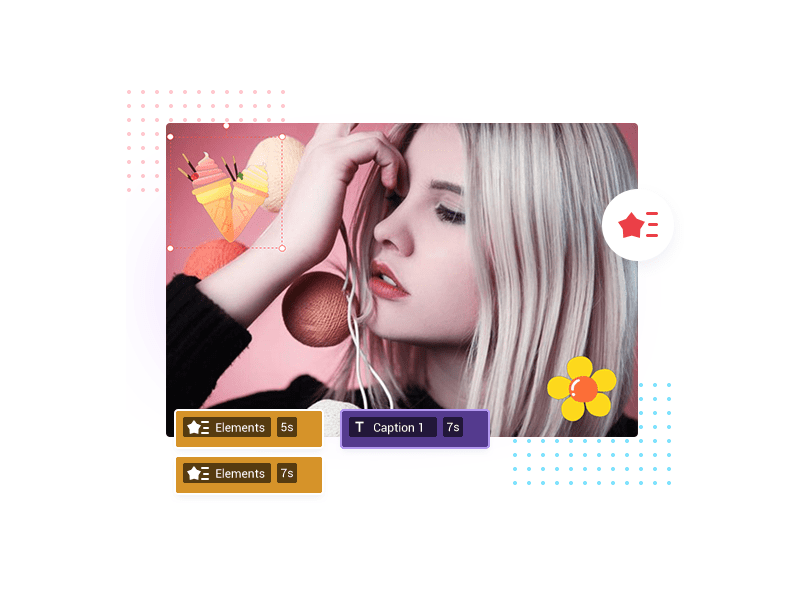 MiniTool MovieMaker is a popular free iMovie equivalent for Windows. Even first-timers can download this app on their Windows computer and start editing videos.
Highlighted Features
A library of customizable templates for various genres
Import media files from computers, smartphones, and other storage devices
Option to download video files in different prominent formats
Crop, trim, reverse video and adjust playback speed
Add animated elements for emoji, business, travel, pets, and nature
80+ different video transition effects for connecting multiple clips
Filter effect, motion effect, audio clip
You can read this guide on MiniTool MovieMaker to learn how to use this tool on Windows.
Conclusion
iMovie is a popular app for video editing, but it's only available for Mac users. So, if you've switched to Windows from Mac, you might be looking for the iMovie equivalent for Windows. Apart from them, Windows users also look for alternatives to iMovie for Windows that'll let them edit videos with ease.
If you're one of them, check out this list of the best iMovie alternative for Windows. You can read the features and find out which one is most suitable for you. If you find this article to be useful, share it with your friends. If you think some other application should have been on this list, tell us in the comments.
Also, read about free video editing software for Windows 11.