In this guide, we will discover: How to Cancel ChatGPT Subscription in Two Minutes – Easy Beginners Guide 2023
So, let's begin!
Key Highlights
Cancel Subscription: Visit ChatGPT website → Login → Sign in to account → My Account → Manage My Subscription → Cancel Plan.
ChatGPT is one of the best OpenAI tools that give quick responses to your question for free. To access more features, it provides the Pro version called ChatGPT Plus. As of now, this feature is available in the United States, and it is extending to other parts of the world. With the Plus subscription, you can get faster responses, and it allows subscribers to access GPT-4. However, you can cancel your ChatGPT Plus subscription at any time on the official website if you are dissatisfied with the service or not going to use it anymore.
As a Plus subscriber, you can get unlimited usage and offers early access to new features. Also, you can switch to the regular or turbo mode (quick responses). To avoid getting the extra fees, you should cancel the plan before the day it ends. Also, you can claim a refund when you cancel your subscription plan within 14 days from the date of purchase.
How to Cancel ChatGPT Subscription
1. Open the web browser on Windows PC or Mac, and then head to the official website of ChatGPT.
2. Click on the Login button. Enter the email address and password to sign in to your account.
3. A dashboard of ChatGPT will open. Select the My Account option on the left side panel.
4. On the Your Account dialog box, select the Manage My Subscription option.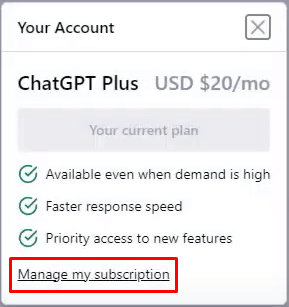 5. Under the Current Plan section, choose the subscription plan.
6. Click on the Cancel Plan button next to the subscription plan that you would like to cancel.

7. Confirm your cancelation by clicking the Cancel Plan button at the bottom.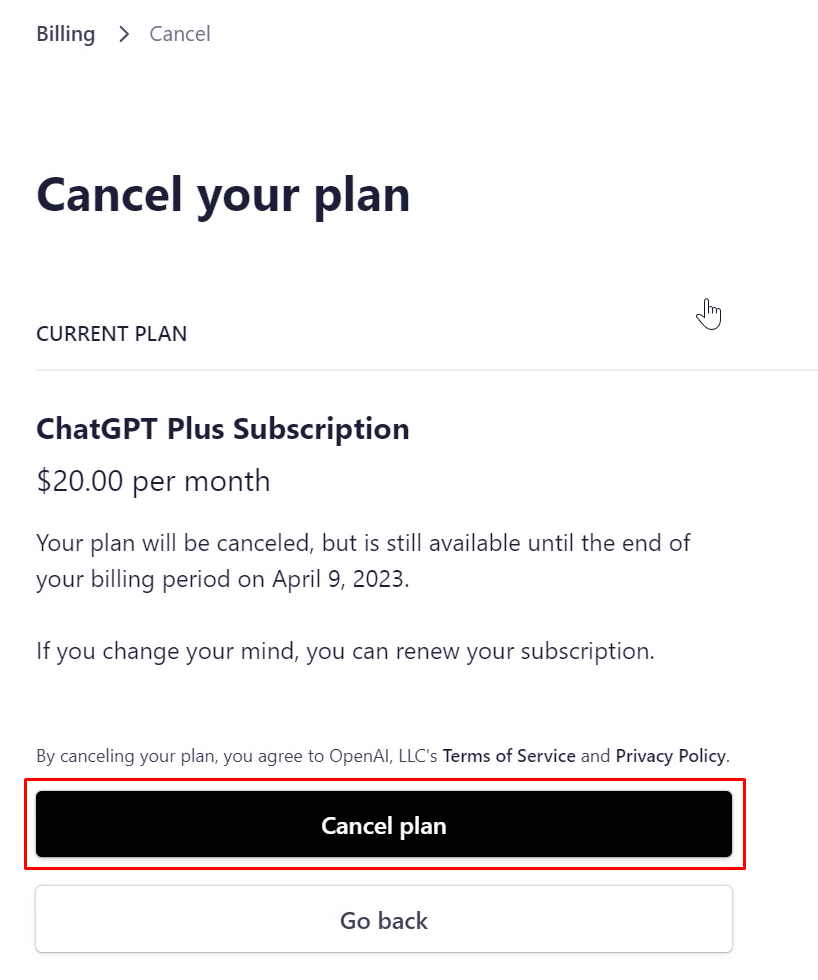 Once you have canceled your subscription plan, you can still access it until the next billing date. Remember that you should cancel your membership 24 hours prior to the billing date to stop getting charged.
Can I Get a Refund on ChatGPT Plus?
Actually, the subscription fees of ChatGPT are non-refundable in any circumstance. But if you are living in the United Kindom, Turkey, or European Union, then you can get the refund amount by terminating your subscription plan within 14 days from the purchase date. Alternatively, you can reach the customer support team by sending the requested email to [email protected]. Or send the message using the Chatbot feature.
Drawbacks of ChatGPT Plus
Sometimes ChatGPT doesn't provide clear answers or solutions.
Provides inappropriate content, plausible-sounding.
Lead you on revenue-generating activities.
The cost of a subscription plan is too expensive.
Does not provide original insight.
Difficult to understand machine languages and codings.
Gives the responses too formally.
Do not deliver an accurate response. Sometimes give incorrect or nonsensical answers.
Frequently Asked Questions
What is the cost of ChatGPT Plus?
ChatGPT Plus is priced at 20 USD per month. Only Plus subscribed users can access the GPT-4 and get a quick response without any usage limit.
Is it possible to get a tax refund on ChatGPT?
Absolutely Yes! you can request a refund on tax if you want. Contact the customer support agents by sending a message via Chatbot. Include all your account details along with billing information to get the tax refund.
How to remove ChatGPT restrictions?
Removing ChatGPT's restrictions is not a good idea since it is created on ethical grounds. However, you can bypass the ChatGPT Restrictions with a DAN prompt (Do Anything Now) to access the restricted answers.
Is the ChatGPT API included in the ChatGPT Plus subscription?
No, ChatGPT API and ChatGPT Plus have different subscription plans. They both billed separately. ChatGPT API costs as per the words and tokens, whereas ChatGPT Plus costs $20/month.
Was this article helpful?
YesNo