In this guide, we will discover : How to Cut Videos Using VLC Media Player in Windows 10/11 – Easy Beginners Guide
Hundreds of media player apps are currently available for Windows 10 or 11 computers. However, if we had to pick anyone, we would pick the VLC media player. Compared to other media player apps for PC, VLC Media Player offers better features and is known for its simplicity.
A VLC media player can be used for various purposes besides media playback. For example, you can watch 3D movies, record gameplay videos, etc. Not many would know, but the VLC Media player for PC also offers a few basic video editing features, like cutting and trimming clips.
Also Read:  10 Best VLC Alternatives For Windows PC
Steps to Cut Videos Using VLC Media Player in Windows 10 & 11
Recently, we found a nifty VLC media trick that lets you cut the relevant parts of a video. In this article, we have decided to share a detailed guide on how to cut video portions using a VLC media player on Windows 10. Let's check out.
1. Open the VLC media player app on your Windows 10 PC.
2. Now, open the media file that you want to cut.
3. Now click on the View tab and select Advanced Controls.
4. You need to use the Recording feature to record the video segment you want to cut.
5. Pause the video from where you want to cut, and select the starting point by moving the slider. Once done, click the 'Record' button to start the recording.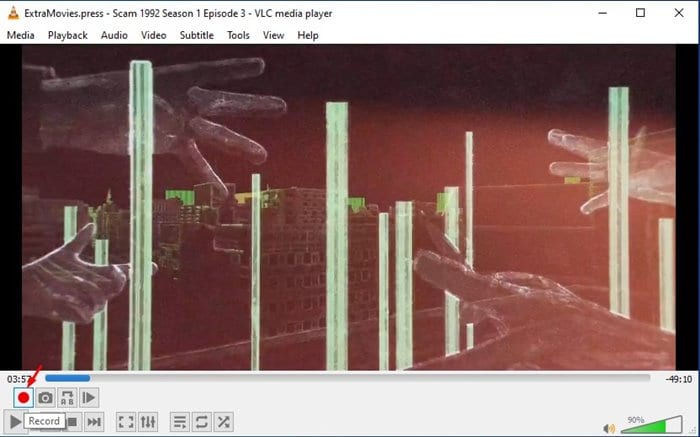 6. Once done with the recording, click on the 'Recording' button again to stop cutting.
7. The clip will be automatically saved to the 'Videos' folder on your Windows 10 PC.
That's it! You are done. This is how you can cut videos easily using the VLC media player app.
Also Read: How to Stream Video and Audio Using VLC Media Player
Note: The old version of the VLC Media player app doesn't have the recording feature. If you cannot find the screen recording option, you need to install the latest version of the app.
Other Ways to Cut Videos on Windows?
VLC Media Player may be the easiest way to cut videos on the Windows operating system, but it's not the only tool.
In fact, VLC Media Player is never considered for video editing. Instead, it's a media player app with added features. For the best video editing experience, it's recommended to use video editing tools for Windows.
Alternatively, you can use online video editors without watermarks to cut parts of your videos. Online video editors work on a web browser; hence they don't require any software installation.
So, this article is about cutting videos easily using the VLC media player app. I hope this article helped you! Please share it with your friends also. Also, if you need any help in trimming videos with VLC Media Player, let us know in the comments below.