Apple introduces a new feature, Lift Subject from Background, as a part of Visual Look Up tools. It allows you to easily lift a subject out of a photo without having to use any editing tools. However, some iPhone users are not able to use this cool feature.
Either their iPhone cannot recognise an object in a picture, or they can't copy it or share it anywhere else. If you find that the photo cutout feature is not working for you, there are a few solutions available. In this article, we'll discuss all the working ways to fix Lift Subject From Background not working on iPhone in iOS 17.
Fix Lift Subject From Background Not Working on iPhone in iOS 17
There are various ways you can fix the photo cutout feature not working on your iPhone. Let's take a closer look at all the possible solutions.
1. Make Sure Your iPhone Is Compatible
Lift Subject From Background was added last year with iOS 16. However, the feature does not work on iPhone 8, iPhone 8 Plus, or iPhone X, even though they support iOS 16. Since this feature works with A12 bionic chipset devices or later, it is only available for devices running these chipsets.
Additionally, only a few iPhone apps support lifting the subject from the background, including Photos, Safari, Quick Look, Files and Messages. So make sure you are trying to use it in a supported app. Below is the list of all the iPhones that support the photo cutout feature.
iPhone XS
iPhone XS Max 
iPhone XR
iPhone 11
iPhone 11 Pro
iPhone 11 Pro Max 
iPhone 12 Mini 
iPhone 12 
iPhone 12 Pro
iPhone 12 Pro Max 
iPhone 13 Mini
iPhone 13
iPhone 13 Pro 
iPhone Pro Max 
iPhone 14 
iPhone 14 Plus 
iPhone 14 Pro 
iPhone 14 Pro Max 
iPhone SE 2 (2020)
iPhone SE 3 (2022) 
2. Update iPhone To The Latest Software Version 
Apple releases software upgrades regularly and fixes common bugs around iPhones. If you haven't updated your iPhone to iOS 16 or later yet, you should do so right away.
1. Launch the Settings app on your iPhone.
2. Tap on General.
3. Under General go to Software Update. 
4. Download and install the update.
Once done check if you can lift a subject from a photo.
3. Make Sure You Lift The Subject Correctly
You may not be following the correct steps to use the photo cutout feature. To lift the subject correctly, press and hold the area of the image that you want to use. Continue to hold the image until you see it glow white. There are also two ways to extract a part of an image.
First, continue to hold down on the part of the photo and drag it upwards or downwards. Keeping that part in one hand, use a finger from the other hand to open the app where you want to place the subject. Now, hold your finger over it and drag it to the second app.
Another way is when you press and hold the image, lift your finger once you see a white outline around that part. Now tap Copy and paste it into the app where you want to use the subject. Or, hit the Share button and send it to apps like Notes, Messages or elsewhere.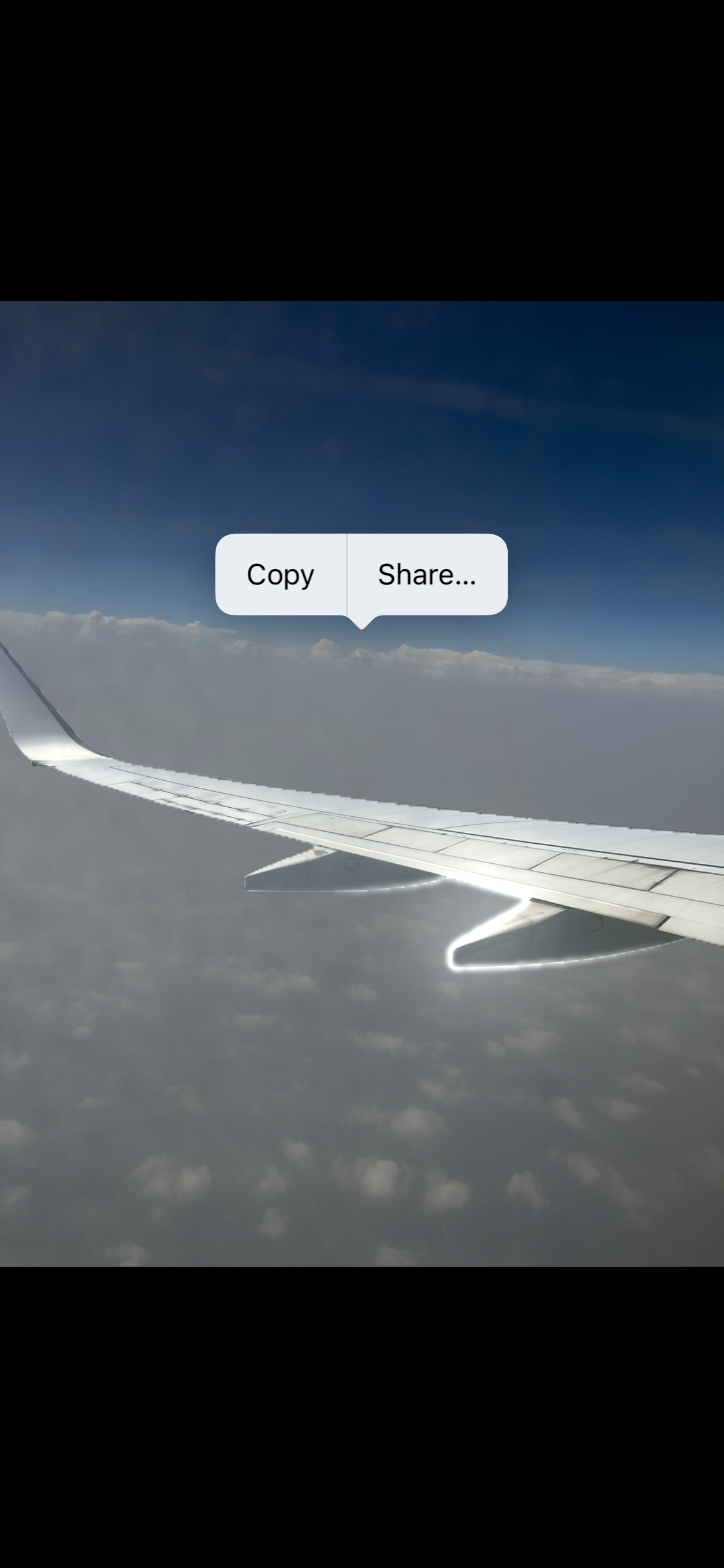 4. Zoom In Picture
Your iPhone can only identify a subject if it is clearly visible. A picture containing a subject that is difficult to identify may not be able to use this feature. For instance, the Visual Look Up function won't work on photos with their subjects zoomed out, too far in the background. It's not a big deal, however.
We have devised a workaround for you. For a zoomed-in appearance, crop the picture using the editing tool on your iPhone or any third-party app. After editing it, try lifting the subject from the background and see if it works!
5. Try Lifting the Subject From Other Picture
To make sure that this feature is working on your iPhone, try lifting a subject from other pictures on your device. If it works with other images, you might have a problem with the primary photo that you were using. To clarify, here is the list of all supported video and image formats.
Image Files: JPEG, PNG, GIF, CUR, TIFF, DIB, ICO, HEIF and XBM.
Videos Files: M4V, MP4, MOV, and AVI.
Swipe up on the photo, and you will be able to see the format in the Camera information section in the Photos app. 
Tip: When extracting an object or part of an image, you must make sure that the subject and background are different. It may be difficult for you to extract the subject if both the subject and background have the same colours or don't differ.
6. Restart Your iPhone
If you're having trouble extracting the image out of a photo to work on your iPhone, you may need to restart your phone. To do this, 
1. Press the power button until you see the power off slider.
2. Simply drag it to the right to switch off your phone.
3. Once your iPhone is turned off, wait for a few seconds and then turn it back on.
7. Disable Live Photo
You should turn off Live photos before you attempt to remove a subject from a photo. You can do this by opening any live photo in the Photos app and tapping the Live button in the top-left corner. Then, choose Off from the menu.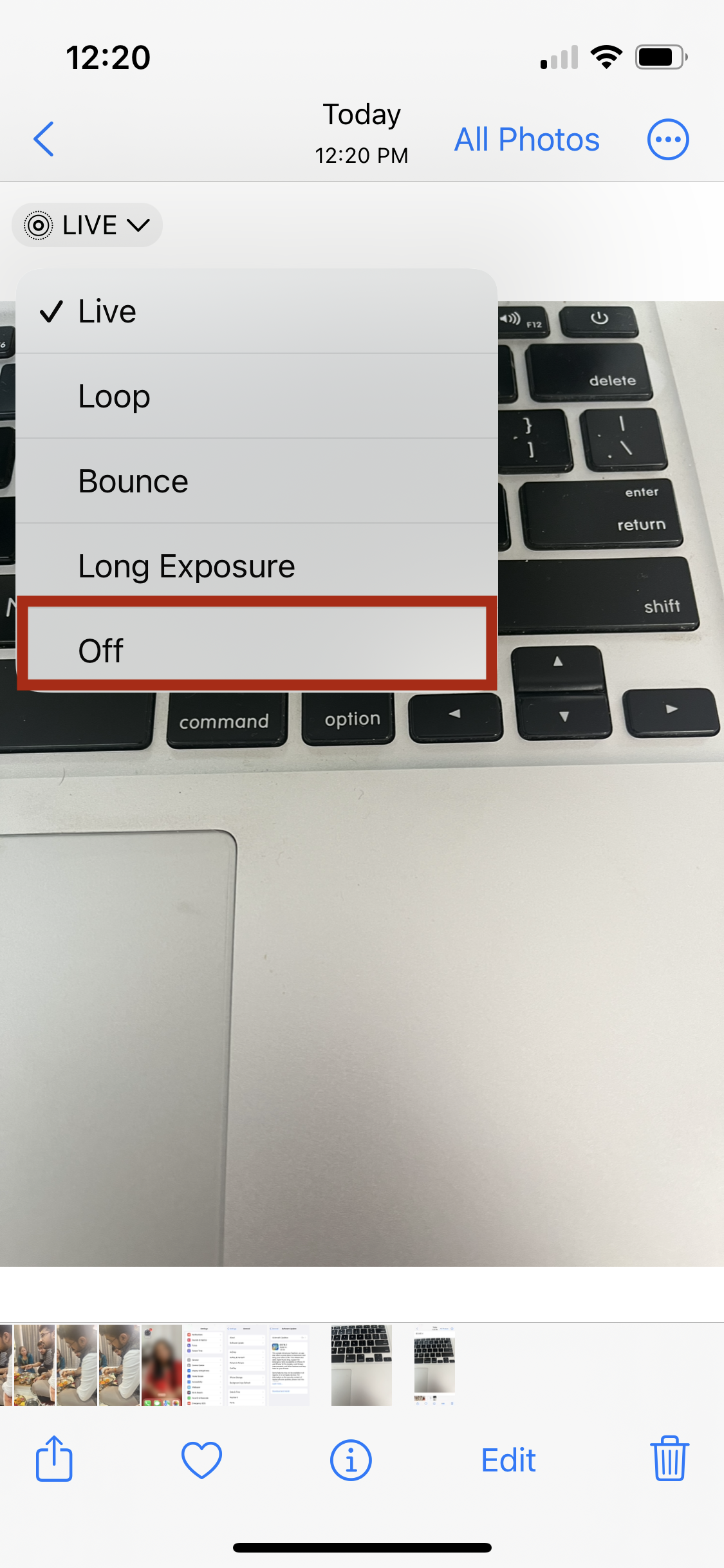 Now, try to lift the subject in that photo. In case it doesn't work, try tapping the Off button again. It should work this time.
8. Reset All iPhone Settings
The last step you should try if you cannot fix the error on your iPhone is resetting the settings. Because of this, all settings, including notification settings, and permissions, will reset to the factory defaults.
However, you will have to reset them again. By resetting settings, any setting that was preventing the photo cutout feature from working will be fixed. To reset settings on iPhone,
1. Launch the Settings app.
2. Go to General settings.
3. Scroll down and tap Transfer or Reset iPhone.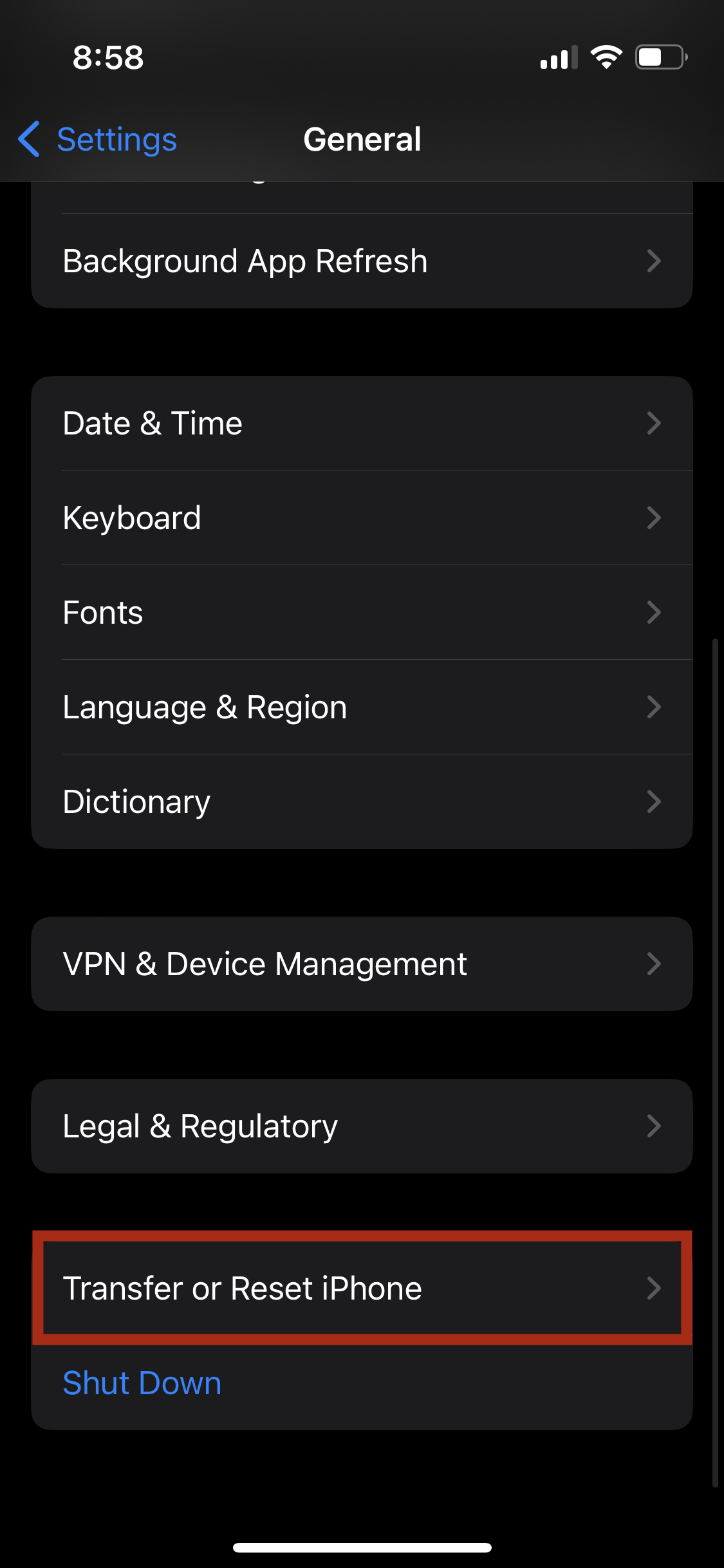 4. Now, select Reset.
5. Now tap Reset All Settings from the options.
Check if you're able to use the photo cutout feature.
FAQs
Can you cut a face out on iPhone?
Yes, the new lift subject from the background feature lets you cut a face from a picture. This feature identifies subjects like a person, a pet, or a prominently featured object and lets you cut it out and isolate it.
Does iOS 15 support Lift Subjects from Photo Background?
Apple introduced lift subject from photo background as a new iOS 16 feature. It makes a great addition to iPhone Visual Look Up tools. You need to update your iPhone to iOS 16 or later to use this feature.
Does background removal work on iPhone 8?
The feature works for iPhone XS, XS Max, iPhone XR, iPad Air, iPad Mini, 8th generation iPad and later. This feature is not supported by iOS 16 compatible iPhones: iPhone X, iPhone 8 Plus, and iPhone 8.
Which apps support iOS Photo Cutout?
Currently, a few iPhone apps support photo cutout, including Photos, Safari, Messages, Mail etc. In addition to that, you can also cut out a subject from a video, make stickers from it, and save them to your device as images.
Final Words
The photo cutout feature works well when the background and subject are different. Make sure the image you use is of decent quality and clearly identifies the subject. Hopefully, the above-mentioned steps solve the issue and help you lift a subject in a photo.
Visual Look Up tools on iPhone are amazing. Looking forward to seeing more such features in Apple's upcoming iOS updates.