Already over 3 million users support over 100,000 creators on Patreon .
Launched in 2013, this platform allows you to monetize your creativity and earn money with your content. Let's explore this platform that allows you to interact with your subscribers and reward your loyal customers with exclusive gifts.
Patreon, crowdfunding against exclusive content
A membership platform for content creators, Patreon provides them with the business tools needed to run a subscription service.
Instead of funding a specific project, fans or "patrons" subsidize their favorite creators, supporting their work with monthly subscriptions. In exchange, they receive exclusive content.
For example, models offer unpublished photos, designers publish exclusive works, a trainer can offer his latest training, etc.
Users pay these artists or content creators on a monthly basis, but also on a one-time basis. Indeed, it is possible to request a single participation to benefit from content in advance or something "premium".
The higher the compensation level, the higher the value of the content offered in return. Patreon charges a commission of 5% to 12% of monthly revenue.
6 Steps to Using Patreon Successfully
If you are an artist, a model, you have content to sell (training, workshops, guides, games…) then Patreon is for you! However, to use it well to attract clients and get paid for the work you love, here are 6 steps to follow:
1. Create an engaging about page
More than any other platform, the "About" page is essential on Patreon. It determines whether patrons can trust you and whether the subscription is "profitable".
To make it attractive:
Introduce yourself and explain why users should support you.
Mention the exchange of values, that is to say the advantages of supporting you: bonus products, exclusive access, etc.
Present a long-term vision.
Avoid needy words like "help" or "support," but rather phrases like "join an exclusive community" or "access premium content."
Avoid including links to external resources: People should stay on your Patreon profile.
Patreon allows you to add an intro video to your "About" page. You can go back in more detail on certain information and don't forget to update it after a few months.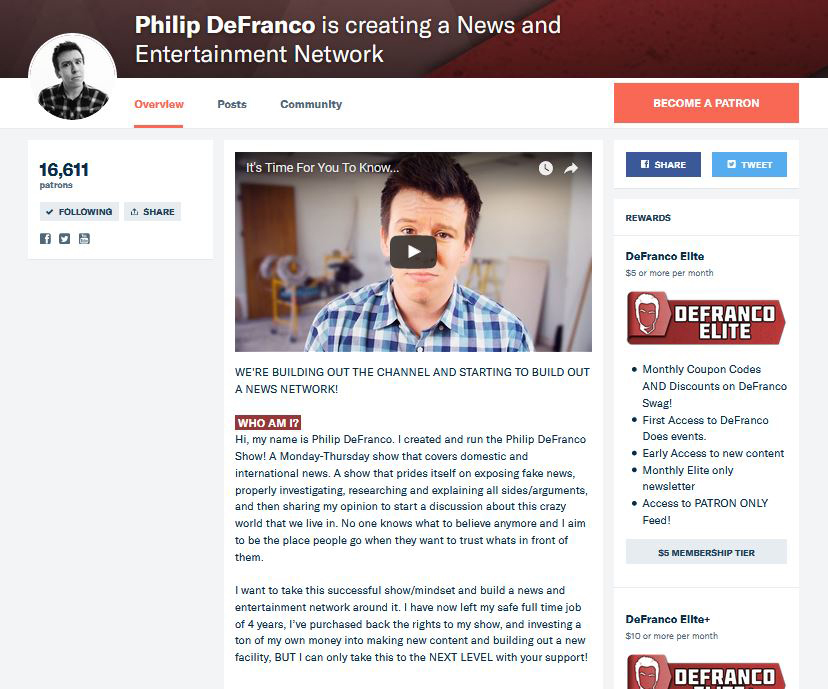 2. Set Achievable Goals
Goals on Patreon serve two purposes: they help you define your strategy and allow patrons to understand your needs.
You can set two basic types of goals:
Revenue-based goals: For example, you can announce that if your revenue reaches $300 per month on Patreon, you'll hire a video editor to produce two videos a week instead of one.
Community objectives : for example, at 500 patrons, you organize a question-and-answer session with your fans.
3. Offer a special offer
The Patreon Pro plan allows you to benefit from the "Special Offer" function. The latter offers an advantage to your fans who register within a limited time.
This system works very well when you start on Patreon, since it increases your supports by 200% ! It is therefore a good strategy to quickly increase your community.
For example, you can build momentum by offering personalized content to those who become patrons within the first two weeks of your page's launch.
4. Prepare a thank you message
You need to make your followers feel loved and valued.
In the "Thank you" tab of your back office, enter a personalized message that each new sponsor will receive when they commit to supporting you. Give it lots of personality and authenticity to foster their loyalty.
5. Promote Your Patreon Page
Promote your Patreon across all of your media. Your first patrons are in your customer base and social media communities .
Add an insert to your Patreon page in your newsletters, pin a post on your Facebook, Twitter or Linkedin pages. Talk about it in your stories, as well as on your website and blog. Indeed, social networks are currently one of the biggest marketing tools to make yourself known, and the more the members on your pages will know about your patreon account, the more you will be supported.
Also, remember that Patreon is a relatively new service. You will therefore have to explain the concept, the advantages and how to subscribe to it.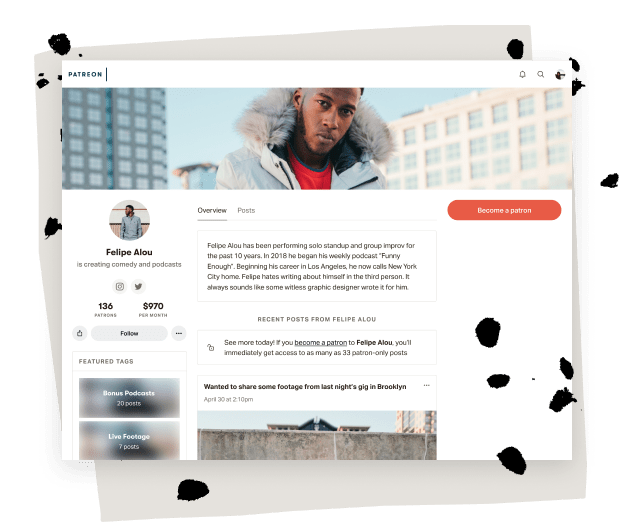 6. Regularly create quality content
Don't charge for open access content. Your supporters expect unprecedented, valuable information. Moreover, as they subscribe monthly, they want to benefit from exclusivity regularly. If you're getting started on Patreon, make sure you have time to nurture your community by creating quality content.
If necessary, your patrons may unsubscribe.
Patreon offers you the opportunity to get closer to your community, while benefiting from a new means of remuneration. Start by following these 6 steps to get started on the platform, successfully!
How to register on Patreon?
Before signing up on Patreon, check if you fit into any of these fields:
Musician (tutorials, pieces of music, etc.),
Podcaster,
Writer ,
Journalist (investigation, reportage, paparazzi, etc.),
Creator of games , videos or others,
Education and Tutorial,
Artist of all kinds,
Community.
You can then register for free on the platform, when you belong to one of the categories on the list. The steps include the following:
Access the platform registration page,
Complete the required information,
Define the name and details of the page to be created,
Complete the registration by following the on-screen steps for the Patreon creator account.
At the end of the registration, you can add the contents of the account, with the aforementioned tips.
Why sign up on Patreon?
Many authors, artists, or other types of creators wonder, how does patreon work ? The answer to this question is simple! The main reason to register on the platform is to obtain financial support, coming from its own fans or its customers. Indeed, it is difficult for a creator to share his talents and reap the benefits when he does not have the necessary resources to finance his project, and this often creates a blockage. However, with a platform like Patreon , a direct connection to customers can be made! You can get paid monthly, or after your new posts. It is even possible to establish levels of accessibility and to set pricing (special access to a video, a tutorial, etc.).
But apart from the remuneration, just the registration within the platform contributes to the publicity of your achievements as a creator! For example, many artists in the past have never been able to sell their works for lack of launch, and people have not been able to learn about their talent. It was only after their death that the achievements fetched millions at auction.
Currently, the web has given creators a platform to share their work, and to be paid for it. It should be noted that patreon currently has over 3 million users with over 100,000 creator accounts, and the number of people who support your account will be publicly displayed. To animate the account, you can create publications, do polls or even organize games, etc.
Especially for podcasters, the Patreon platform has custom RSS feed support. Thus, when a customer joins the platform, he will be able to obtain a personalized feed link. In particular, he can add it to a podcast application of his choice.
For a final point on benefits, you are not working for patreon by signing up on the platform, but you are working for yourself. You therefore remain solely responsible for your activity, and it will embody the reflection of your product.
How do I support a creator on Patreon?
To support a creator, you can visit their Patreon account and select a level, in order to access their achievements. This can be done via the Web by entering the site, or directly via applications, on Google Play for Android and on Apple Store for iOS. Each level will include a specific amount, which will fix the benefits you can receive.
If there is no optional level, you can simply become a patron by clicking on this option in the page. As a new customer, you'll add your payment method, and confirm your details if you become an official creator sponsor. You can get the details and set your monthly payment limit on the confirmation page.
If you don't want to become a monthly subscriber, you can also choose an option called "pay what you want". For example, you can pay $1 for uploading a video, and if your creator publishes four videos via Patreon in a month, your bill will be $4.
It's important to point out that joining a creator's Patreon account is a great way to show your support if you like their work; and moreover, you can get various benefits from it as aforesaid.
Our tip for getting started on Patreon
The Patreon platform is currently the best way to obtain income, for any creator wishing to be supported in their adventure. You are not yet convinced of the advantages and the effectiveness of the platform? You can take inspiration from the following examples. A blind YouTuber has created education and awareness videos. Sometimes she grants access to exclusive content when clients support her through Patreon.
In 2020, the Youtuber started dating again, and she first introduced the person to her platform customers. His YouTube subscribers who don't pay on Patreon will have to wait to find out about the person and their story.
Another example: a trainer in street fighting publishes self-defense videos on social networks.
People who follow him get access to split videos, but those who pay on Patreon can access full videos with more tips and effective techniques. This is how the platform works, and it is obvious that you can achieve great results by signing up, when your achievements are appreciated. It's just up to you to animate the account to continue to receive support.