In this guide, we will discover: How To Make YouTube Shorts – Everything You Need to Know – guide 2023
Short-form videos have gained huge popularity this decade. After the massive success of TikTok and Instagram Reels, YouTube Shorts came into existence. YouTube aims to stay ahead of the growing competition. YouTube has many popular content creators who create short content and billions of audiences who watch this content.
These videos under 60 seconds are in trend, and marketers know how to utilize them for high ROI. Now, we have both short and long formats to reach more audiences. You need lots of creativity to express yourself in a limited time. It looks simple, but creators put more effort.
Some creators use their existing long and short videos recorded for other platforms, while others create fresh content. It totally depends on the nature of the business and its requirements. However, you can use the YouTube app to create and upload Shorts. This article covers how to make YouTube Shorts using a smartphone, upload them on the platform, go viral, and their monetization.
What are YouTube Shorts?
You should know "what are YouTube Shorts" before digging into "how to make YouTube Shorts." YouTube Shorts are short and vertical videos of a maximum of 60 seconds. Anyone can record these short videos through the YouTube app installed on their smartphone. Some inbuilt features are capturing, editing, adding text and sound, adjusting footage speed, and stitching other videos into one. Using these features to make your Shorts is super easy.
TikTok, Instagram Reels, and Snaps are the main competitors, but YouTube Shorts have gained huge popularity in a short span. Globally Shorts are generating more than 15 billion views daily.
Leverage this opportunity to grow your business and audience by posting YouTube Shorts. YouTube has a dedicated section for Shorts, but users can also find them through the homepage or search results. After viewing a YouTube short, users can keep scrolling to watch more videos in the Shorts feed. On the bottom of each Short, a subscribe button is given to subscribe to your channel, which helps to grow a channel.
You can see the following video to take an overview of YouTube Shorts.
How to Make YouTube Shorts
If we consider video length, making a YouTube Short is comparatively easy because longer videos consume more time in shooting, editing, and uploading. In addition, we can shoot and edit YouTube Shorts in Creator Studio, while longer videos require high-quality recording equipment and professional editing software.
Following are the steps on how to create YouTube Shorts through the official app:
1. Open the YouTube app on your phone. Then, sign in or Sign up, whichever is required.
2. Tap the Create (+) icon on the bottom menu.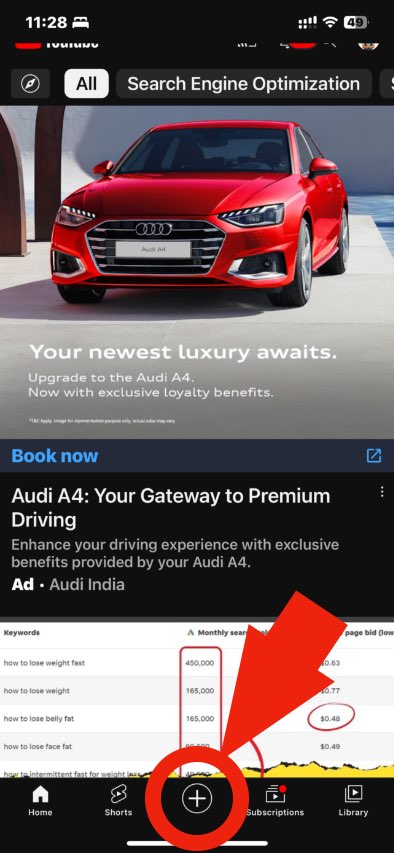 3. Then, tap Create a Short on the Create menu.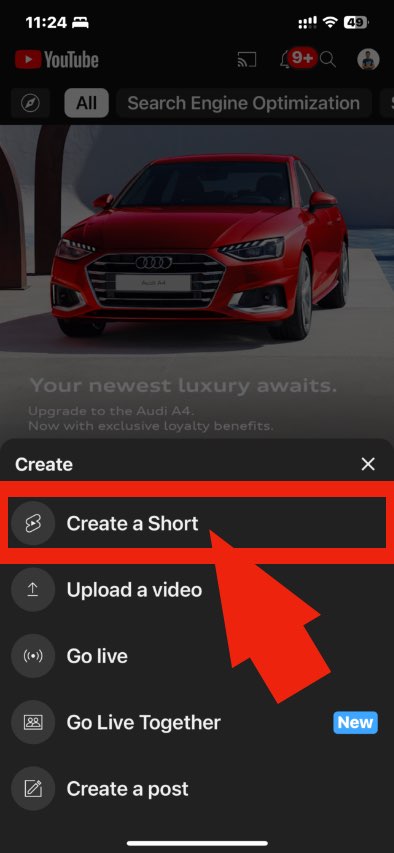 4. First-time users will see the prompt "Allow camera permission," if you have accessed the camera before, nothing will show up.
5. Next, you get creator tools, as shown in the following picture, that you can use to add effects and enhance your short video.
6. Default video recording length is 15 seconds, but you can tap the "15s" button in the upper right corner. It will change to "60s," representing the 60 seconds recording time. So now, you can record a video of 60 seconds in length. Whether you make your video 15 seconds or 60 seconds long is all up to you.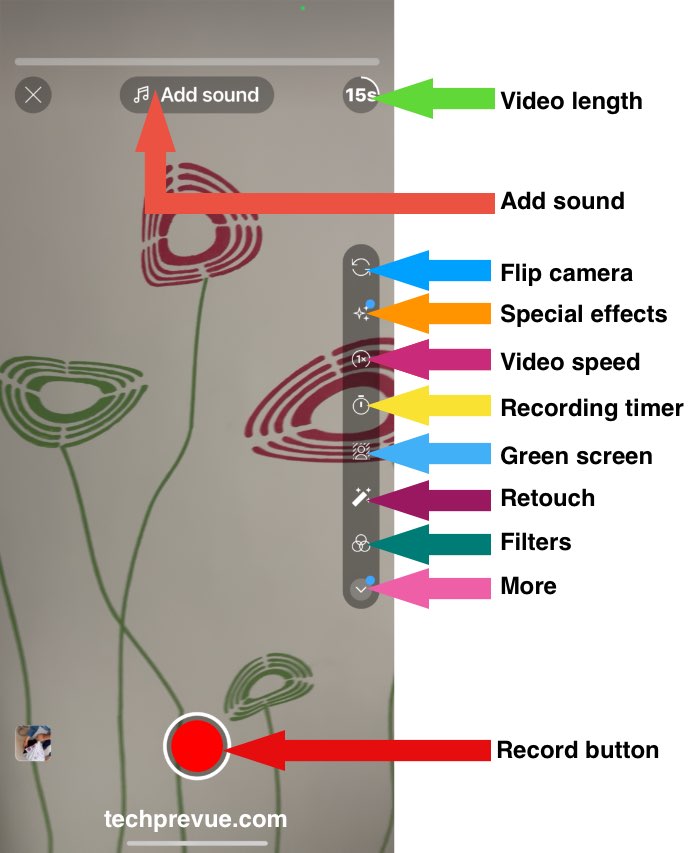 On the same screen, you see various options to record and edit your video content like Flip, Effects, Speed, Timer, Green screen, Retouch, Filters, and Lighting. You can play with these options to bring more creativity to your Shorts.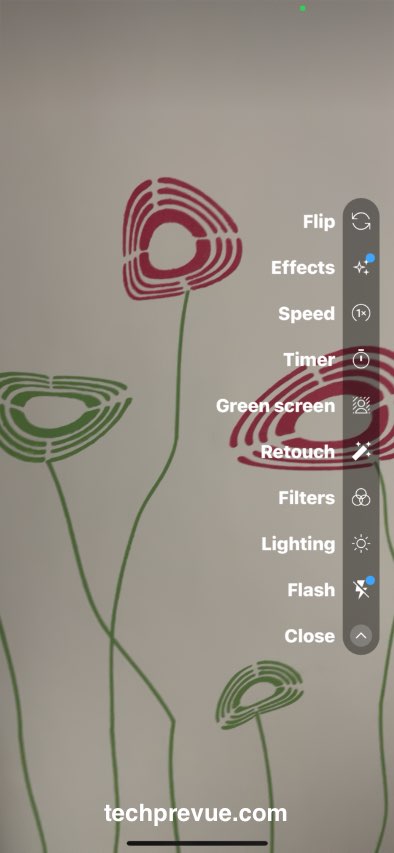 7. After getting ready, you can hit the record button. Tap the same button once the recording is done. If unsatisfied with the recording, take retakes.
8. Review your recorded Shorts. Use the Undo and Redo buttons to switch between them and pick the best one.
9. After finishing your recording, tap the checkmark icon to preview your Short for advanced editing. Else tap the Close button in the upper left corner to get the option "Save as draft." You can later edit this video anytime.
10. When you start editing your YouTube Shorts, you can add music, text, voiceover, and filters. In addition, with the timeline option, you can add some texts that appear at a specified time.
11. When you've finished editing, tap the Next button in the upper right corner.
12. Next, Add a title and caption for this Short. You can add some hashtags in the title or caption box. It will help reach more people because the YouTube algorithm promotes your YouTube video or Short based on used hashtags. You can also use YouTube SEO tools to optimize your YouTube Shorts' title and caption.
13. Set the "Visibility" to public, unlisted, or private. Then, on the same page, tap Schedule to select the date and time for your Shorts, if not publishing it instantly.
14. Next, tap "Select audience" to choose whether your video is for kids and set an age restriction.
15. Finally, tap the "Upload Short" button to publish your Short.
After reading this section, you learned how to make YouTube Shorts from your phone. Do some research, write your script, and after some trial and error, create engaging Shorts that your subscribers and other people will love to like and share most.
Benefits of YouTube Shorts
The following are the benefits of creating YouTube Shorts:
Record & Edit With Your Phone
Only a quality camera phone and the YouTube app are required to shoot, edit, and upload YouTube Shorts. Some people even have used point & shoot cameras. Also, creating a high CTR thumbnail for Shorts is also easy.
More Subscribers and Views
Anyone can make YouTube Shorts easily. But when long-form videos have enough time to demonstrate and explain products and services to sell them better, what's the need for short-form content?
Metrics show that short-form videos perform well on social media. So, you'll get more views on YouTube Shorts. So, only create punchy, engaging, and entertaining YouTube Shorts that can help you increase your subscribers with the growing views.
Influence YouTube Algorithm
When you get more views on your videos, YouTube stats start improving, which influences the YouTube algorithm to promote and suggest your content more. Thus, you get more views, subscribers, likes, and shares.
Build Your Brand Community
Once you have a large audience base, your channel size grows with time. It means you have a better opportunity to convert your audience into customers. Thus, you can use YouTube Shorts to build a brand community on the platform.
Impress Your Customers
No matter what your industry is. Perhaps, you don't know but your customers like short-form content. So, why don't you use great YouTube Shorts to leave an impression on your customers?
We can say that learning how to make YouTube Shorts has become necessary to grow a YouTube channel for your brand.
How to Monetize YouTube Shorts?
Creators have many opportunities to earn money from their audience, and size doesn't count. First, make up your mind, find your niche, research your topics, and create quality content. YouTube Shorts is a great opportunity to cash your skills and knowledge because millions are hungry for your content.
YouTube Partner Program
Fortunately, YouTube Shorts monetization has been started since February 2023. As a result, eligible creators can join the YouTube Partner Program to earn ad revenue. The program eligibility criteria are 4000 subscribers in the last 12 months and 10M valid public Shorts views.
YouTube runs ads between videos in the Shorts feed. So, monthly earning from these ads supports Shorts creators to bear music licensing costs.
Creators can keep only 45% of the revenue from the overall allocated fund. Your Share of total Shorts views will determine your payout. You get a fixed revenue share. It doesn't matter whether you use music in your videos or not. So creators with excellent strategies to create quality content, viral their YouTube Shorts, and reach billions can earn millions.
Brand Deals and Sponsorships
YouTube Partner Program is not the only way to earn money from Shorts. Creators are earning millions through brand sponsorships.
Brands always outreach content creators and influencers who have a large audience base and influence over them. In addition, they usually offer money to promote their products and services to your audience.
When a brand name or a branded product is featured in a video, the creator is likely endorsing them directly or indirectly. Mostly, they promote for money or for free products or services.
Any running niche vlog can get brand deals easily—no need to have millions of views and subscribers. According to Hubspot, 51% of marketers have plans to invest more in short-form videos. So, start your YouTube channel and get ready for your first brand deal.
How to Viral YouTube Shorts?
Who doesn't want to viral YouTube Shorts? But what makes a YouTube Short viral? So, you must know a few things to consider before making and uploading YouTube Shorts.
Leverage The First Few Seconds
Grab the viewers' attention with the first few seconds of your Short with a hypnotic hook.
Keep It Short And Sweet
YT Shorts' audience wants easy-to-understand and brief content. So think twice before creating a short, whether you can deliver it within a minute.
Create The Perfect Loop
Perhaps, you've noticed a YouTube Short play in a loop until you don't swipe to the next. It means if you create a seamless loop, viewers may see it multiple times.
Re-hook Your Viewers
A compelling hook in the first few seconds is essential, but it is far better if you can re-hook the viewers many times throughout its duration. To achieve this, you can use a trending sound, text, or image re-hook them every 3-5 seconds.
Give It A Captivating/Weird Title
Your engaging content can go viral with an attractive or weird title and caption. Yes, your title can hook your audience with your Short.
Use Trending Hashtags
Hashtags are a medium to reach the right audience. It's also true in the case of Shorts, but not to that extent. YouTube's algorithm promotes and suggests your videos in search based on the used hashtags. Always research and carefully use hashtags relevant to your content. Otherwise, YouTube will limit your reach.
Use Trending Music
For YouTube Shorts, creators can use built-in Sound tools to use trending music without fear of being penalized. If you use trending music in your Shorts, your chances increase of going viral on YouTube.
Split Content Into Two Parts
You can pin the second part in your comments and drive the audience to additional content. This way, you encourage people to explore the remaining part, and they subscribe to your channel to see the next part.
Promote Your Shorts
Cross-platform promotion plays an important role in going Shorts viral. The idea is to place snippets of your Shorts on YouTube Stories, Instagram Stories, Facebook Stories, WhatsApp Status, Snapchat Stories, etc.
Conclusion
After reading our beginner's– guide on how to make YouTube Shorts, you learned how useful this skill can be for content creators and marketers to master. YouTube Shorts can help you get your future customer's attention. Just posting snappy Shorts can bring more audience, build your community, and convert them into customers.
All you can do that with our spending on a video camera and video editing software. You can start with your phone and the YouTube app. Only quality content and promotion strategies will help you grow your channel and make millions of dollars. You can earn money from multiple streams, as mentioned in our article.
Remember to follow our strategy for going viral on YouTube and get successful someday.