In this guide, we will discover : How to Save and Export ChatGPT Conversations – Easy Beginners Guide
Those not living under the rock would know the craze of the new AI chatbot. Likely, you've already tried the viral AI Chatbot – ChatGPT, or at least you've heard of it.
ChatGPT is all the rage now on social networking platforms, and users are extremely pleased to use it. Recently, ChatGPT also introduced its paid variant, ChatGPT Plus, based on GPT-4 and accepts images as input.
ChatGPT is a very helpful tool, and anyone who knows how to use the AI chatbot properly will be stunned by its many benefits. It can generate text that can actually be very helpful to people.
Save and Export ChatGPT Conversations
Sometimes, you may even want to save and export the ChatGPT conversations for later use. So, can you export ChatGPT conversations? The conversations are automatically saved on the ChatGPT panel, allowing you to continue the chat later.
But if you want to export ChatGPT conversations, use a third-party Chrome extension. Below, we have shared the best ways to save and export ChatGPT conversations. Let's get started.
How to Save ChatGPT Conversations
You won't have to do anything to save and continue ChatGPT conversations. ChatGPT automatically saves your chats for later use.
Your recent ChatGPT conversations are displayed on the left sidebar, allowing you to continue those conversations anytime later.
Open your favorite web browser, head to chat.openai.com, and log in with your OpenAI account. On the left sidebar, you will see all your past conversations.
The first question you'll ask in the conversation will be the conversation name. You can easily change it by selecting the conversation and clicking the Pencil icon. Next, give your conversation a new name and click the check mark icon to save it. This is how you can save ChatGPT coversations.
How to Export ChatGPT Conversations?
The easiest way to export ChatGPT conversation is to copy and paste the text into any notes app like Notepad, Notepad++, or Microsoft Word Document.
However, the problem with manually copying the text is that you'll have to do it whenever you want to export the chat. A solution for that is to use a Chrome Extension named 'ShareGPT' that creates a shareable URL of the entire chat.
You can easily export the chat from the shareable URL generated via ShareGPT. Here's how to export ChatGPT conversations.
1. Open the Google Chrome browser and visit this webpage. Then, click on the Login button and log in with your OpenAI account.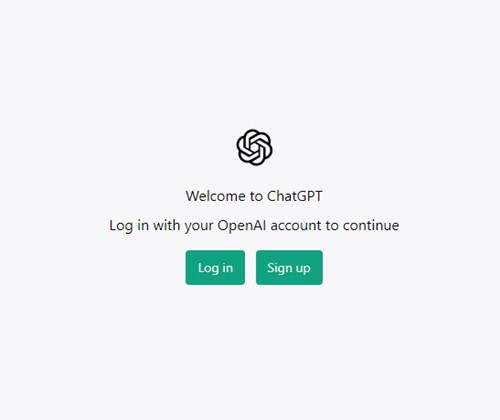 2. Next, click on this webpage. You will be redirected to the ShareGPT Chrome extension page. Click on the 'Add to Chrome' button.

3. Click the 'Add extension' button on the confirmation prompt.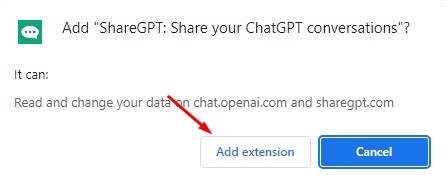 4. The extension icon will be added to the extension bar. Open ChatGPT, and select the conversation you want to export.
5. Click the extension icon and sign in using your Google or Twitter account.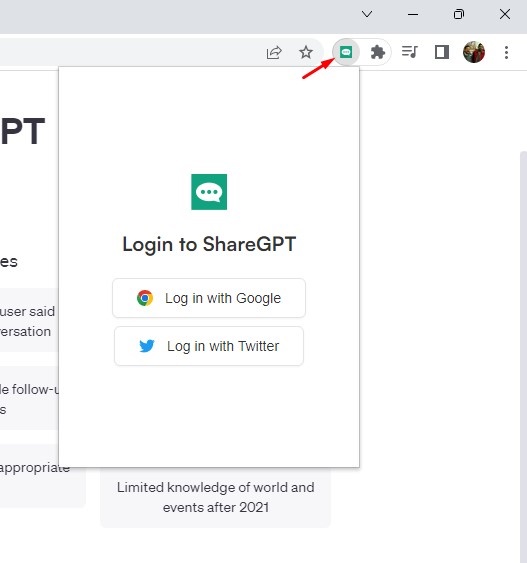 6. Once done, reload the ChatGPT chat page, and you will see a new 'Share' button.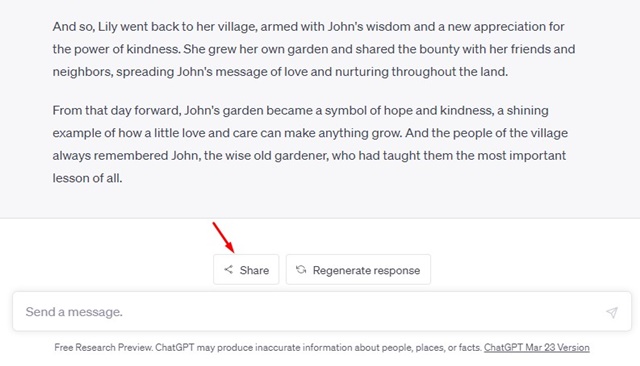 7. Click on the Share button and select 'Copy'. This will; immediately give you a shareable link to the ChatGPT conversation.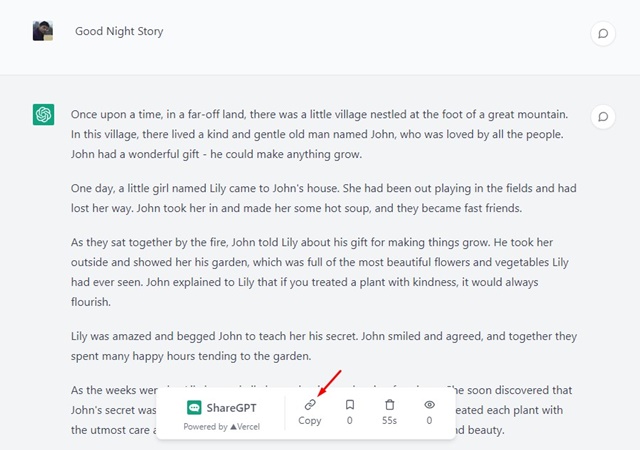 8. The shareable link will also show how many people have bookmarked or viewed the ChatGPT conversation.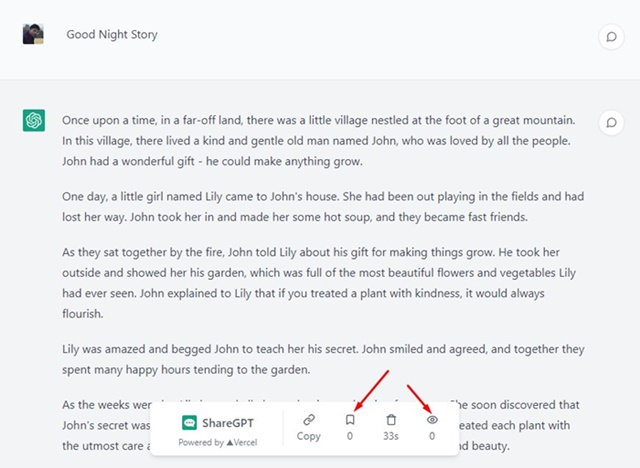 That's it! That's how easy it is to export ChatGPT conversation on the Google Chrome browser. After getting the URL, you can share it with your friends or can bookmark it to view later.
Frequently Asked Questions
Can anyone see your ChatGPT Conversations?
Anyone who has access to your OpenAI account can see your recent conversations. Also, the OpenAI team views your chat to improve their AI chatbot. If you don't share your account with anyone, only the OpenAI team can view your conversations.
How to Delete ChatGPT saved chats?
Deleting ChatGPT saved conversation or history is easy. You can delete all conversations or a specific one. To know the steps, check this guide – Delete ChatGPT History.
How many conversations does ChatGPT save?
ChatGPT didn't disclose the number of conversations it saves. The old one is replaced by the new one, and it's hard to figure out the actual numbers. However, with the ShareGPT extension, you can export the chat to view them later.
Is ChatGPT free for all?
Yes, ChatGPT is free for all. However, the company has recently released its premium version known as 'ChatGPT Plus'. The ChatGPT Plus requires a paid subscription but is based on GPT-4 and has better handling power.
How to Delete ChatGPT Account & Data?
If you want to keep your data private from OpenAI, the best you can do is to avoid using ChatGPT. The best way to avoid the AI Chatbot is by deleting the ChatGPT Account & data. Here's how to delete your ChatGP account and data in easy steps.
ChatGPT is a handy tool that can help you in many ways. The ability to export ChatGPT conversations can be a helpful addition to the AI Chatbot. But, since the export option is not yet available, ShareGPT is an effective choice.
Also read: How to Use ChatGPT on WhatsApp
With ShareGPT, you can easily export your important ChatGPT conversation and view them later. If you want to suggest any other extension that does the same thing, drop the name in the comments below.