In this guide, we will discover : How to See Who Viewed Your Twitter Profile (All Methods) – Easy Beginners Guide
Twitter is one such platform meant for both individual users and businesses. It's a site used by all big brands, organizations, celebrities, and regular users.
Twitter is free to use, and you can follow all your friends, relatives, celebrities, and companies on the platform. However, with the growing popularity of social media sites, tracking the number of followers your account has and the likes & retweets your Tweets receive has become essential.
While these things are easy to track, what if you want to track your Twitter profile views? Many users search for terms like 'Who Viewed my Twitter profile'. If you are also searching for the same and landed on this page, continue reading the article.
Below, we will discuss how to see who viewed your Twitter profile in detail. We will know is it possible to check who viewed your Twitter profile and all other information. Let's get started.
Can You See Who Viewed Your Twitter Profile?
The short and simple answer to this question is 'NO'. Twitter doesn't allow you to see who viewed your profile.
Twitter hides this record to maintain users' privacy on the platform, and it's a good practice. Nobody would ever want to leave their footprints while stalking a Twitter account.
While Twitter doesn't allow you to see who viewed your profile, a few workarounds still let you check your Twitter Profile visitors.
How to See Who Viewed Your Twitter Profile?
Since there's no direct option to find Twitter profile visitors, you would have to depend on several third-party applications or Twitter analytics. Below, we have discussed all possible ways to check Twitter Profile visitors.
1. Find People Who Viewed Your Profile via Twitter Analytics
Twitter analytics is a tool from Twitter that helps you better understand your followers and Twitter community. It shows you how your posts performed over the days.
You can use it to check the number of visits your Twitter Profile has throughout 28 days. It also shows other profile metrics such as Mentions, Tweet Impressions, Tweet Engagements, top tweets, etc.
The problem with Twitter Analytics is that it only tells you the number of profile visits; it doesn't show the account name that visited your profile.
1. First, open your favorite web browser and visit Twitter.com. Next, sign in to your Twitter account.
2. When the Twitter site opens, click on the More button at the bottom left corner.
3. From the list of options that appears, expand the Creator Studio and select 'Analytics'.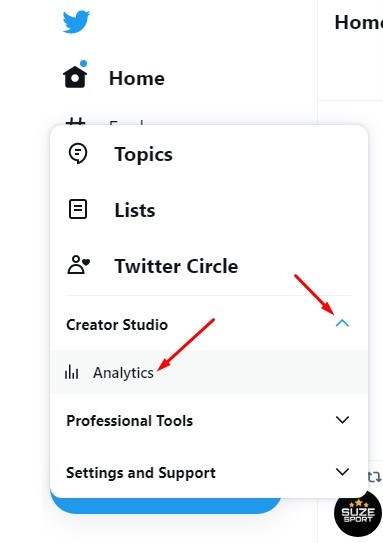 4. Click the 'Turn analytics on' button on the Twitter Analytics screen.
5. Now, you can see the full statistic of your Twitter Profile.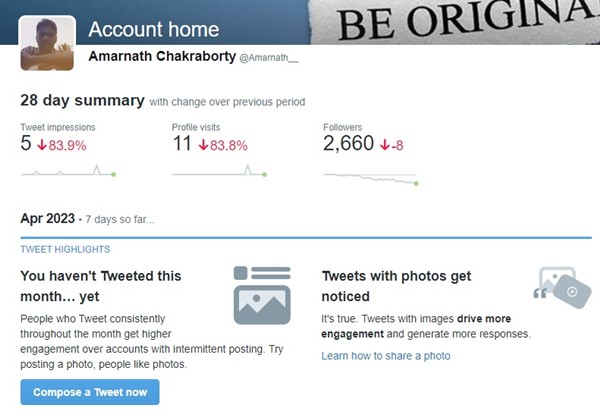 That's it! You can see the Twitter Profile visit counts, but this won't disclose the account names.
2. Use Third-Party Services to See Who Viewed my Twitter Profile
Another best way to see who viewed your Twitter profile is by using third-party services. We are discussing the social media management tools that give you full Twitter analytics details.
While most third-party Twitter apps or services fetch the details from your account analytics, some can disclose the account name. Below, we have shared two best Third-party apps to see who viewed my Twitter profile.
Hootsuite is a top-rated social media marketing and management tool available on the web. It has no free plan, but it's one of the most useful tools for managing your social media accounts.
You can use it to manage your Instagram, Facebook, Twitter, YouTube, LinkedIn, and Pinterest accounts. Since it's a social management tool, you can expect post-creation and post-scheduling features.
It has Twitter analytics features that let you monitor your Twitter account. The service provides accurate insights into your popular tweets, the number of retweets, new followers gained, and the top followers who viewed or interacted with your tweet.
On the downside, Hootsuite fails to provide specific information about the accounts that viewed your profile. Instead, it just presents you with the Twitter account analytics information in a better way.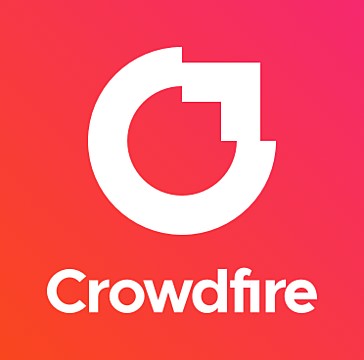 Crowdfire is a web service similar to the HootSuite app we have listed above. It's a social media management service that offers you all features you'll ever need.
It has a free plan lets you link up to 3 social accounts. The free account supports only Twitter, Facebook, LinkedIn, and Instagram for monitoring.
Another major drawback of Crowdfire's free plan is that it only provides social analytics data for the past day. On the other hand, the premium plans provide you with social analytics of up to 30 days.
Crowdfire is a great tool to check who has checked and interacted with your tweets. Also, you can monitor your Twitter posts that have performed well within a period.
However, just like Hootsuite, Crowdfire can't track individual profile visits. You can use it only to check how many people have viewed your Twitter profile.
3. Browser Extension to Check Twitter Profile Visits
You will find quite a few Chrome extension that claims to show you Twitter Profile Visitors. Unfortunately, those extensions are mostly fake and attempt to steal your Twitter account credential.
It's important to note that Twitter doesn't track the profiles that other people look at. This means no service or app can figure out who viewed your profiles.
Any service, app, or browser extension that claims to show you who stalks your Twitter is likely to be fake.
Only a few selected Chrome extensions are available that show you who visited your Twitter profile, but that requires extension installation on both ends; you and the stalker should have the extension installed.
4. Apps to see who stalks your Twitter
No, the mobile apps that claim to tell who visited your Twitter profile are likely fake. Since no Twitter profile visitor data is officially available, no third-party apps can show you who stalks your Twitter profile.
So, for security reasons, avoiding disclosing your Twitter account details on any third-party websites or apps is recommended.
Is it possible to know who viewed my Tweets?
No, there's no way to know who's seen your Tweets. The only thing you can check is the interactions made on your Tweets.
You can check which and how many accounts have liked, retweeted, or replied to your Tweets. Twitter doesn't disclose who viewed your Tweets.
Also Read: How to Download Twitter Videos
So, that's all about how to see who stalks your Twitter. If you need more help finding who viewed your Twitter profile, let us know in the comments. Also, if the article helped you, share it with your friends.