Microsoft has unveiled a new cloud-based application that lets you back up and restore your files, apps, settings, and credentials. It works similar to the Time Machine app on macOS. The app is currently available with Windows Insider preview builds and will be generally available to everyone with the Windows 11 23H2 update coming later this year.
The Windows Backup application allows users to create a system backup and utilize it to restore their settings on a fresh Windows installation or after a system reset. The following guide provides instructions on using the Windows Backup app to backup and restore a Windows 11 computer.
Setting up Windows Backup App
The new Windows Backup app is a great way to keep your data safe and secure. It is easy to use and offers a number of new features that make it more convenient than the previous backup tools that were available on Windows.
Before you launch and start backing up your Windows system using the tool, you can choose which files and settings to back up. Here's how:
Open Windows Settings, navigate to the 'Accounts' section and select 'Windows Backup' on the right pane.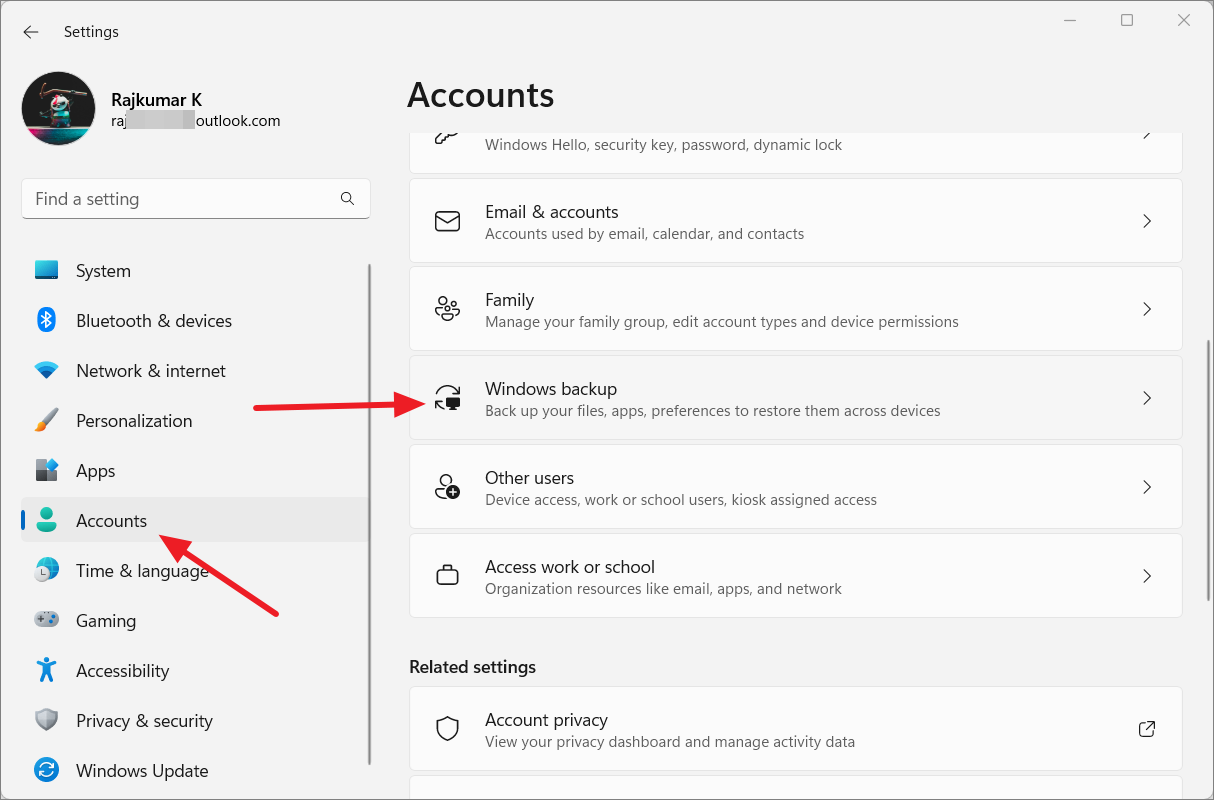 On the Windows backup settings page, you can configure which folders, apps, settings, and credentials you want to back up.
To specify the library folders you want to be backed up from your computer, click on 'Manager sync settings'.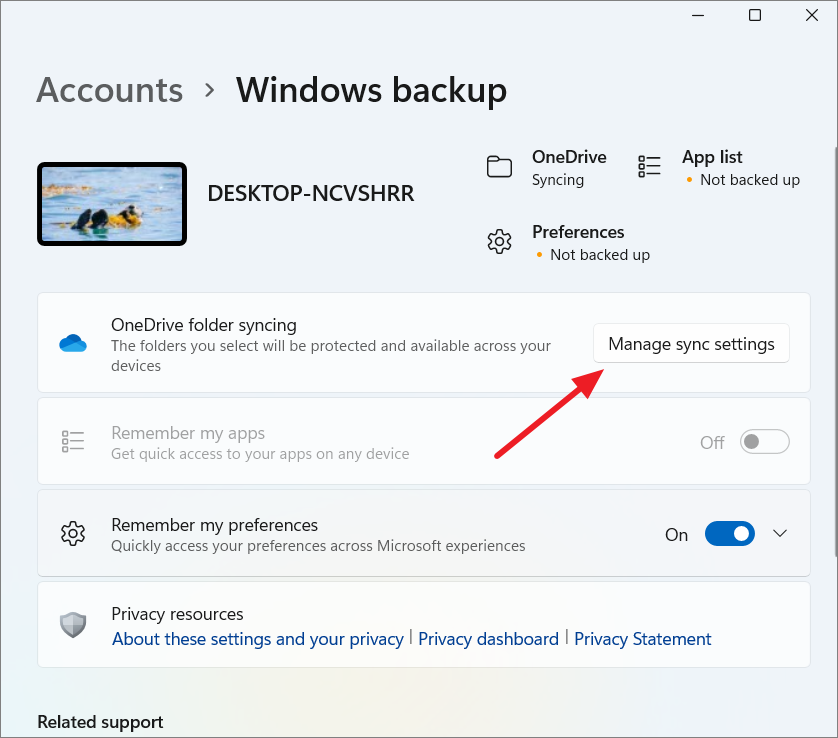 On the Microsoft OneDrive window, select the folders you want to back up by turning on the toggles. Then, click on 'Start backup'.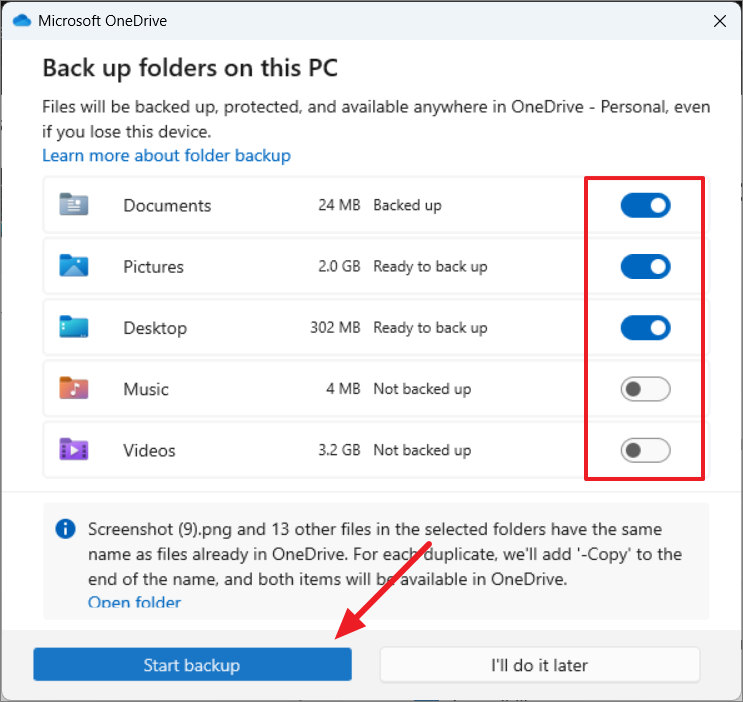 Next, turn on the 'Remember my preferences' toggle and expand the option.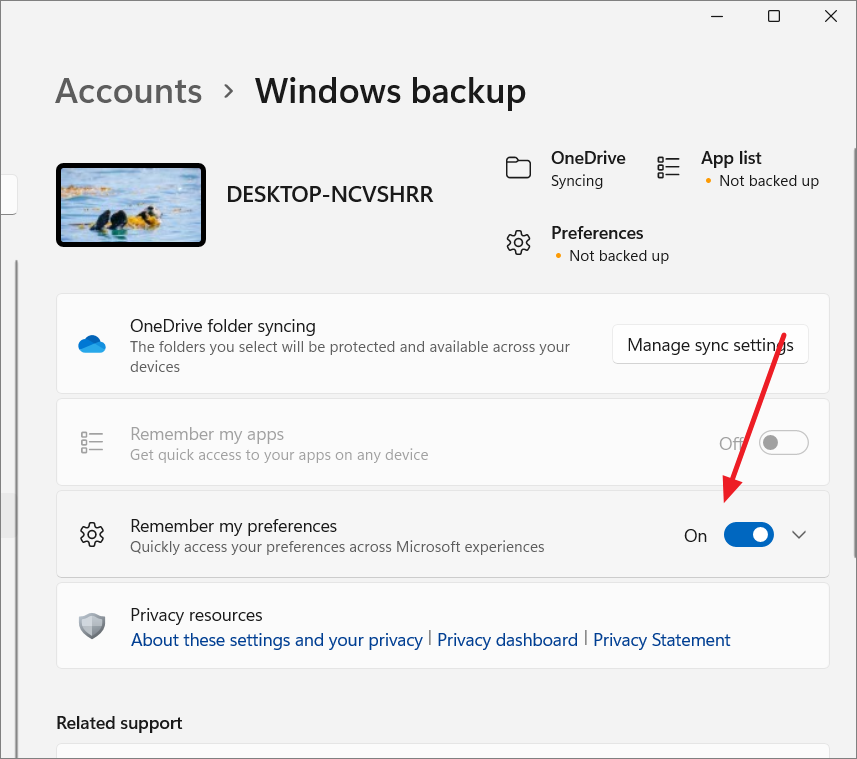 Now, choose the settings you want to be backed up across your Microsoft devices.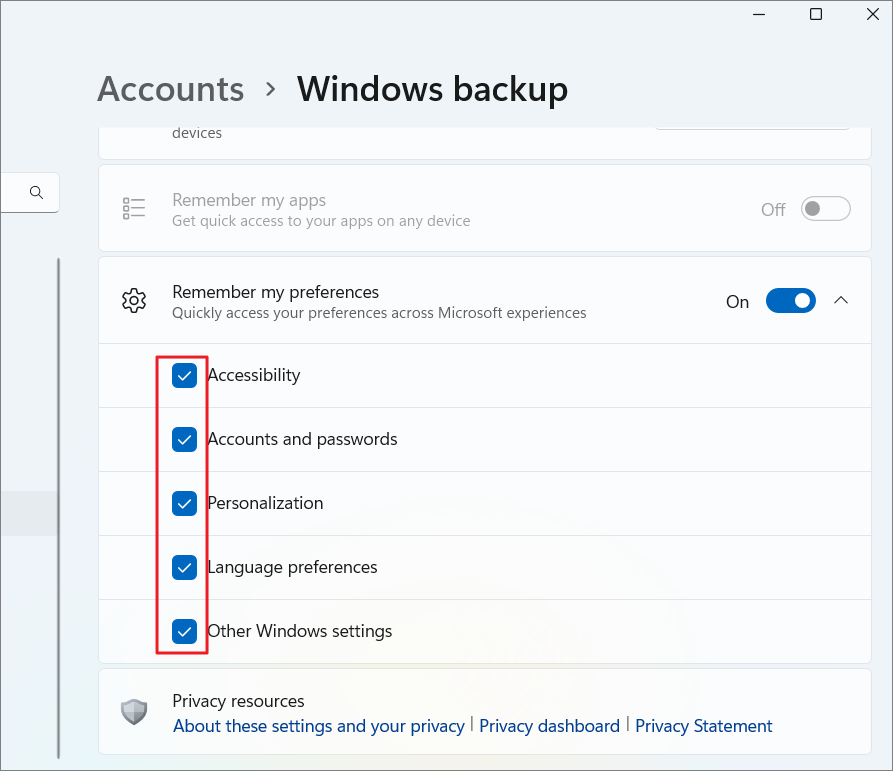 You can choose to back up all of your files, apps, and settings, or you can select specific items to back up. Once you have selected the items, you can start backing up your data.
Backing Up Your PC Using Windows Backup App
Open the Windows Backup app on your PC. Search for it in Windows Search, and then select the app from the results.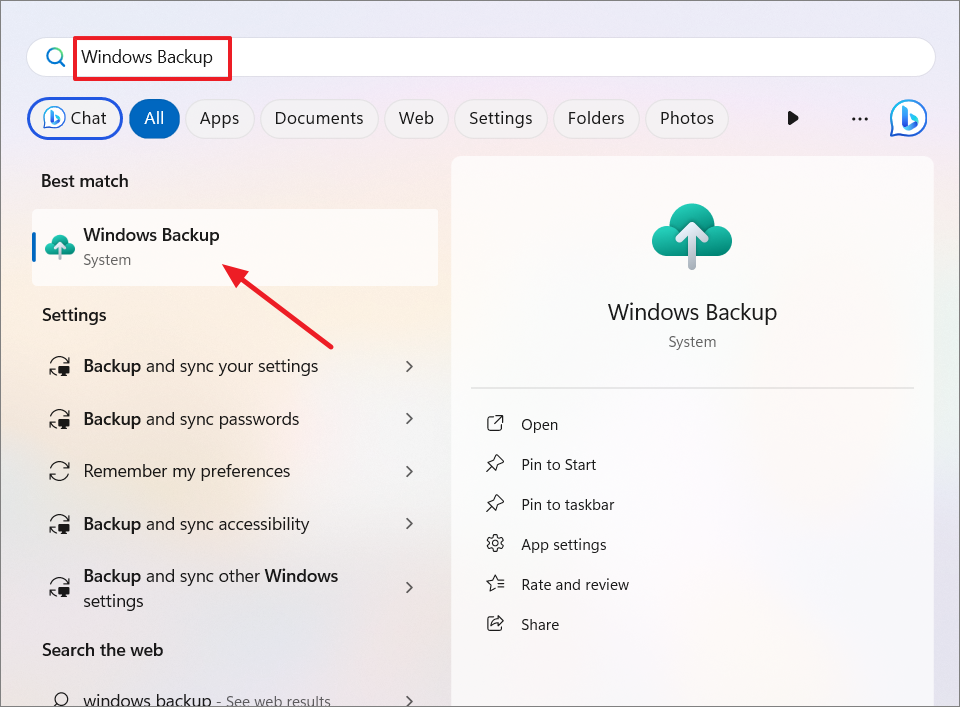 Once the app opens, you'll see the Let's back up your PC window, which is divided into four sections: Folders, Apps, Settings, and Credentials.
Folders: This section lets you select library folders you want to backup like Desktop, Documents, Pictures, Videos, and Music.
Apps: It not only remembers the apps you have installed but also retains their specific preferences.
Settings: Here, you can select which system settings and personal preferences you want to back up.
Credentials: This option can also preserve your Wi-Fi networks and other passwords.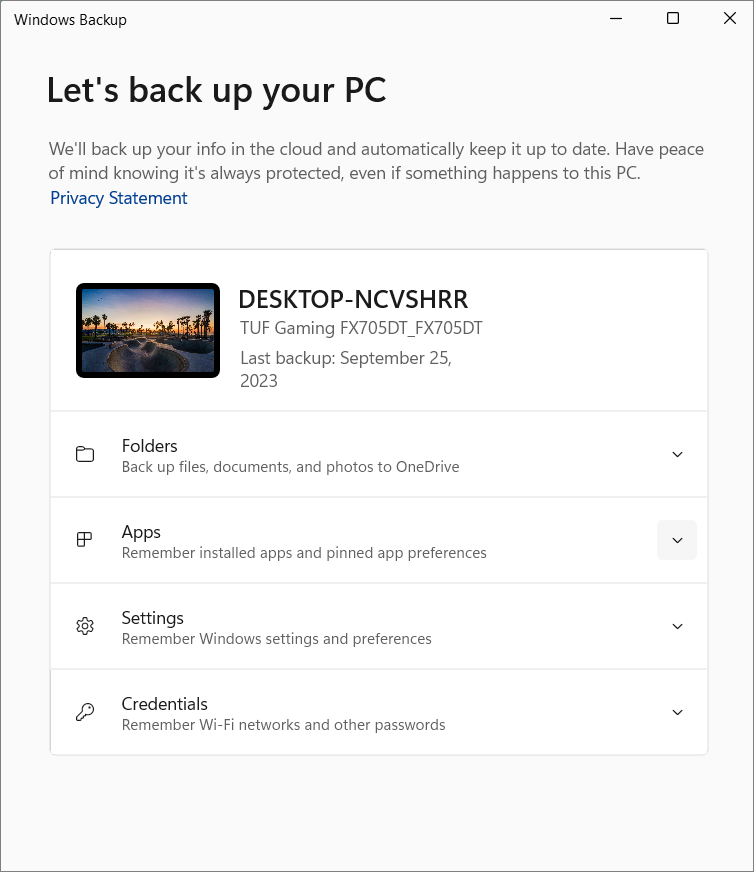 Expand each section and select or confirm the items you want to preserve.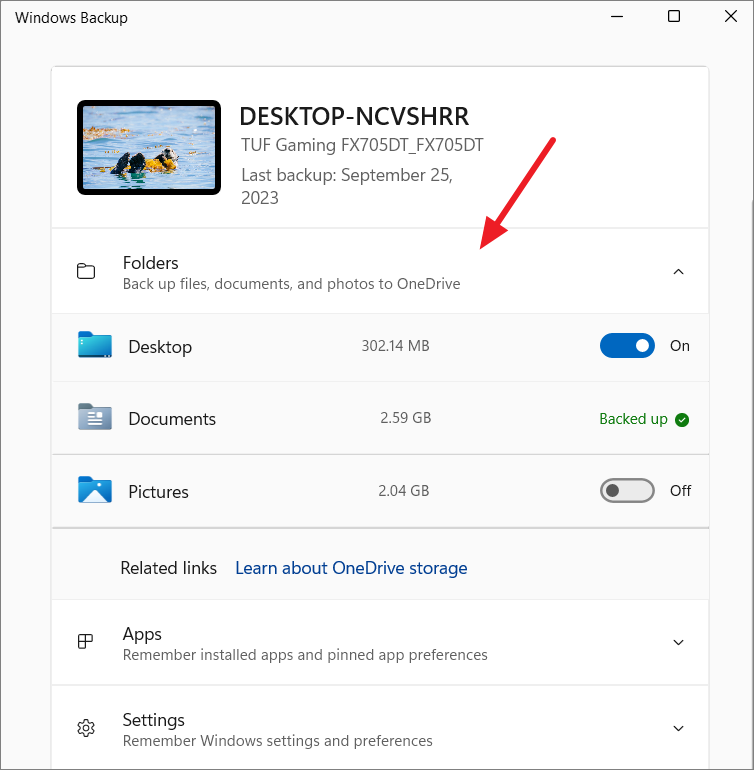 After selecting the items, click 'Back up'.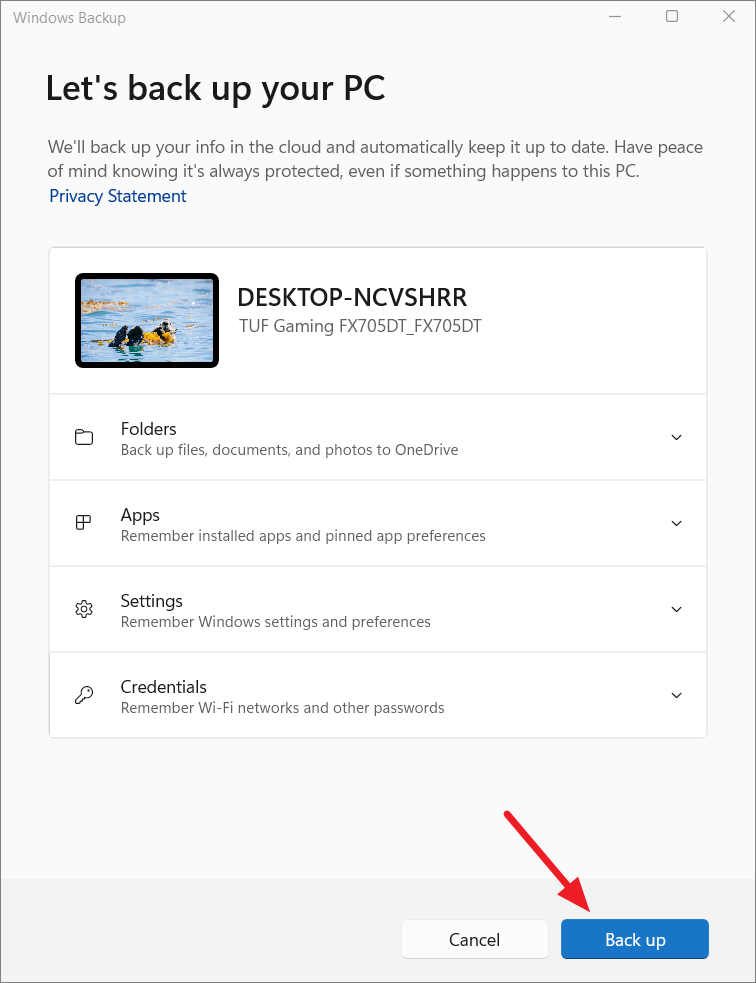 The new Windows Backup app will then start backing up your data.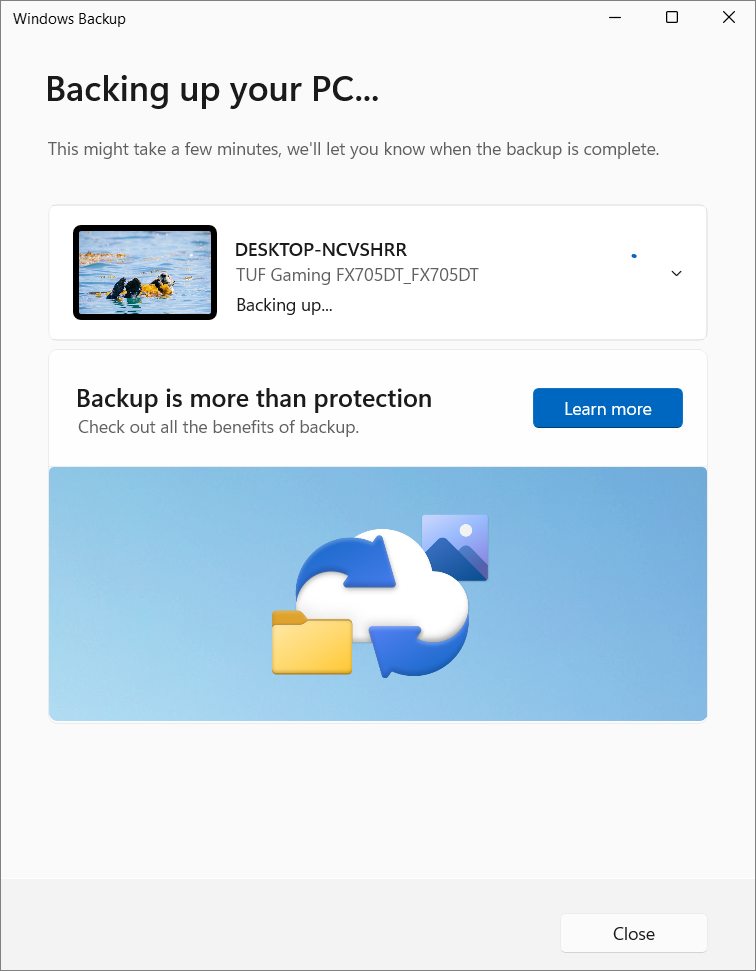 With these selections made, your data and settings will now be securely backed up.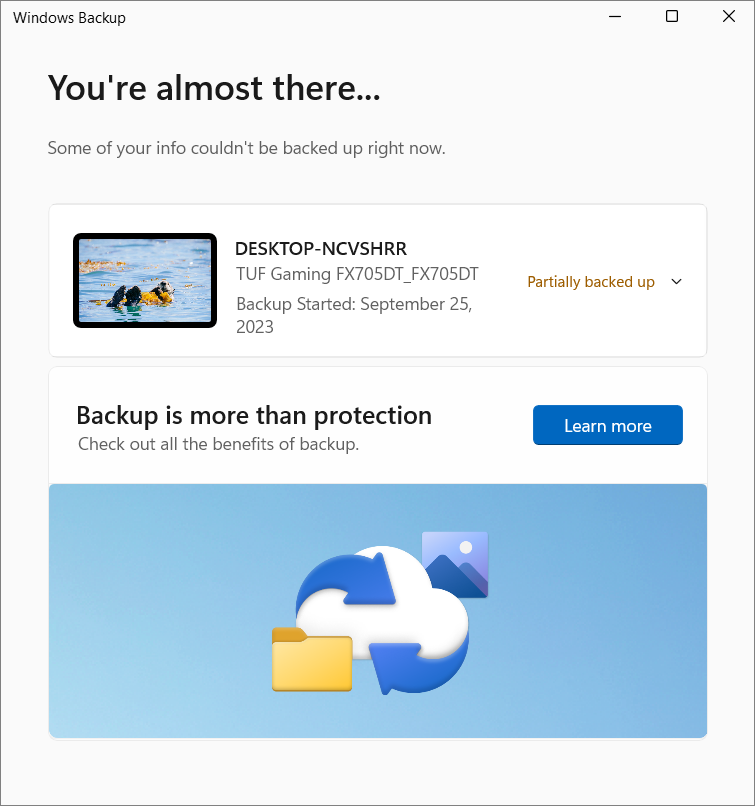 This feature is especially helpful when you're moving to a new computer and want your new setup to feel just like your old one, or when you're resetting your PC.
However, desktop apps available on the Microsoft Store and Android apps installed on your computer are not backed up. This means that users who rely on specific work-related apps will need to set them up again after restoring a backup.
The Windows Backup app can only be used with personal Microsoft accounts. It cannot be used to back up work or school accounts. If you need to back up work-related apps or accounts, you will need to use a third-party backup solution.
How to Restore Your PC from Windows Backup App
When setting up a new Windows 11 PC or following a reset of an existing one, the restore feature can be utilized to retrieve files, applications, and settings from a backup. However, you can only restore backups from the OOBE (out-of-box experience) screen, and you must have Windows 11 Build 23466 or higher.
To restore your settings, files, and apps on a new Windows 11 installation during the out-of-box experience (OOBE), follow these instructions:
Set up your region and your keyboard language.
Then, choose a name for your computer and click 'Yes'.
On the 'How would you like to set up this device' screen, select the 'Set up for personal use' option.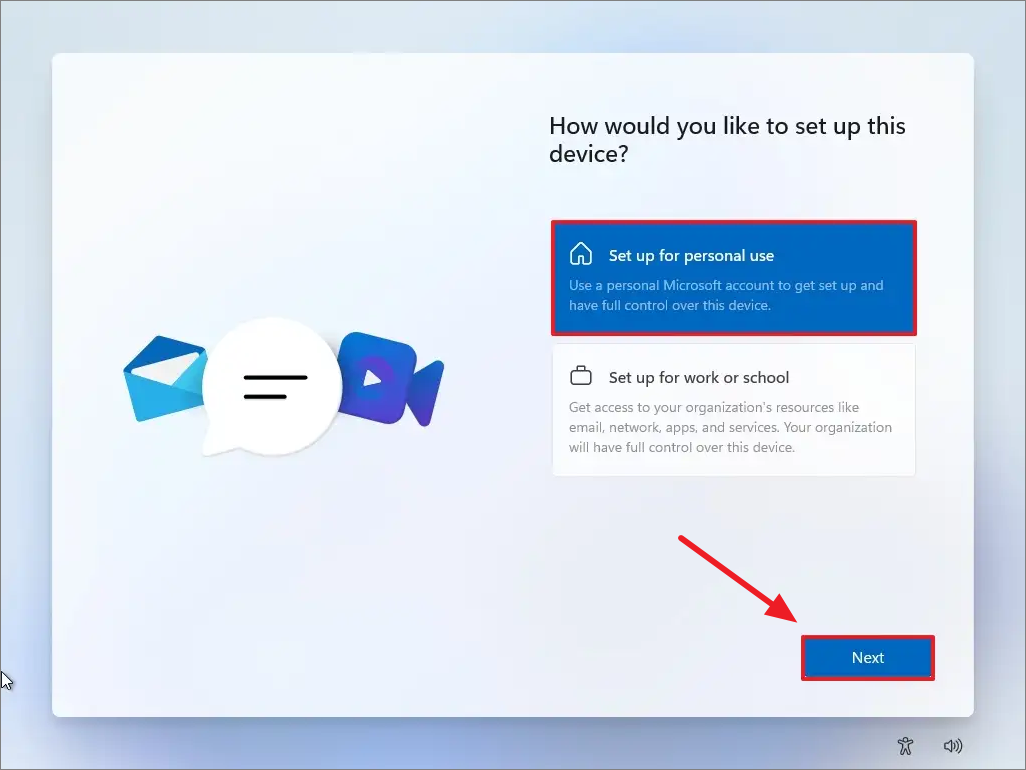 On the next screen, click 'Sign in' and use the same account that you used for backing up your device to sign in.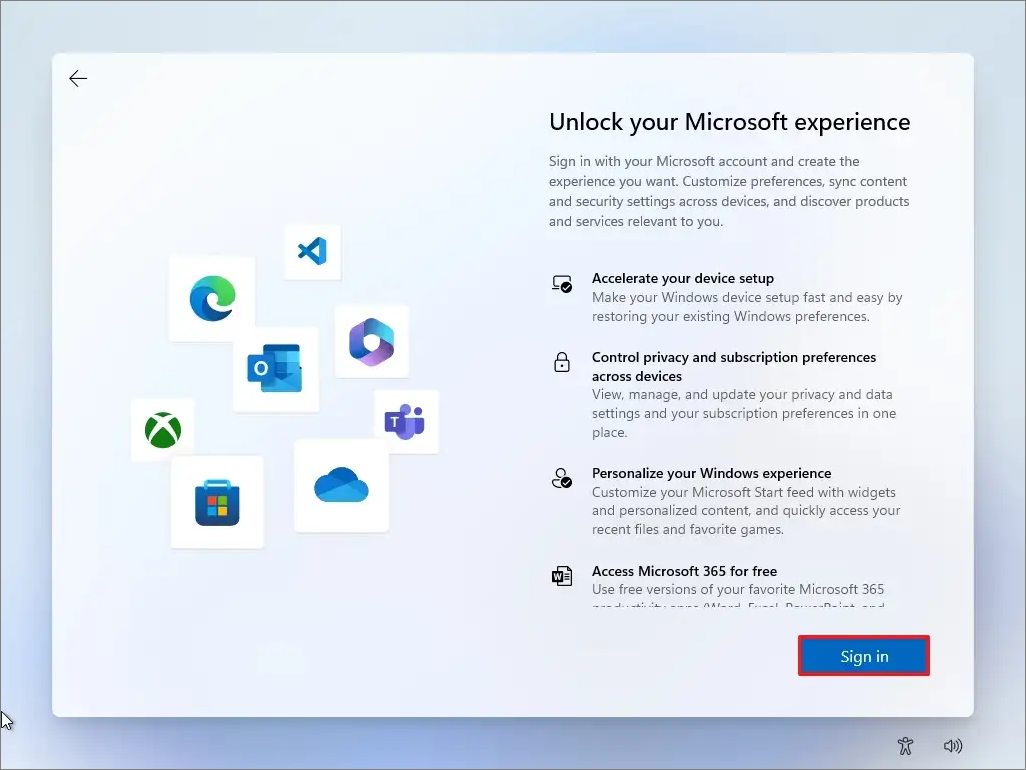 After that, confirm your Microsoft account and click 'Next.'
On the 'Select a device to store from' screen, choose the backup you want to restore and click on 'Restore from this PC'.
After completing the above steps, your files, settings, and apps will be restored automatically if you reset your computer. This process will even keep your taskbar pins the same.
However, you cannot use Windows Backup to restore individual items or to restore your entire setup after a hardware failure or file corruption. Instead, your files will always be available through OneDrive, and you can only recover your apps, settings, and credentials when you reinstall Windows.
If you wish to create a full backup of your computer, you can still use the old System Image Backup tool to do so.