In this guide, we will discover: How to Turn Off Glance in Samsung Smartphone [ OneUI 5 & 4] – Easy Beginners Guide 2023
So, let's begin!
Key Highlights
On Samsung OneUI 5: Go to Settings → Wallpaper and style → Browse my wallpapers → Wallpaper Services → None → Apply.
Samsung OneUI 4: Visit Settings → Wallpaper and Style → Lock screen wallpaper services → None → Apply.
Is your Samsung smartphone consuming more data or WiFi? If yes, then Glance might be one of the reasons behind it. Basically, Glance changes the lock screen images at a certain interval of time or periodically. It uses your mobile data to fetch high-quality images. Sometimes, it will be exhausting when your smartphone runs out of mobile data, so you have to turn off the Glance feature on your Samsung Smartphone.
The actual meaning of Glance is to take a quick look at something. Glance is the in-built feature on some Samsung smartphones that includes customized content driven by Artificial Intelligence. This feature shows different images under a new theme/story on your Samsung lock screen. In addition, you will also get ads, short videos, pictures, etc. It keeps your smartphone's lock screen active. Hence it may consume more battery.
Disabling the Glance feature will help you to save your mobile data and to enhance the battery life. Also, you can personalize your own or desired image on your lock screen.
How to Turn Off Glance in Samsung OneUI 5
[1]. Unlock your Samsung OneUI 5 smartphone and open the Settings app.
[2]. Under Settings, scroll down and tap on Wallpaper and style option.
[3]. Next, select the Browse my wallpapers option.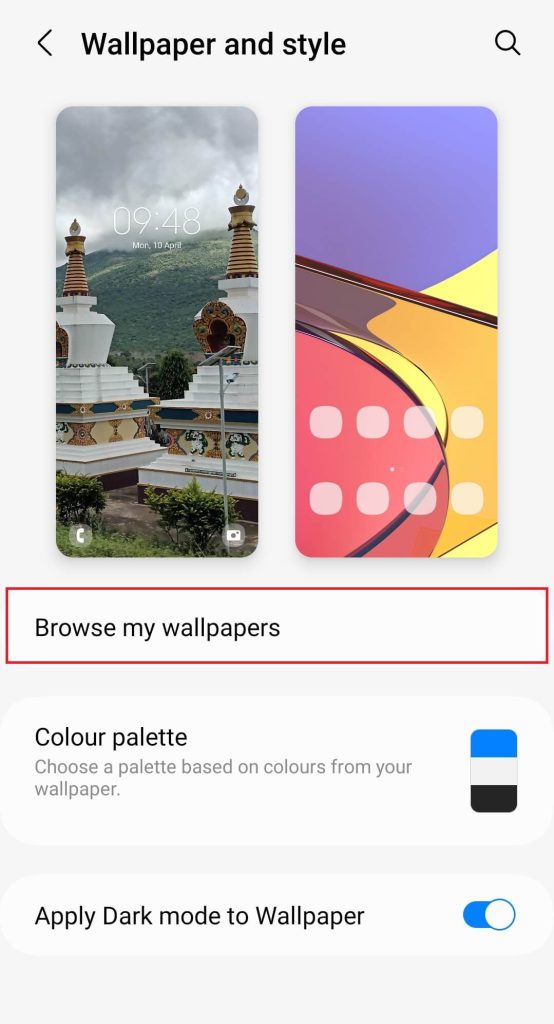 [4]. On the Wallpapers page, scroll down to the bottom and click on Wallpaper Services to expand it.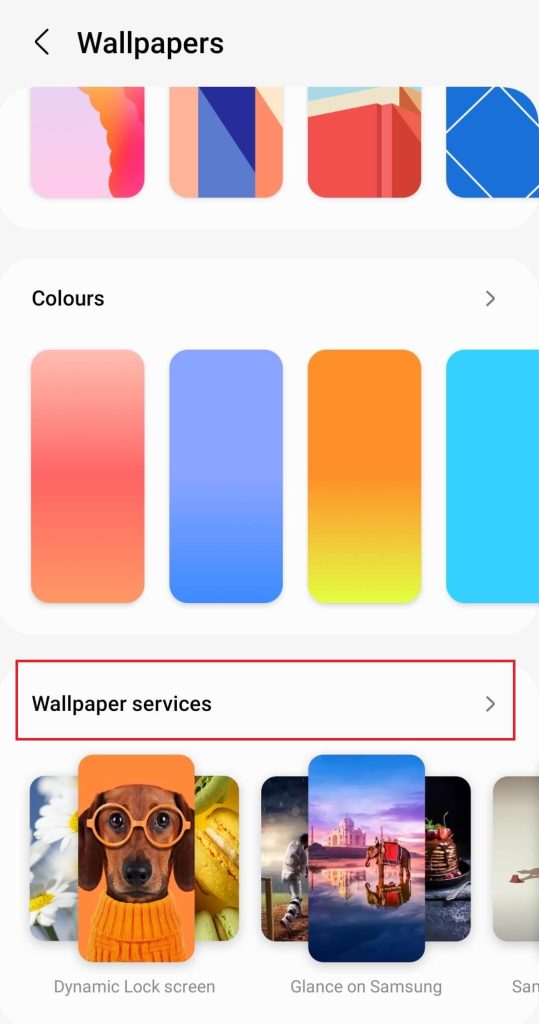 [5]. Then, hit the radio button next to the None option.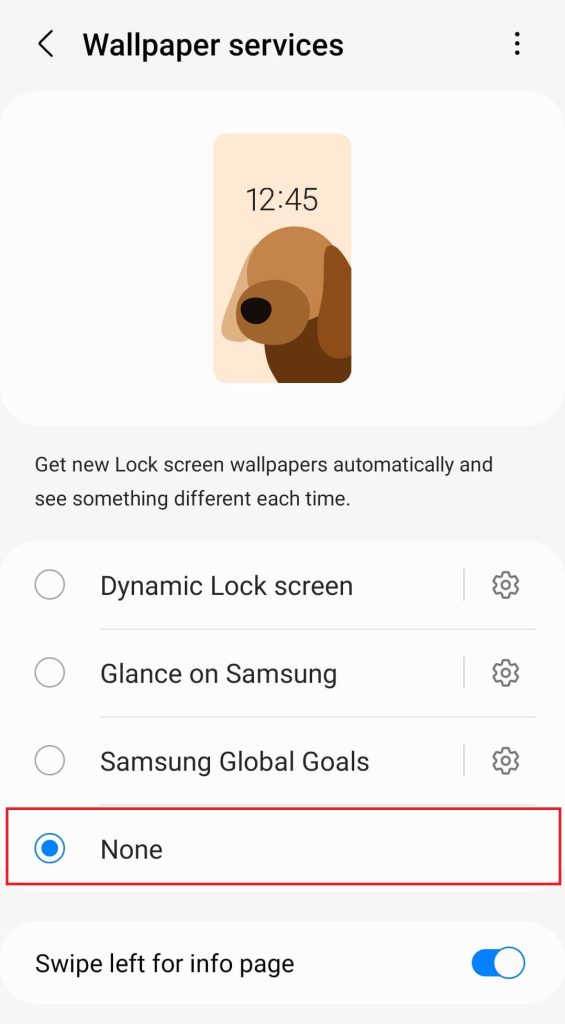 [6]. Finally, tap Apply button to save the changes.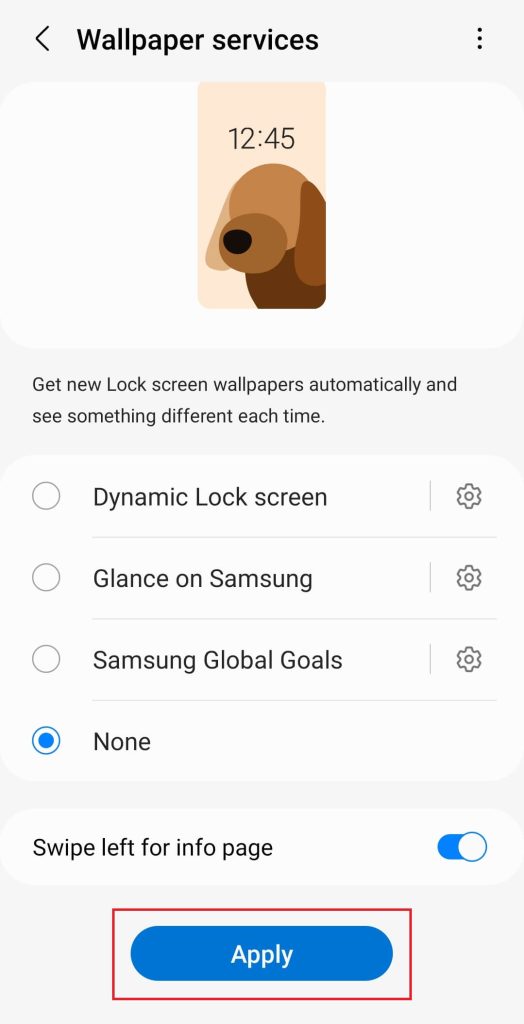 How to Turn Off Glance on Samsung OneUI 4
[1]. On your Samsung Smartphone, navigate to the Settings app.
[2]. Then select the Wallpaper and style option from the settings menu list.
[3]. Next, choose the Lock screen wallpaper services option under the Wallpaper and style page.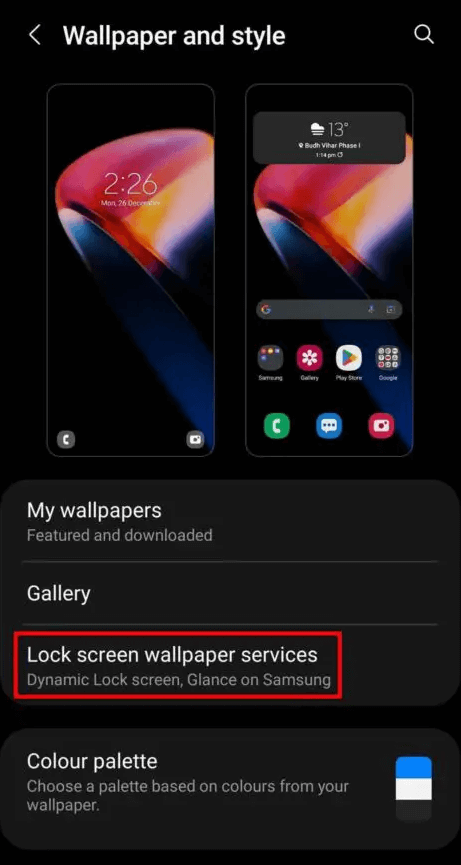 [4]. Click on the None option and then tap the Apply button at the bottom of the screen.
Thus, you have successfully disabled Glance on your Samsung OneUI 4 smartphone. Though Glance provides extraordinary wallpaper images, you may not need them every time when you access your smartphone.
Supported Devices
Samsung UI 4 is supported on all 4G models of Galaxy S, Z, A, M, F, Note, and Tab series. But, Samsung One UI 5 is the updated software version and is compatible with some Samsung One UI 4.1 upgrading models. Recently, the One UI 5 version has been rolled out on many models.
| Series | UI 5 Supported Models |
| --- | --- |
| Galaxy A Series | A- 73, 71 (5G), 53, 52, 52 (5G), 51 (5G), 33 (5G), 32 (5G), 23, 22 (5G), 13, 04, 04s, 03 |
| Galaxy F Series | F- 23, 13, F1 |
| Galaxy M Series | M- 53 (5G), 52 (5G), 42 (5G), 32 (5G), 33, 23 |
| Galaxy S Series | S (5G) – 22, 22+, 22 Ultra, 21, 21+, 21 Ultra, 21 FE, 20 LTE, 20+, 20 Ultra, 20 FE LTE. |
| Galaxy Tab Series | S8 Ultra, S8+, S8, S7+, S7, 57 FE, S6 (5G), S6 Lite, A7 Lite, A8 10.5 |
| Galaxy Note Series | Note 20 LTE, 20 Ultra LTE |
| Galaxy Xcover Series | Xcover 5 |
| Galaxy Z Series | Z- Fold 2, Flip, Filp (5G), Fold 3, Filp 3, Fold 4, Filp 4 |
Frequently Asked Question
Why can't I remove glance on my Samsung Smartphone?
If your smartphone is not updated to the latest version, you cannot access some features. However, update your Samsung Smartphone to the recent version or turn off your Galaxy smartphone and turn it on to access the Glance feature.
Is it possible to turn off Glance on a Samsung smartphone?
Yes, you can turn off Glance on a Samsung smartphone that runs on the One UI5 or One UI 4 version.
Was this article helpful?
YesNo