The 2023-24 NFL Season games are scheduled for September 07, 2023, to January 07, 2024. Download the NFL application from the App Store to stream the live action on Apple TV. However, you should have a valid NFL+ subscription to watch all the NFL sporting events live.
The NFL app also supports AirPlay. So, you can wirelessly stream NFL games on your streaming device from an iPhone, iPad, or Mac. For that, connect Apple TV and Apple device to the same WiFi.
The NFL+ has two subscription plans: Basic and Premium. The basic NFL+ plan costs $6.99/month (or) $49.99/year. NFL+ Premium costs $14.99/month (or) $99.99/year. Besides NFL+, you can also watch NFL games using live TV providers like Hulu + Live TV, Sling TV, etc.
This article describes the procedure to watch NFL games on an Apple TV.
Week 4 games are scheduled for September 28, 2023, to October 02, 2023.
How to Install NFL on Apple TV from App Store
You can install NFL from the App Store if your Apple TV runs with tvOS 15.0 or later.
(1) Turn on your Apple TV and ensure it has internet access.
(2) Launch the App Store from the built-in apps.
(3) Search for NFL using the search bar.
(4) From the search result, choose NFL.
(5) Click Get to install NFL on your device.
How to Activate NFL on Apple TV
(1) Open the NFL app and click Sign in.
(2) Note the activation code that appears.
(3) Visit the NFL activation website (nfl.com/activate), enter the code, and click Continue.

(4) Login with the NFL+ account to verify your account.
(5) Once verified, you can start streaming NFL live matches on your Apple TV.
How to AirPlay NFL to Apple TV from iPhone/iPad
Before you begin, turn on AirPlay on your Apple TV. If you haven't done it, go to Settings → Select AirPlay and HomeKit → Turn ON AirPlay.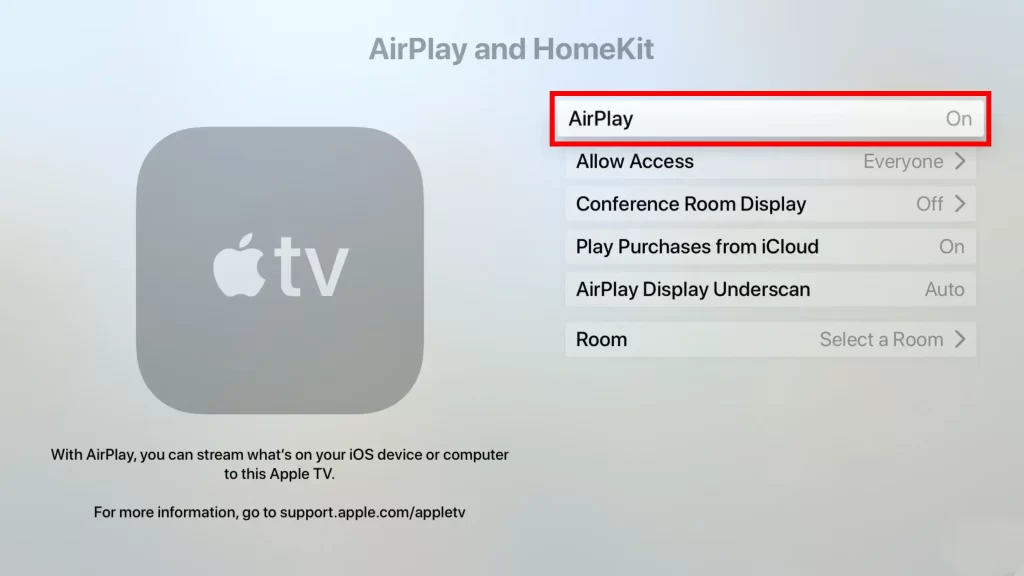 (1) Connect your Apple TV to WiFi, which must be the same as your iPhone/iPad.
(2) Install the NFL app on your iPhone/iPad from the App Store.
(3) Open the NFL app and sign in with your NFL+ account.
(4) Play any NFL event and click the AirPlay icon.
(5) Select your Apple TV to connect. If prompted, input the AirPlay passcode.
Enjoy watching your favorite NFL sporting events on a big screen.
Fixes for NFL App Not Working on Apple TV
There is no need to worry if you have issues streaming NFL on your device. Try these fixes.
Check the internet connection. Disconnect unused devices connected to your WiFi.
Log out of the NFL+ account and log in again.
Uninstall and reinstall the NFL app on your streaming device.
Update Apple TV and the app to the latest version.
Restart Apple TV to fix the errors like slow loading or lagging.
How to Watch NFL Games on Apple TV Without Cable
You can stream 2023-24 NFL regular season games on the following streaming apps if you don't have an NFL+ subscription.
2023 NFL Schedule – Week 4 of 18
| DATE | MATCH | TIME (ET) |
| --- | --- | --- |
| September 28, 2023 | Lions vs Packers | 08:15 PM |
October 1
| MATCH | TIME (ET) |
| --- | --- |
| Atlanta vs Jacksonville | 9:30 am |
| Cincinnati vs Tennessee | 1:00 pm |
| Baltimore vs Cleveland | 1:00 pm |
| Denver vs Chicago | 1:00 pm |
| L.A. Rams vs Indianapolis | 1:00 pm |
| Miami vs Buffalo | 1:00 pm |
| Minnesota vs Carolina | 1:00 pm |
| Pittsburgh vs Houston | 1:00 pm |
| Tampa Bay vs New Orleans | 1:00 pm |
| Washington vs Philadelphia | 1:00 pm |
| Las Vegas vs L.A. Chargers | 4:05 pm |
| Arizona vs San Francisco | 4:25 pm |
| New England vs Dallas | 4:25 pm |
| Kansas City vs N.Y. Jets | 8:20 pm |
October 2
| MATCH | TIME (ET) |
| --- | --- |
| Seattle vs N.Y. Giants | 8:15 pm |
FAQ
How to watch NFL games outside the US?
Subscribe to NFL Game Pass via DAZN and use it to watch NFL games live in your region.
Can you watch NFL RedZone on Apple TV?
Yes. Subscribe to NFL+ Premium to access NFL RedZone using the NFL app.
Was this article helpful?
YesNo