In this guide, we will discover: Movavi Video Converter Review 2023 – Easy Beginners Guide 2023
So, let's begin!
Video content drives engagement, and both professionals and amateurs use it to create compelling stories, capture moments, teach lessons, and entertain audiences on social media. It provides an opportunity to reach a broad audience and has been proven to convert viewers into buyers.
As long as there are many formats, creating or editing video content can be quite challenging. Movavi Video Converter breaks down the barriers between different file types and makes the conversion process more accessible.
Let's delve deeper into the features of this high-quality video converter and find out what makes it stand out.
Movavi Video Converter
Movavi converter is a powerful video and movie converter popular for its comprehensive features, ease of use, and great conversion capabilities.
This video converter is free to download and available for both Windows and Mac users, providing a reliable solution to convert videos, images, and audio files to various formats.
Key Features of Movavi Video Converter
Tutorials & Customer Support
For those new to video conversion, the software offers a series of helpful tutorials from the start of the program. Following step-by-step instructions, you can quickly and easily learn how to search for different formats, change conversion options, create presets, and more.
An uploaded video file called "Tutorial" briefly explains how to convert video files in a few steps. Additionally, the website features a comprehensive knowledge base and a support team ready to assist users with any questions or concerns.
User Interface and Ease of Use
Movavi Video Converter has an intuitive and user-friendly interface. Users of any skill level can quickly navigate and perform necessary video conversion tasks. The main window contains all the essential tools and options to add media files, adjust settings, select the output format, merge, and convert.
Customizable Options
Users can tailor the software settings to meet their needs: adjust file size (affects quality), change bitrate type, adjust audio, and even merge the files you add. The software also allows you to add preset profiles to set up unique requirements for the codec, frame size, resize quality and method, bitrate and frame rate, encoding type, and more.
Supported Formats & Devices
Movavi Video Converter supports all popular media formats and devices. Thanks to its advanced codecs, the software enables users to convert video formats without losing quality. Here are some of the output and input formats:
Video
Input: AVCHD, M4V, MOV, MKV, AVI, MP4, 3GP, FLV, etc.
Output: MOV, AVI, MP4, FLV, MKV, MXF, WMV, 3GP, etc.
Audio
Input: AAC, MP3, F4A, FLAC, WAV, WMA, etc.
Output: AAC, MP3, OGG, F4A, MKA, FLAC, WAV, WMA, etc.
Images
Input: APNG, DPX, GIF, JPEG, PNG, HEIC/HEIF, RAF, RAW, WebP, etc.
Output: BMP, GIF, JPEG, PNG, TIFF
Subtitles: SSA, SRT, ASS, VPlayer, DVD Sub, DVB Sub, Text, PJS, etc.
Device manufacturers: Amazon, Apple, Samsung, Huawei, Xiaomi, Nokia, etc.
The software also has a 'Device Detection' feature, allowing you to connect a smartphone or tablet and get the most appropriate conversion settings.
Performance and Conversion Speed
One of the most critical aspects distinguishing Movavi Video Converter from any other video converter app is its conversion speed. Thanks to its support for Intel, AMD, and NVIDIA hardware acceleration and optimization, you rarely have any issues (if at all).
The SuperSpeed mode allows you to convert files of the same video stream in the original and the output much faster with no quality loss. Users can also quickly convert multiple files simultaneously, saving time, as the software supports batch conversion.
AI Upscaling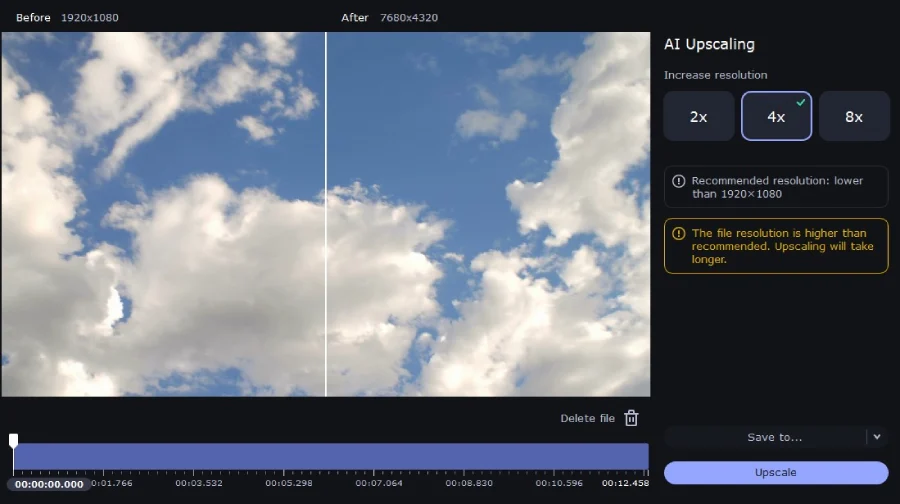 A unique feature of this software is its AI-powered upscaling technology. This feature allows users to enhance the resolution of their videos, effectively increasing the quality of lower-resolution videos (lower than 1920×1080 recommended). In addition, you can increase the resolution to 2x, 4x, and 8x.
Built-in Video Editor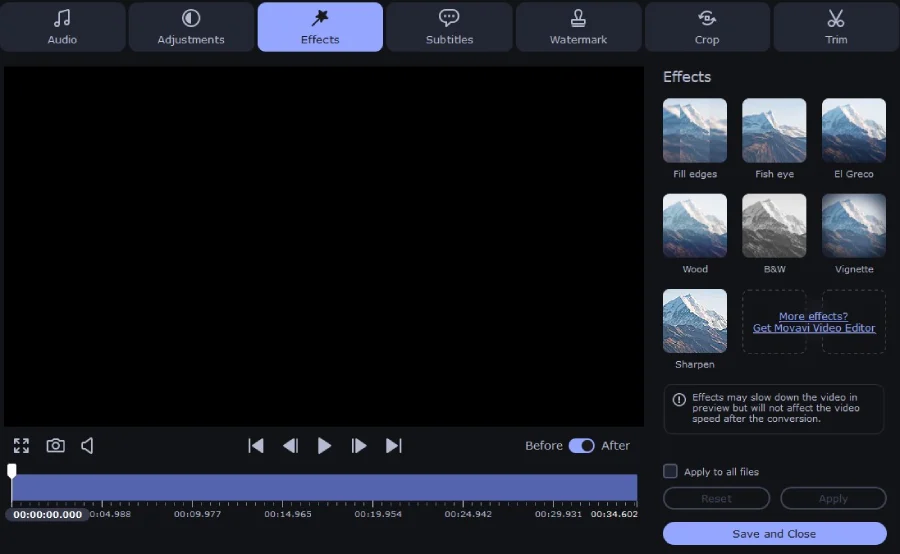 In addition to AI, Movavi Video Converter also includes a built-in video editor. You can perform basic editing tasks such as trimming, cropping, and rotating and more advanced ones like adding a watermark, color and audio adjustments, effects, and subtitles.
Pros and Cons of Movavi Video Converter
Pros
User-friendly interface
Tutorials and customer support
Many video, audio, and image formats ensure compatibility with various devices and platforms.
The fast conversion speed and high-quality output
AI-powered upscaling technology to enhance the resolution and overall file quality
Video editing capabilities
Cons
During the 7-day free trial, users have a watermark on the output video and can only convert half the file length.
Price of Movavi Video Converter
Movavi Video Converter has 2 pricing plans for users: a 1-year subscription for $54.95 and a lifetime license for $69.95.
You can also purchase a lifetime license of Movavi Video Suite for $99.95, which includes all the major products (video editor, video converter, and screen recorder).
How to Download and Install Movavi Video Converter
To download and install Movavi Video Converter, follow these simple steps:
Visit the Movavi download product page on the official website and click on the "Download for Free" button to get the installation file
Once it's finished, locate the file on your computer and double-click to install it.
Follow the on-screen instructions to complete the process.
Launch Movavi Video Converter and start converting your files.
Final Words
Movavi Video Converter is an excellent choice for those needing a powerful and easy-to-use video converter. Its user-friendly interface, comprehensive features, and high-quality conversion capabilities make it one of the best video converters for Windows 10 (or any other Windows version) and macOS. So, give Movavi Video Converter a try and experience the convenience and quality it has to offer.