Windows 11 is one of the best PC operating systems designed with gaming in mind. However, unlike a gaming console, you won't get the most out of your Windows PC unless it's optimized for gaming. If your PC isn't appropriately optimized, even most high-end PCs can suffer low FPS, lagging, and crashing.
Not only is Windows 11 compatible with almost all major PC games from the last couple of decades, but all newer games also run better on Windows 11. You can tweak several built-in settings and features on your Windows 11 to get the best possible performance for playing your favorite AAA games. Keep reading for more details on customizing these settings to optimize your PC.
1. Turn On Game Mode
Windows 11 comes with a built-in Game Mode that can improve gaming performance. Game Mode turns off notifications, halts or reduces the speed of most background activities, and allocates additional resources to the gaming app to enhance your gaming performance.
To turn on Game mode, open the Start menu from the taskbar and then click on 'Settings' to open Windows Settings.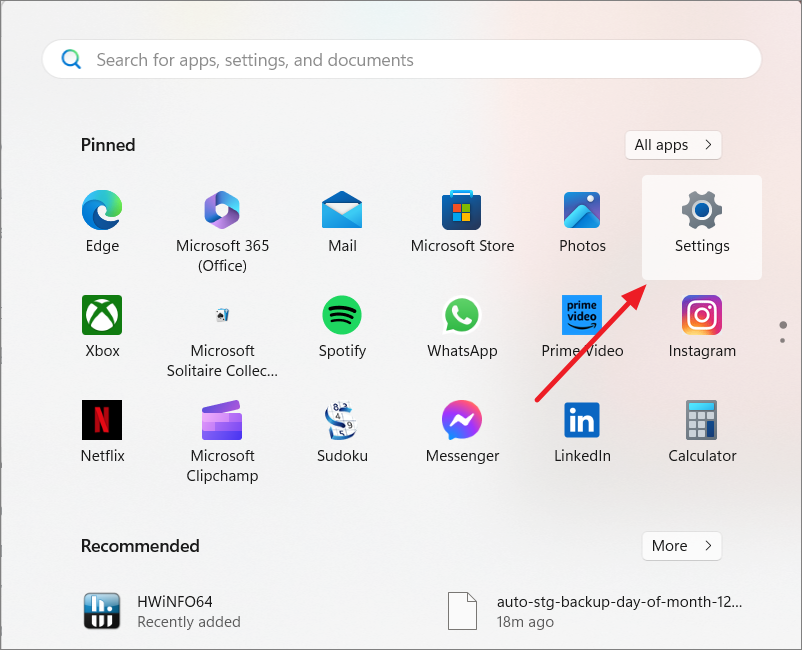 In the Settings app, go to 'Gaming' and click on 'Game mode'.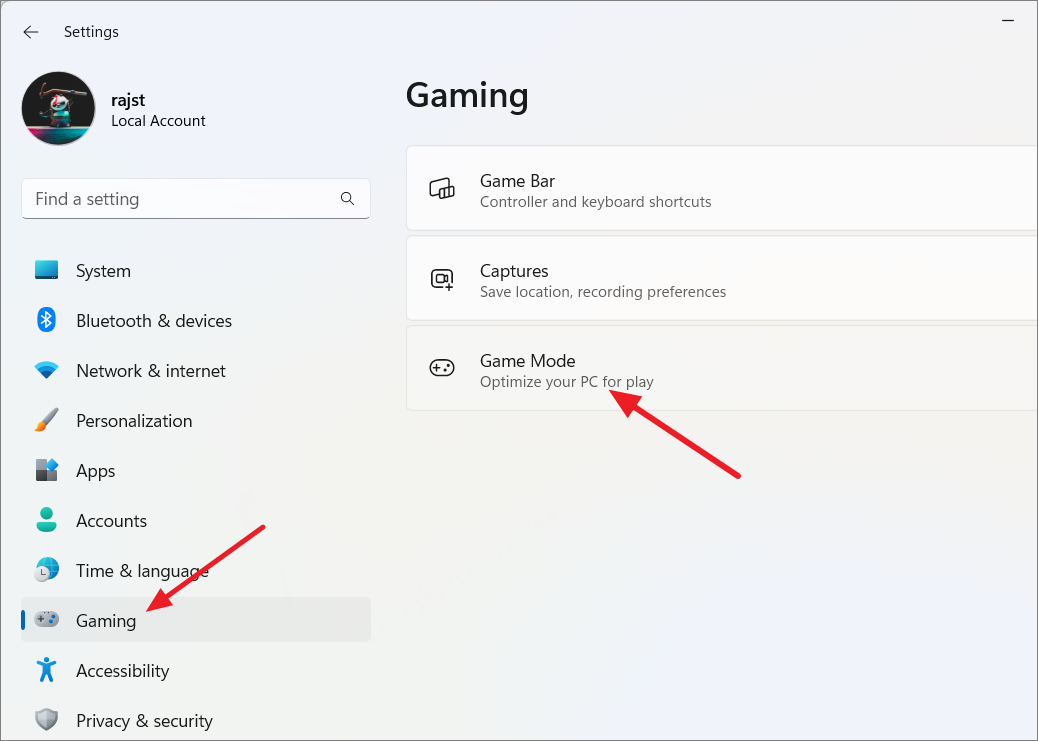 Then, toggle the Game Mode switch to the Onposition.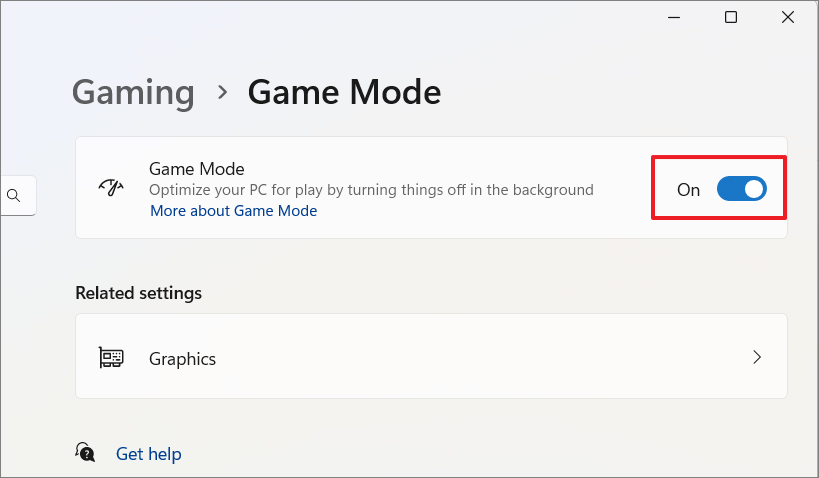 2. Choose High Performance Power Plan
If you are gaming on a laptop, switching your power plan to 'High Performance' in Windows can help optimize your system for gaming. This power plan is designed to make your CPU and GPU run consistently at their maximum clock speeds, which can result in better gaming performance.
Open the Start menu, and type Control Panel in the search field. Then, click on the 'Control Panel' application in the search results.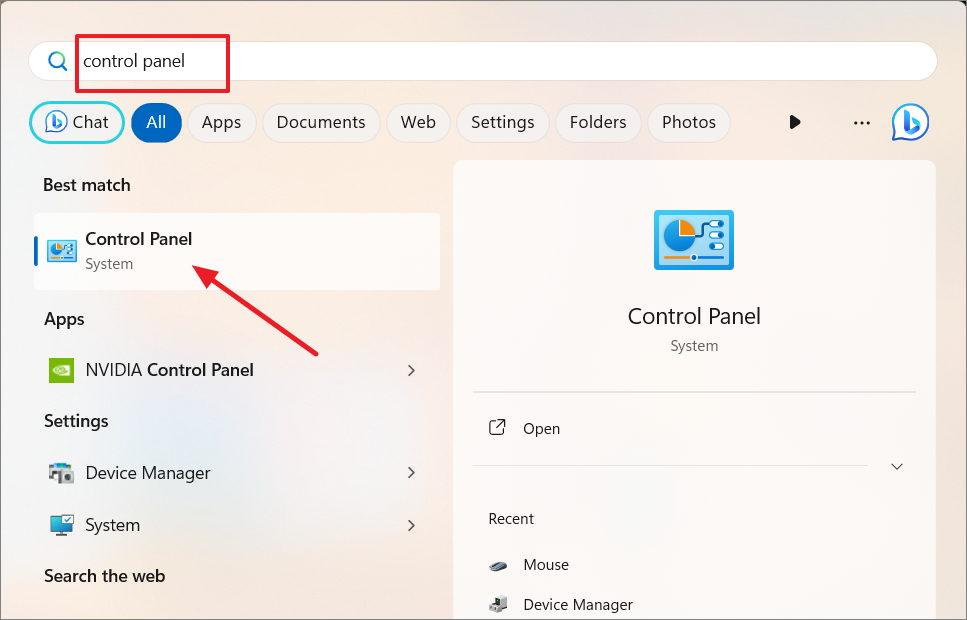 In the Control Panel, ensure your viewing mode is set to 'Large icons,' then select 'Power Options.'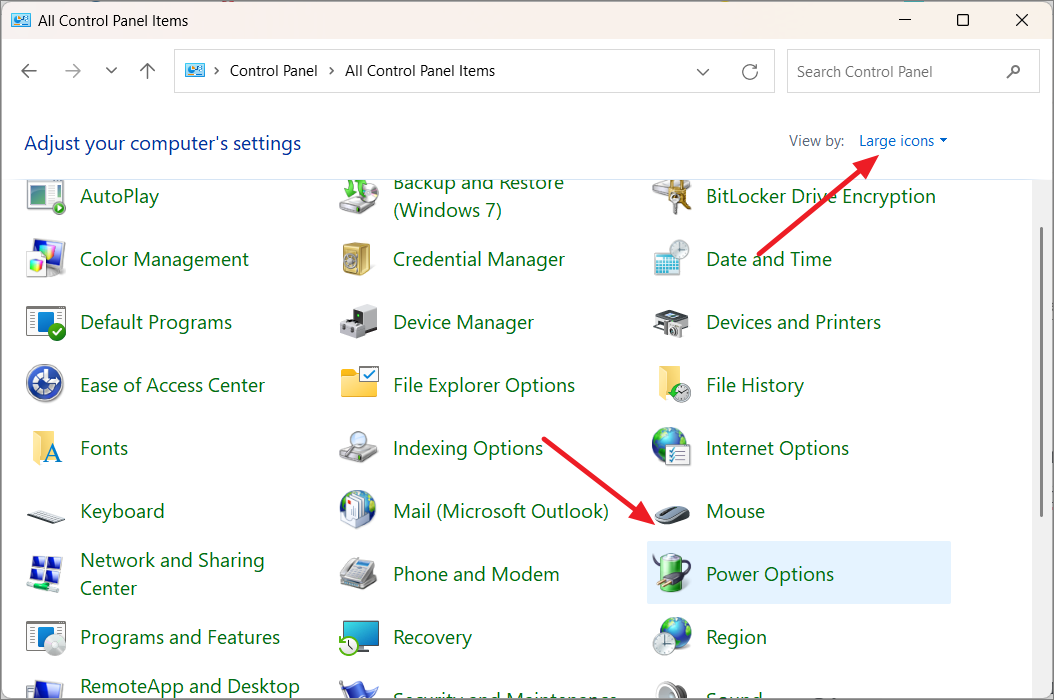 Within the Power Options section, select the 'High performance' option or click on the 'Show additional plans' drop-down menu and choose 'High performance' from the available options.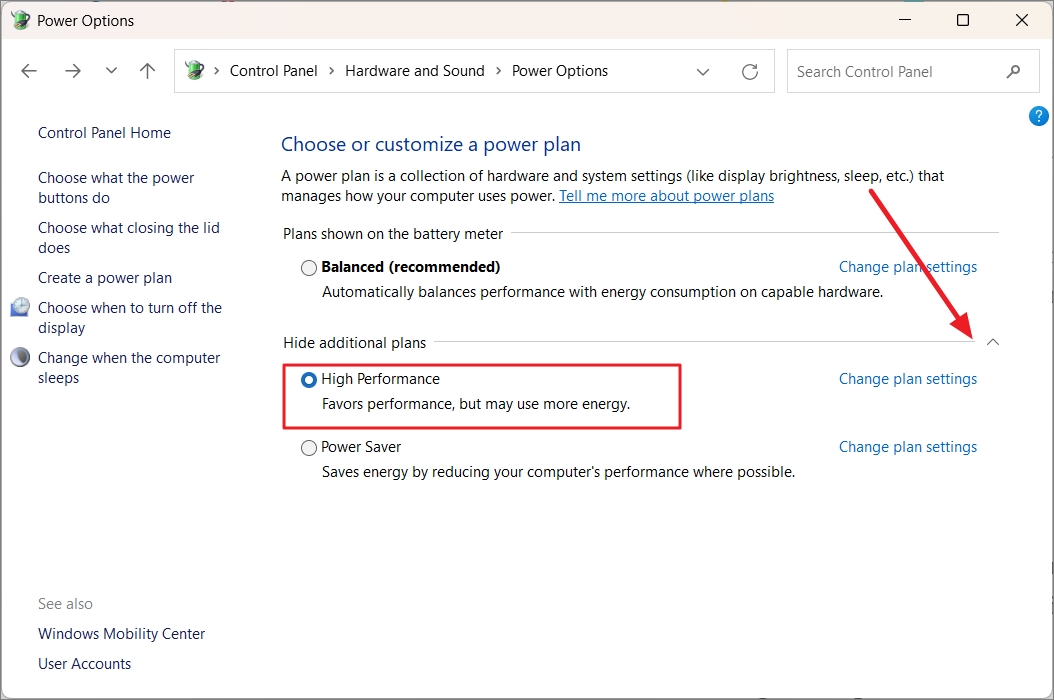 Before you start your game, you can also easily switch to 'High Performance' mode using Windows Mobility Center. Then, switch back to 'Balanced mode' or 'Power Saver' mode after quitting the game.
Press the Windows Key, type mobility center , and open 'Windows Mobility Center' from the results.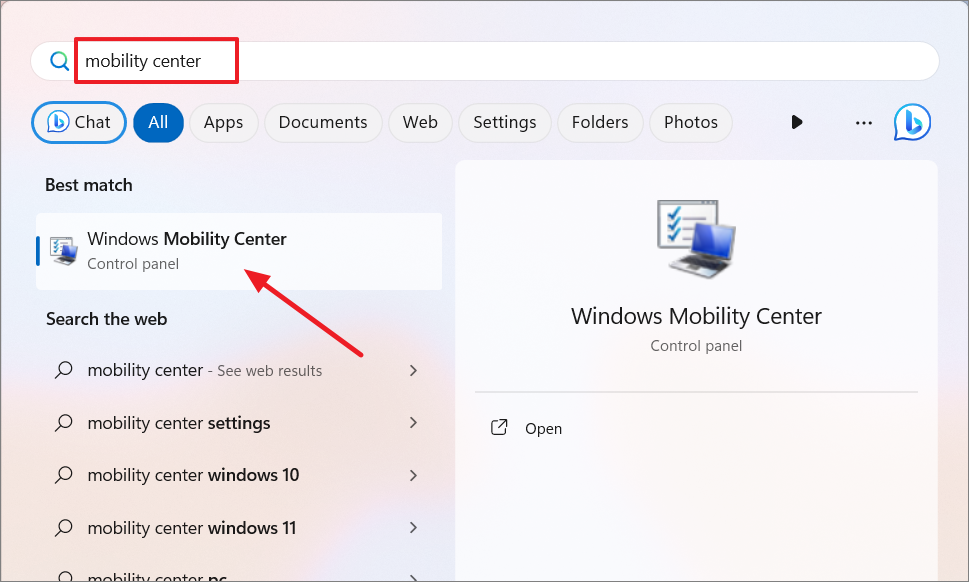 Once the tool opens, select 'High Performance' from the drop-down below Battery status. For easy access, you can even pin the tool to your taskbar.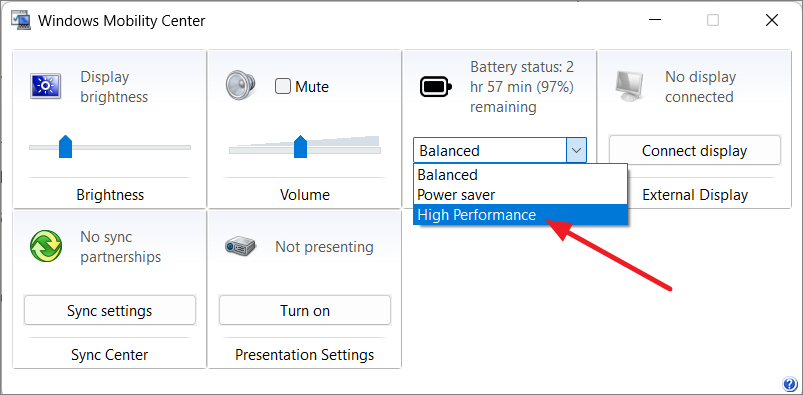 Some laptop brands come with dedicated power management or energy management software to efficiently manage and optimize your computer's power consumption.
3. Turn Off Enhance Pointer Precision
Windows 11 has a feature called Enhance Pointer Precision enabled by default, which smoothes out mouse pointer movements to increase accuracy and responsiveness. It slows down or speeds up your mouse pointer based on how fast you move it. This feature doesn't impact gaming performance but influences the overall gaming experience.
The problem is most games have a pointer precision system that can conflict with the Windows feature. So, if you have a mouse with a suitable sensor, it's best to turn off this feature to improve mouse movement. Here's how:
In Windows settings, go to 'Bluetooth & devices,' then scroll down and select 'Mouse' from the right pane.
On the Mouse settings page, scroll down to the Related settings section and click on the 'Additional mouse settings' tile.
When Mouse Properties opens up, move to the 'Pointer Options' tab and uncheck the 'Enhance pointer precision' option under the Motion section.
Then, click 'Apply' and then 'OK'.
4. Disabling Memory Integrity & Virtual Machine Platform
There are two otherfeatures that you can turn on to improve your PC performance: Memory Integrity and Virtual Machine Platform.
According to user feedback, many users have noticed that in certain situations and with particular setups of gaming devices, having both Memory Integrity and Virtual Machine Platform (VMP) enabled can sometimes cause a decrease in performance. Consider turning off these features on your Windows 11 PC to optimize its performance.
Turn Off Memory Integrity
Memory Integrity is a security feature designed to protect against malicious attacks that attempt to tamper with the system's memory, specifically the kernel memory. Since Memory Integrity uses hardware-based virtualization and hypervisor technology to create a secure environment for the Windows kernel, there's a slight dip in performance.
Open the system tray (Hidden apps menu) from the taskbar corner and click the 'Windows Security' icon to launch the Windows Security app.
Select 'Device security' from the left menu, and click on 'Core isolation details' under the Core isolation section.
Then, turn the 'Memory integrity' switch to Off position.
Turn off the Virtual Machine Platform (VMP)
Virtual Machine Platform (VMP) provides a more seamless and integrated experience for running Linux virtual machines and Android apps on your Windows computer. Keeping it turned on consumes a lot of resources.
Open the Windows Settings app and select 'Apps' from the left panel. Then, click on the 'Optional features' option from the right.
Then, scroll down the Optional features page and click on the 'More Windows features' tile under Related settings.
Once the Windows features dialog opens, search for the 'Virtual Machine Platform' option and uncheck the box next to it. Then, click 'OK' to save the changes.
Restart your computer for changes to take effect. Once you are finished playing, re-enable these features, as Memory Integrity is crucial for protecting your system against various types of attacks, including kernel-level rootkits and memory-based exploits.
5. Turn on Auto HDR
When you play older games, they often use SDR (Standard Dynamic Range) to display content. However, on modern displays, this can make them look a bit washed out and lacking in vibrant colors. Luckily, Windows 11 has Auto HDR support for displays that can handle HDR.
Auto HDR automatically upgrades compatible SDR games to HDR, transforming them with better contrast, a wider range of brightness levels, and more vivid colors. Enabling Auto HDR can make a significant difference in your overall gaming experience.
You can only use HDR if your display and graphics card supports HDR. To check and enable HDR on Windows 11, follow these steps:
Go to Windows Settings, and select 'Display' under the 'System' settings.
Then, click on 'HDR' under Brightness & color.
If you have multiple displays connected to your computer, select the correct one from the drop-down menu.
Next, look in the Display capabilities section. If you see that 'Use HDR' is listed as 'Supported,' it means your display is capable of HDR. You can enable it by toggling the 'Use HDR' and 'Auto HDR' switches to the 'On' position.
However, if 'Use HDR' is labeled as 'Not supported,' your display does not support Auto HDR. In this case, you might want to consider purchasing a new display that does support it.
6. Update Your Graphics Drivers
Updating your graphics drivers is one of the first steps you should take towards optimizing Windows 11 for gaming. Older drivers usually aren't a major problem, but they might not provide full support for some newer games.
Keeping your GPU driver up-to-date fixes bugs, optimizes GPU performance, and can significantly enhance gaming performance.
You can usually download the latest drivers from the manufacturer's website (e.g., NVIDIA, AMD, Intel). Go to the official website, download and install the latest driver for your specific GPU model.
If you don't know your GPU model, press Window+R, type dxdiag and press Enter to open the DirectX Diagnostic Tool.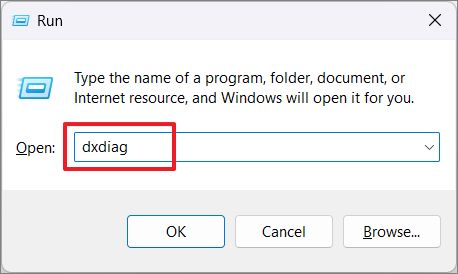 Now, switch to the 'Display 1' and 'Display 2', and check the device name. This is your GPU's model name.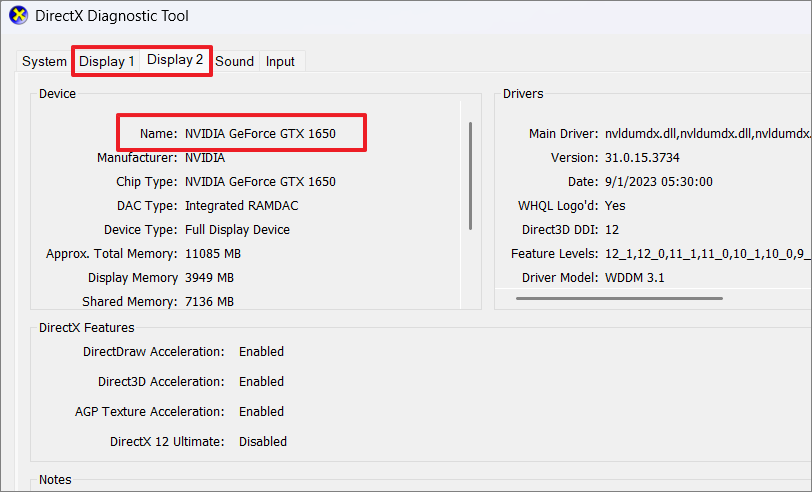 Although you can update your drivers through Device Manager, it may not always provide you with the most up-to-date version of the drivers.
For NVIDIA GPUs, open the NVIDIA GeForce Experience app by clicking the NVIDIA icon in the System and selecting 'NVIDIA GeForce Experience'.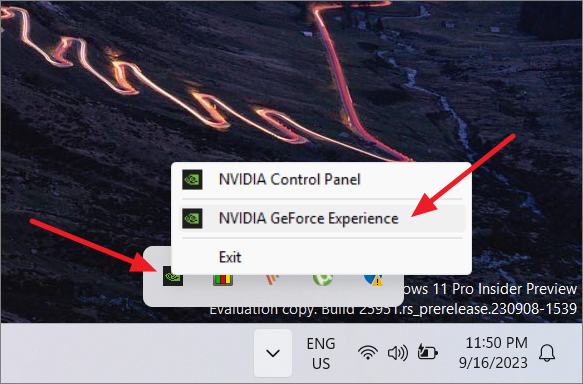 Go to the 'DRIVERS' tab and click the 'CHECK FOR UPDATES' button.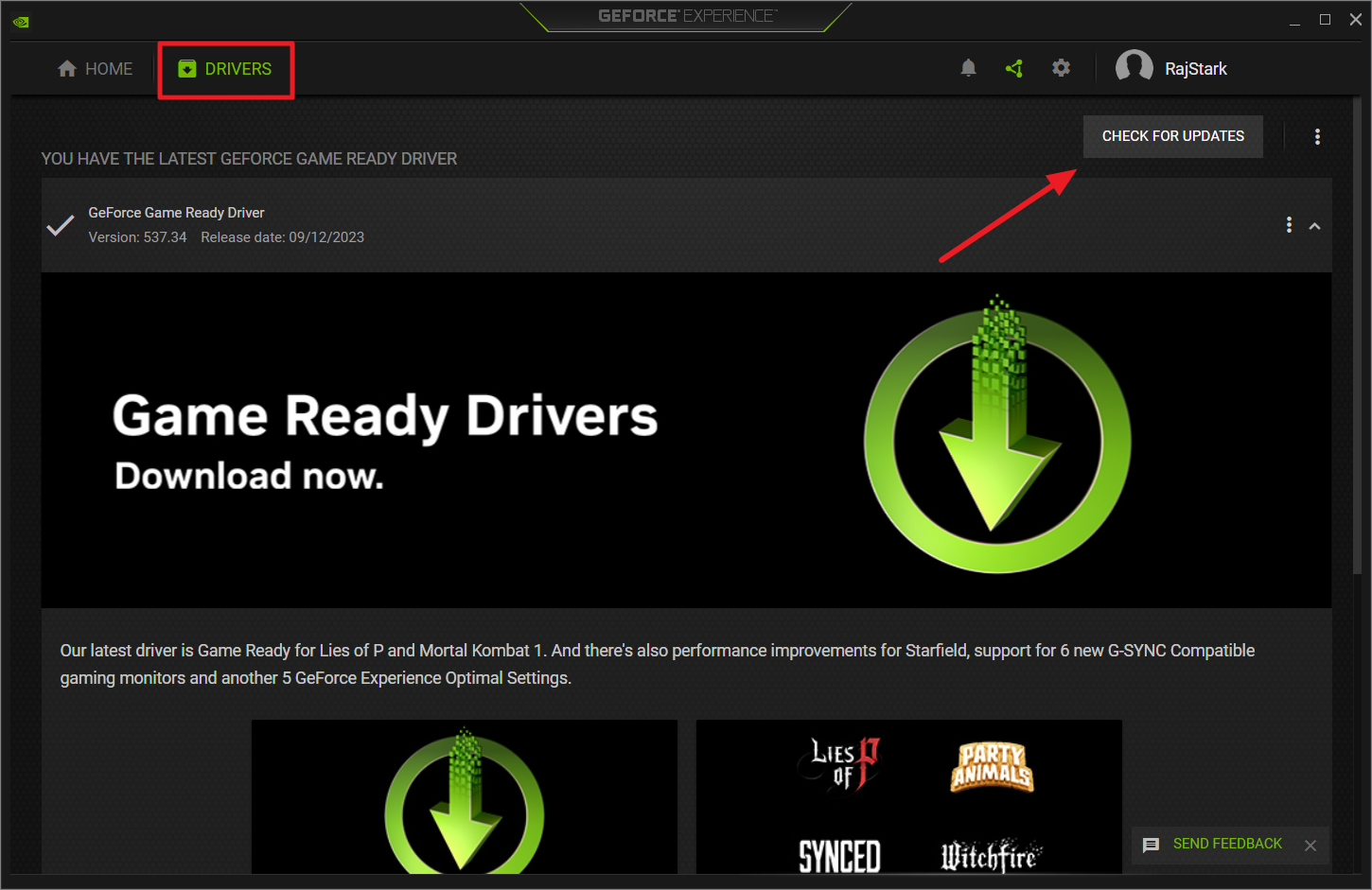 If there's any update available for the driver, download and install it. Then, restart your computer.
7. Turn on Hardware-acceleration
Hardware-accelerated GPU scheduling is a gaming feature in Windows 11 that offloads some scheduling tasks to the GPU, reducing CPU involvement. This can lead to better graphics performance, especially in gaming and graphics-heavy apps, by reducing latency and improving responsiveness.
It's usually enabled by default if your hardware and drivers support it. If not you can enable it.
Open Windows Settings, go to the 'System' tab and click on 'Display 'on the right pane.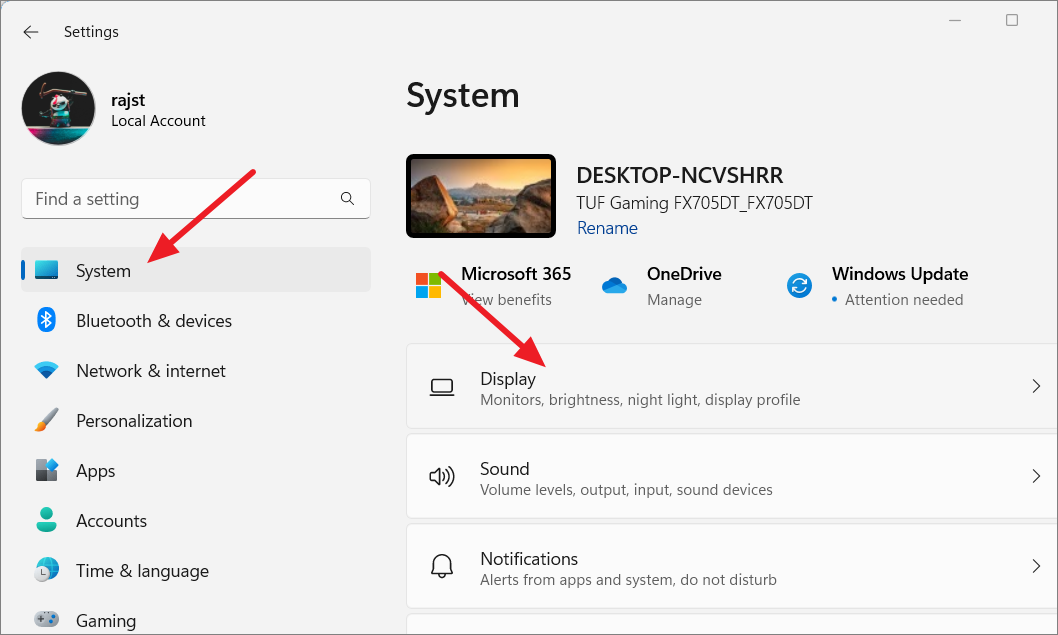 Scroll down to the Related settings, and select 'Graphics'.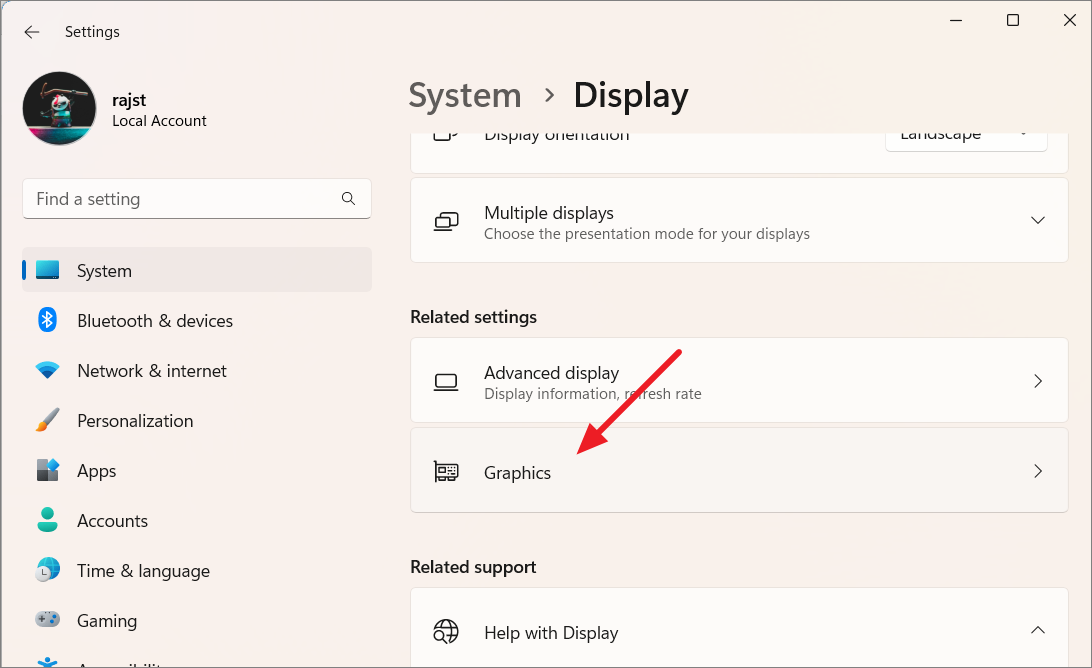 Next, expand the 'Advanced graphics settings' option, and turn on the 'Hardware-accelerated GPU scheduling' toggle.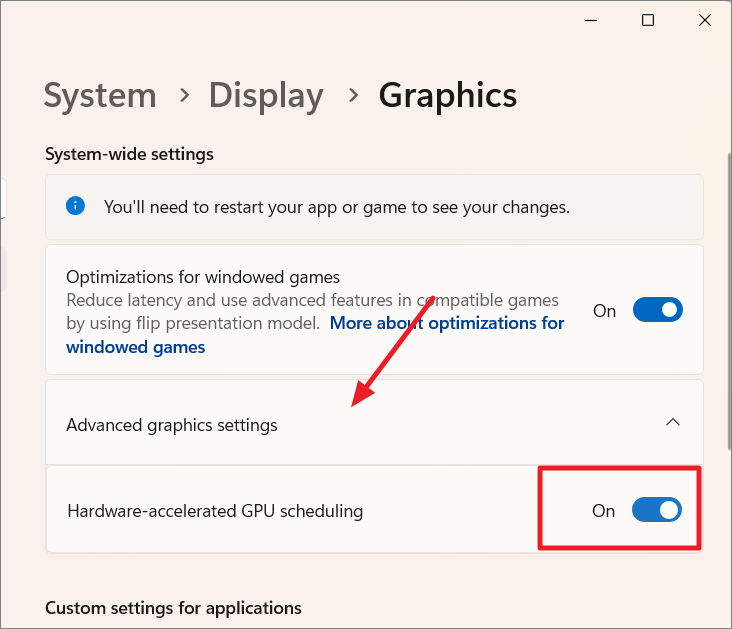 Similarly, activating the 'Optimizations for windowed games' feature on your Windows 11 computer may also boost gaming performance. This function reduces latency and applies a flip presentation model to optimize the performance of games using DirectX 10 and DirectX 11.
8. Monitor and Manage System Temperatures
Keeping an eye on and managing your system's temperatures is essential to prevent overheating, which can cause performance issues and even system crashes. Make it a routine to monitor your system's temperatures using third-party software and ensure your PC is dust-free to maintain peak performance while gaming.
You can check temperatures through BIOS settings, but it's a more complex method. Instead, it's recommended to use one of the readily available third-party applications from the web, such as Core Temp or HWMonitor, to easily check your CPU temperature.
9. Perform Disk Cleanup
Games often require extra space on your hard drive beyond just the size of the game files themselves to work well. The amount of space needed can vary widely depending on the game and your gaming habits. So, regularly use the built-in Windows Disk Cleanup tool to remove unnecessary files and free up disk space.
Open the 'Settings' app by clicking on it in the Start Menu or by using the Windows+I shortcut.
In the Settings app, select 'System' from the left sidebar and choose 'Storage' from the list.
Your computer will scan your Windows installer drive(C:) and show you a breakdown of the types of files using up your storage space. This breakdown includes your personal files, temporary files, your installed programs, and other files. This scan might take a while, so please wait patiently.
Once the scan is done, click on the category that's taking up the most space on your Windows installer drive. Usually, it's Temporary files, you can remove them without causing any problems.
You'll see a detailed list of file types and their sizes in your local storage. To remove a specific file type, click the checkboxes next to their names. Make sure to read the descriptions under each file type to avoid accidentally deleting important files.
After making your selections, click 'Remove files' at the top of the list.
Finally, click 'Continue' in the alert to permanently delete the files you've selected.
If your Windows installer drive has been running out of space, these steps will help you free up some room by getting rid of unnecessary files.
10. Update Windows
Make sure Windows 11 is updated to the latest version. Microsoft regularly issues updates, like the KB5020044 update, to address gaming performance issues through performance improvements and bug fixes.
To manually check for updates, open Windows Settings, and go to the 'Windows Update' section on the left pane. Then, click the 'Check for updates' button.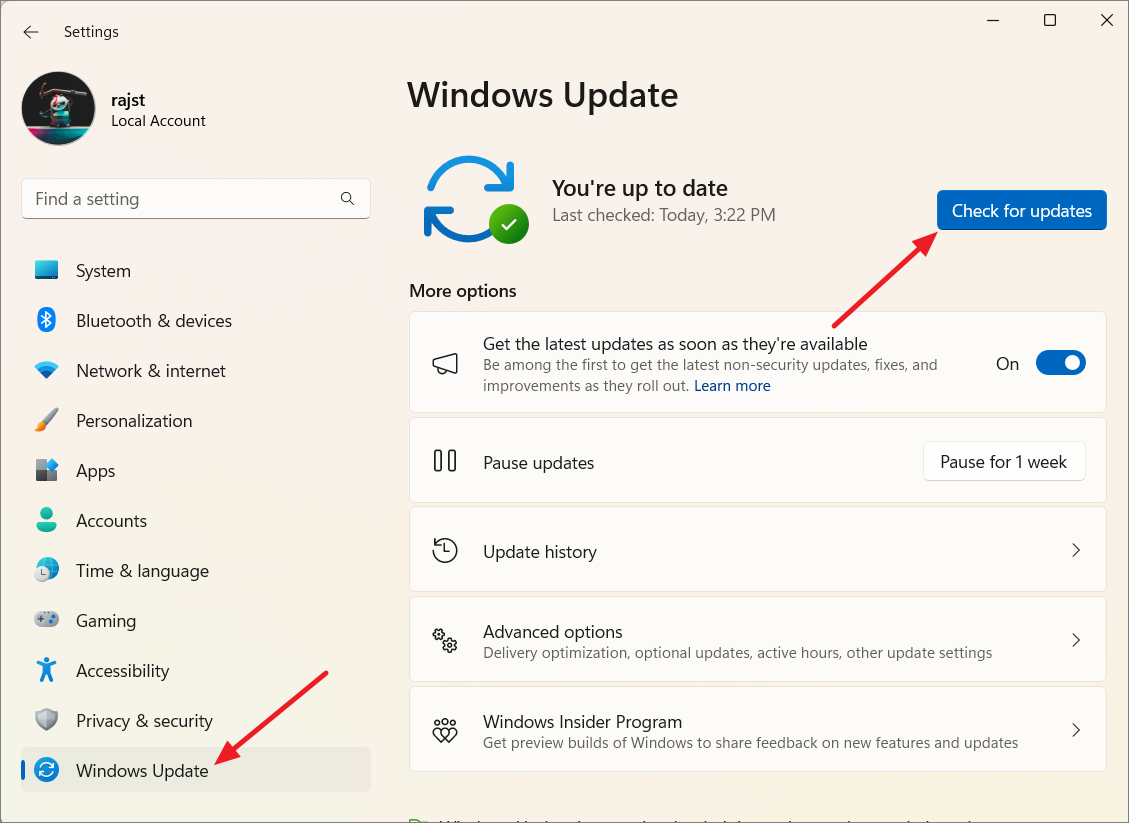 If Windows finds any pending updates, download and install them. If prompted, restart your computer to get the latest features and bug fixes.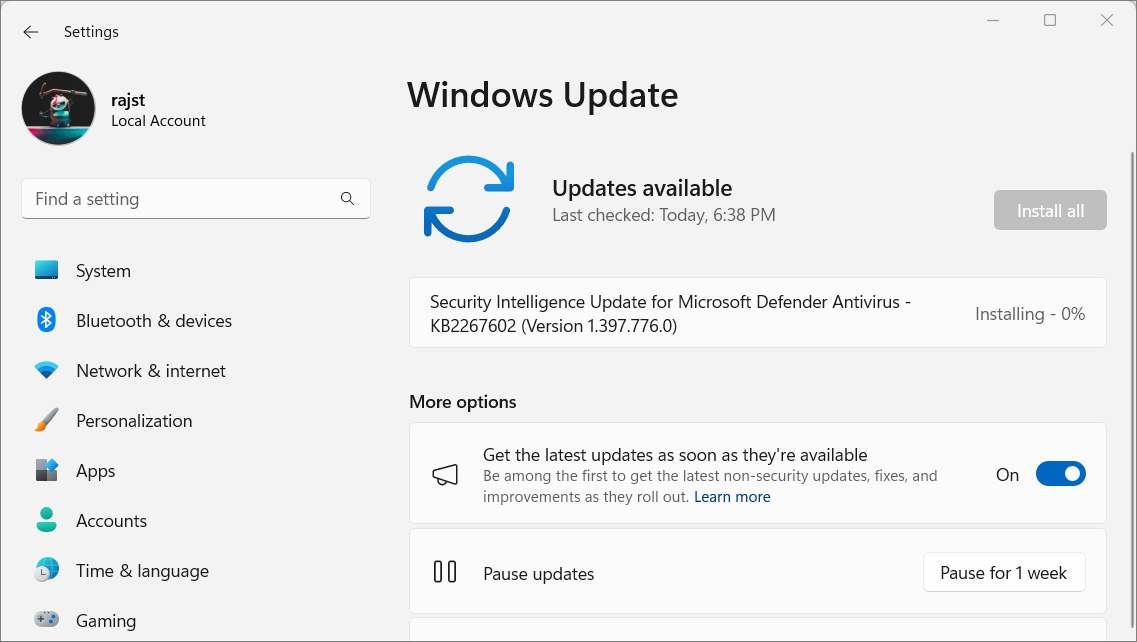 11. Disable Unnecessary Background Apps and Services
When you turn on your computer, several apps launch automatically and run in the background. When too many of them are running in the background, your PC can start to lag when playing games.
So, disable all unnecessary non-gaming apps and services from startup to improve performance.
If there are lots of unnecessary apps running in the background, it's no surprise that your PC starts to lag when playing games. To fix this issue, disable any apps from running in the background that are affecting your computer's performance. Here's how:
Open Windows Settings, head to the 'Apps' section, and then select 'Startup' on the right.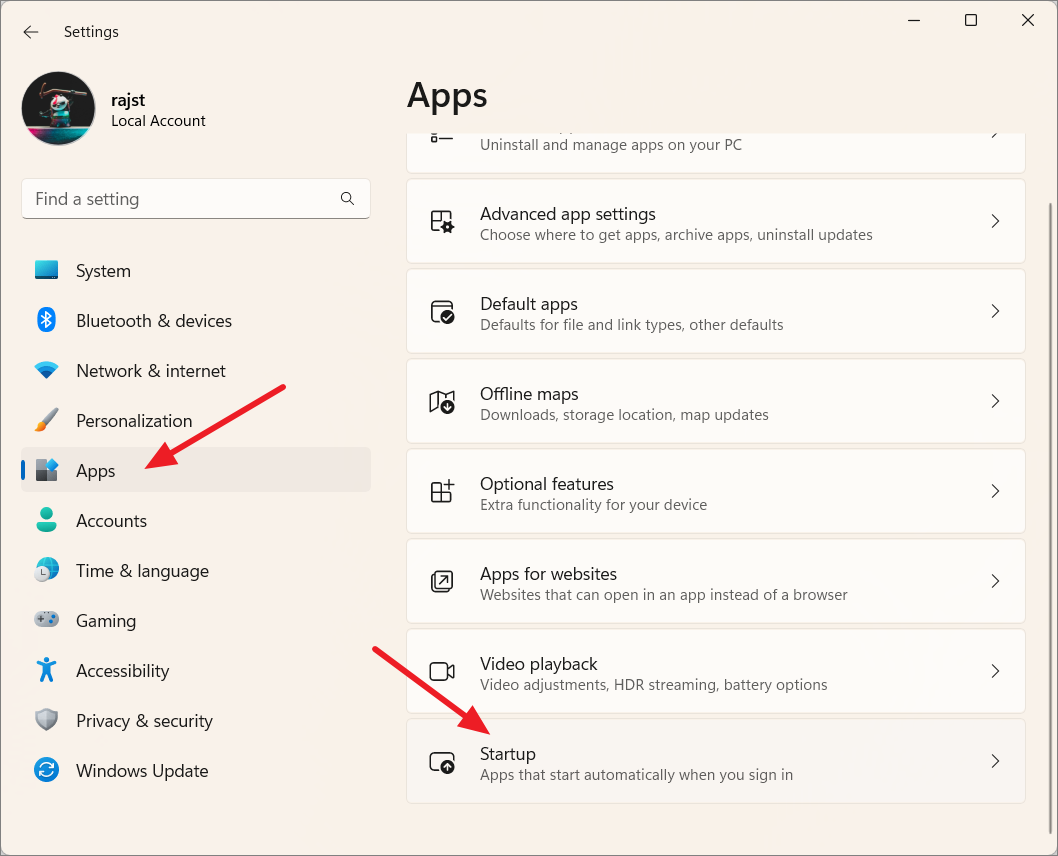 Now, find the apps that you don't want to start when your system boots up. Then, turn off the toggles next to those programs to disable them. After disabling the startup apps, restart your PC.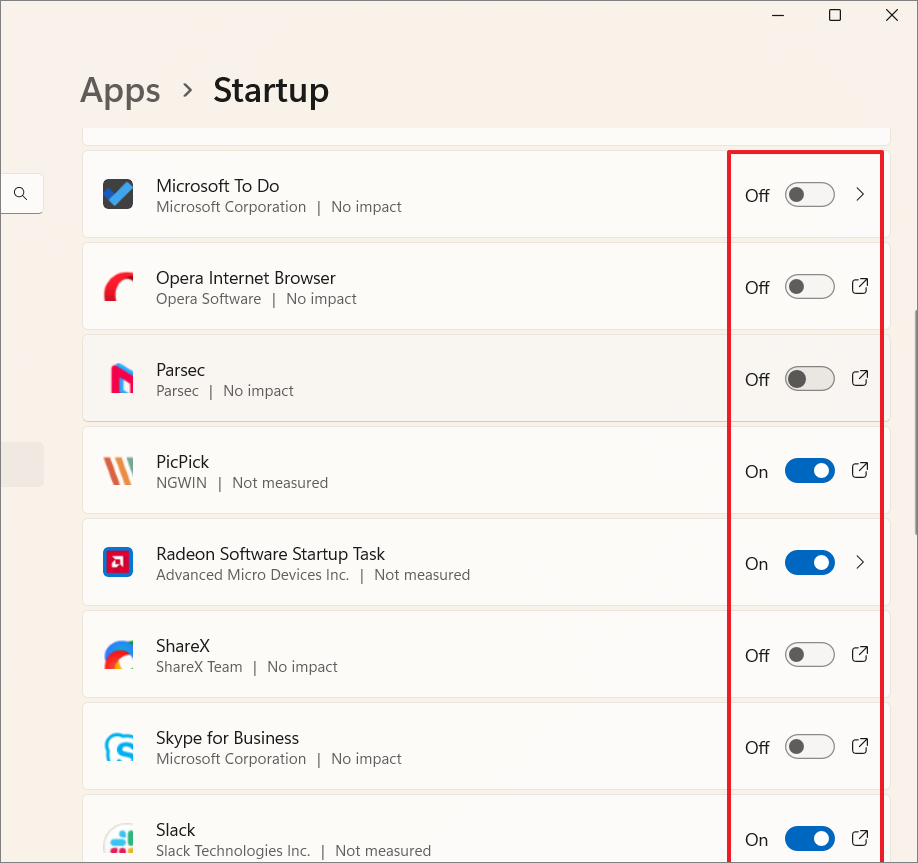 12. Install Updates for DirectX and .NET Framework
DirectX and .NET Framework serve as crucial components for gaming on the Windows platform. Make sure you have the most up-to-date versions installed to take advantage of bug fixes and performance improvements.
Usually, Microsoft pushes out updates for these tools through Windows Update. However, you can also get them directly from Microsoft's official website (DirectX and .NET Framework).
13. Specify GPU Preference Per-Game
Many computers, especially laptops, are equipped with both integrated and dedicated GPUs (discrete graphics). When you have both types of graphics cards, Windows will automatically select the appropriate graphics card based on the program's requirements. Dedicated graphics cards are always more powerful and high-performing of the two.
However, there are situations where Windows may mistakenly assign integrated graphics for a game, resulting in lower gaming performance. When you're playing graphically demanding games, you need to make sure that the game is using your most powerful GPU for the best performance.
To manually assign a dedicated GPU for a game, head to Windows Settings, and select 'Display' in the System section.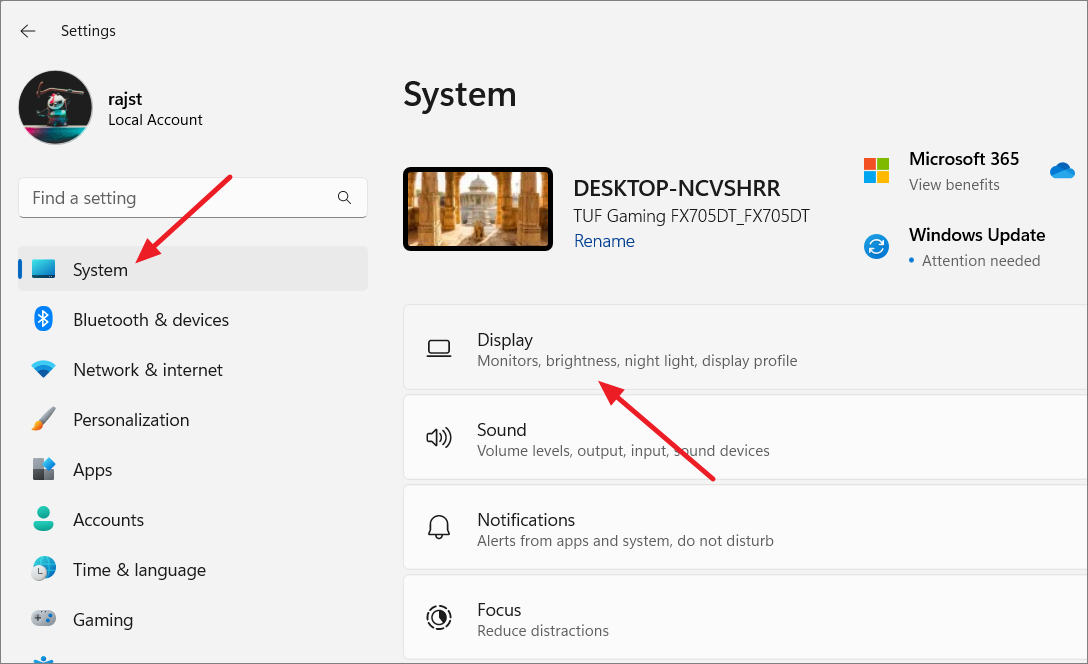 Next, navigate to the Related settings, and select 'Graphics'.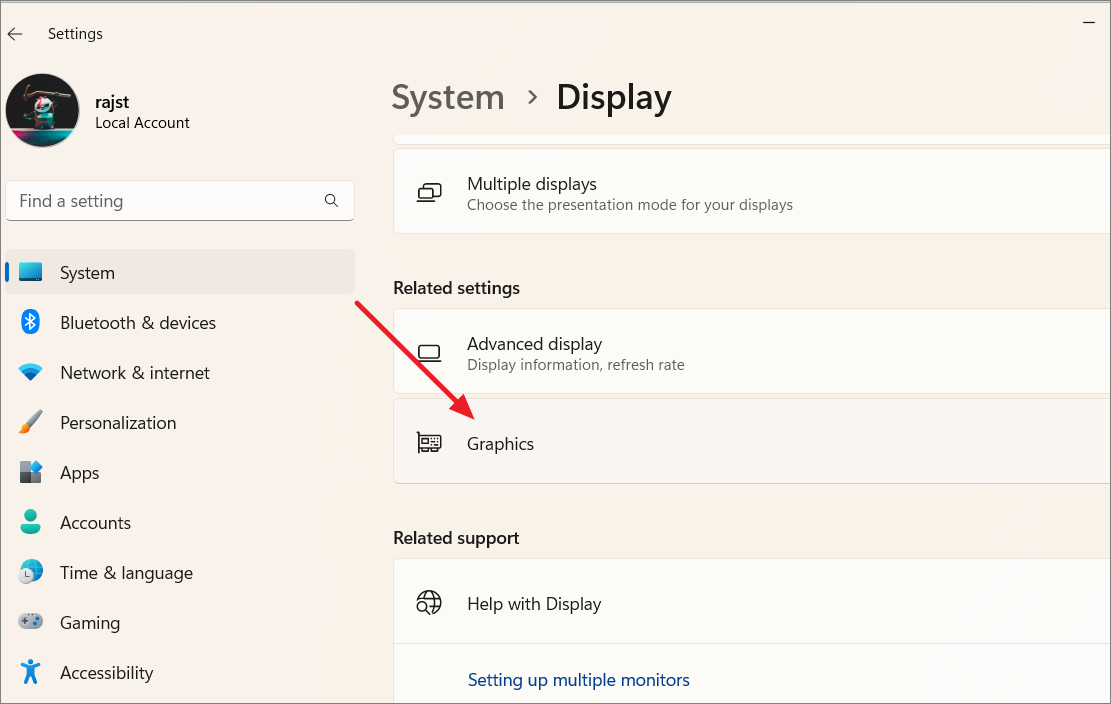 Find and click on the installed game in the list.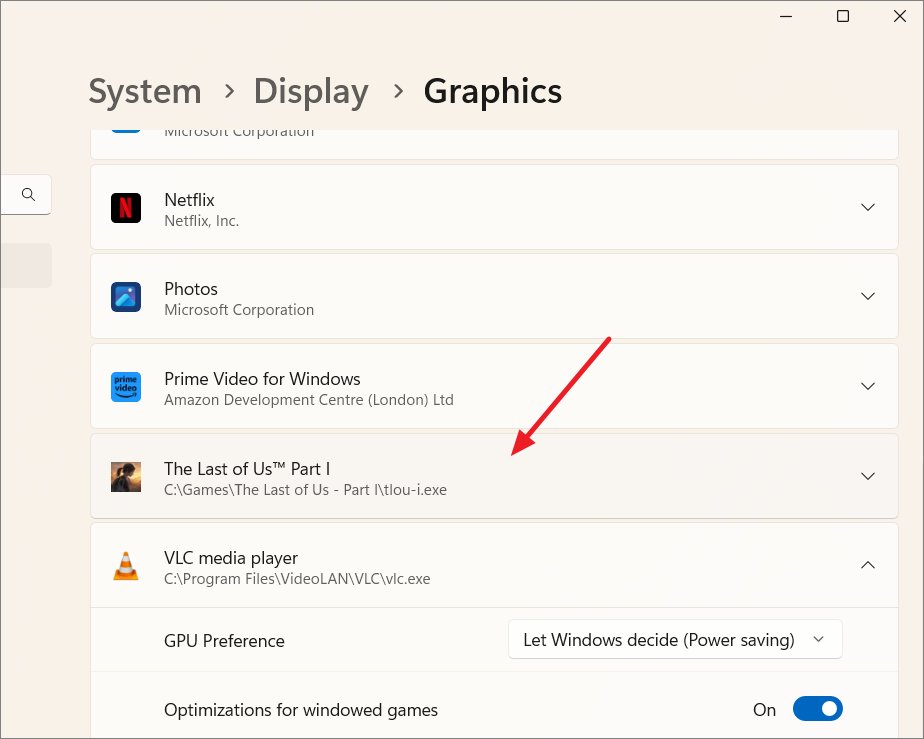 Then, choose 'High Performance' as your preferred GPU from the drop-down.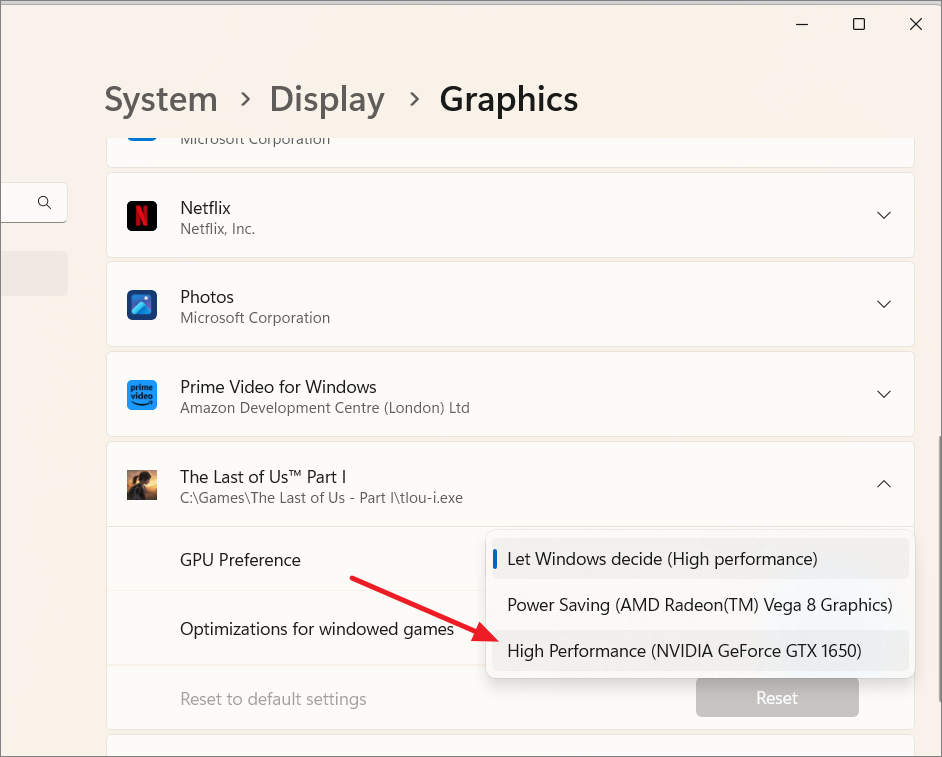 14. Disable Nagle's Algorithm
Nagle's Algorithm is a network optimization algorithm that's designed to reduce network congestion and improve network efficiency by bundling small packets of data into larger chunks before sending them over the network.
But, when playing online multiplayer games, the time it takes to bundle small packets of data together can lead to unnecessary latency issues. Disabling Nagle's Algorithm can reduce this delay and potentially improve responsiveness in online games. Follow these instructions to disable Nagle's algorithm:
Press Windows+R to launch the Run dialog box, 'cmd' and click 'OK'.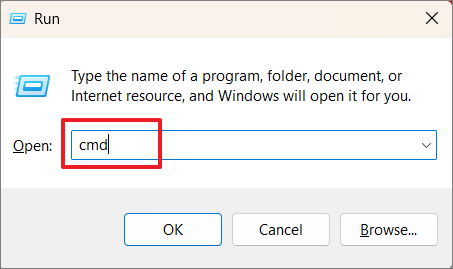 In the Command Prompt, type ipconfig and hit Enter.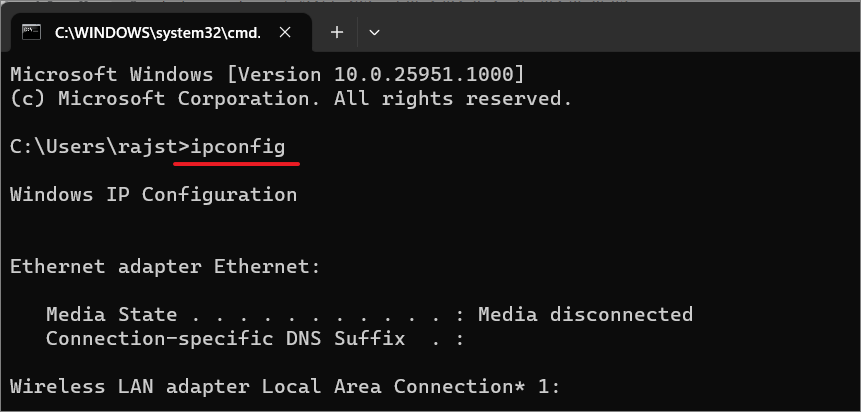 Now, note down the 'IPv4 Address' for the network adapter you are currently using.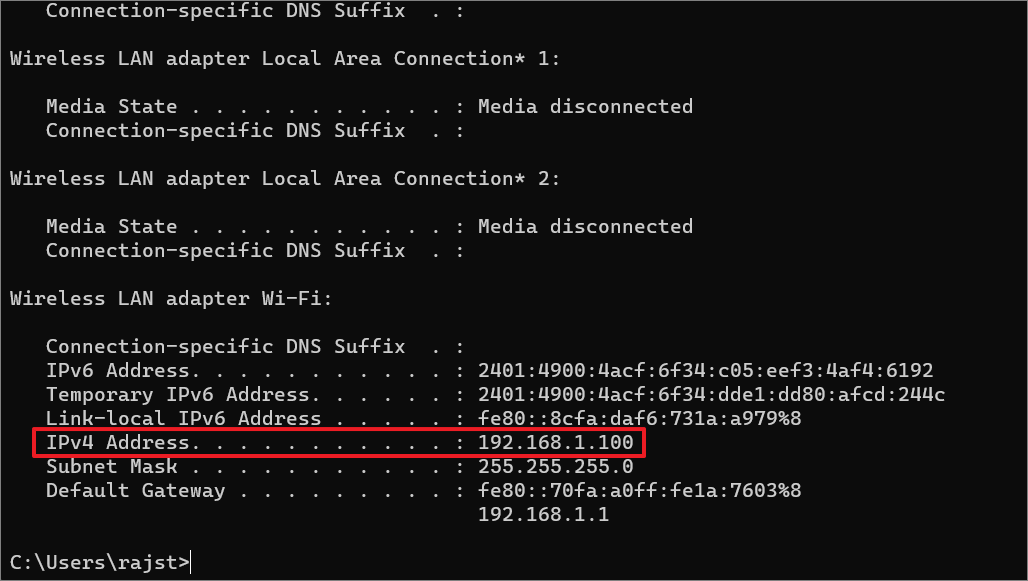 After that, press Windows+R again to open the Run dialog. This time, type regedit to open Registry Editor.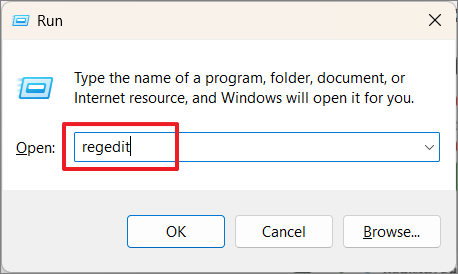 Once the Registry Editor opens, copy and paste the following path into the address bar, and press Enter:
HKEY_LOCAL_MACHINE\SYSTEM\CurrentControlSet\Services\Tcpip\Parameters\Interfaces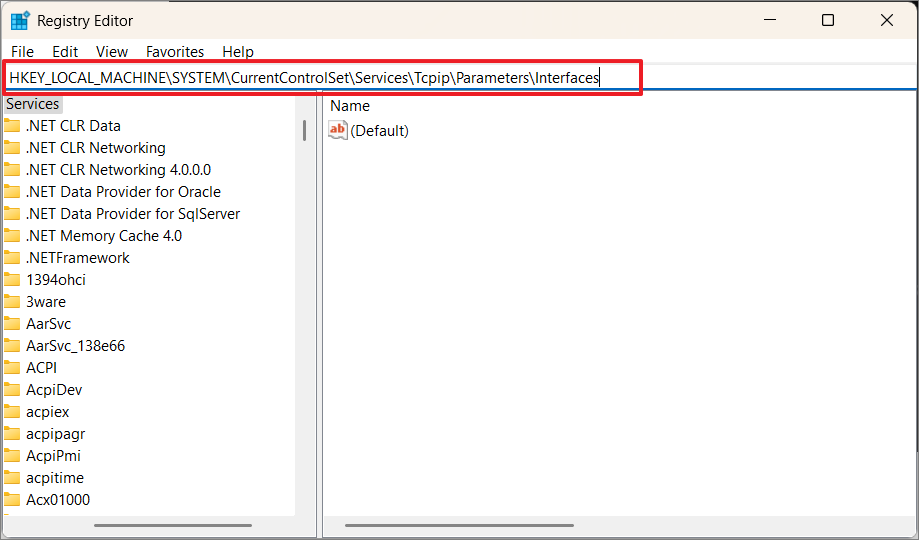 In the left panel, check each folder individually under the Interfaces folder, and locate the folder that contains the 'DhcpIPAddress' entry.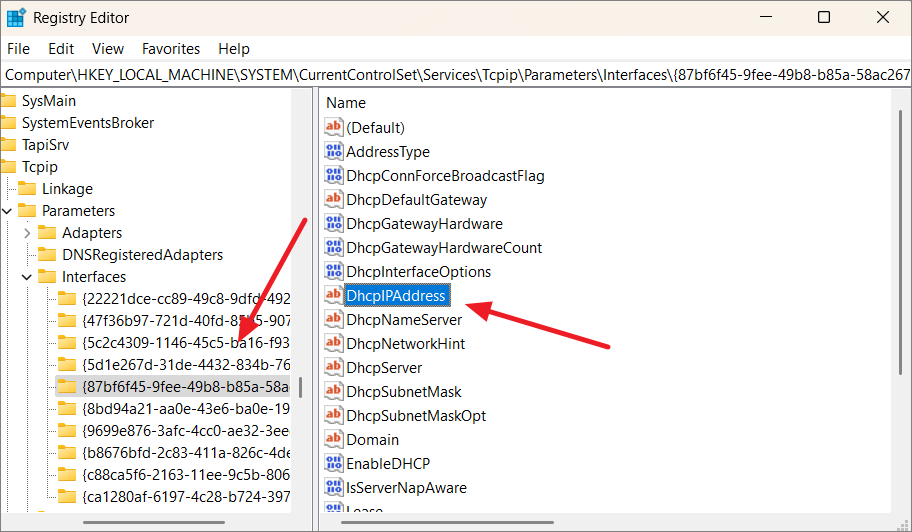 Once you find the 'DhcpIPAdress' entry, double-click on it, and if its Value data matches the IPv4 address you noted earlier.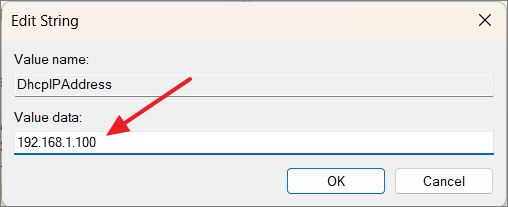 Once you find the right folder, right-click on any empty space and select 'New > DWORD (32-bit) Value'.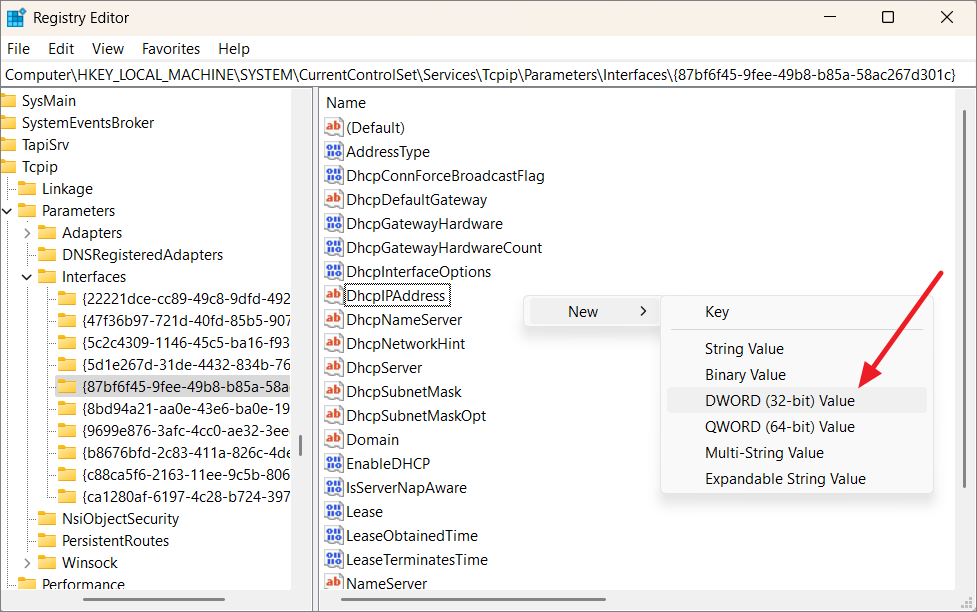 Then, rename the newly created DWORD to 'TcpAckFrequency' and double-click on it.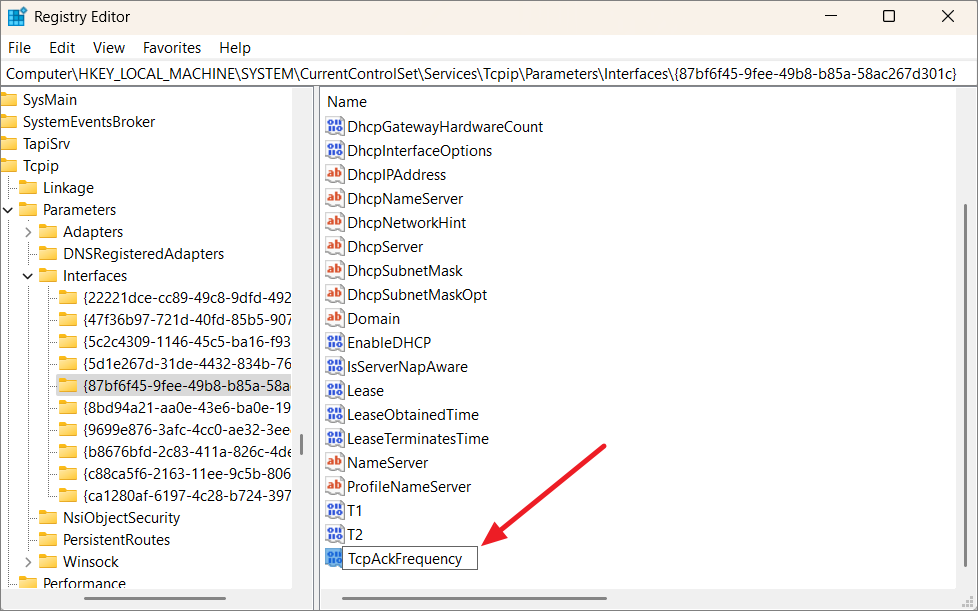 Set the value data to 1 and click 'OK'.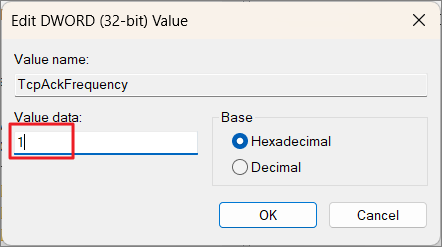 Create another DWORD and name it 'TCPNoDelay'.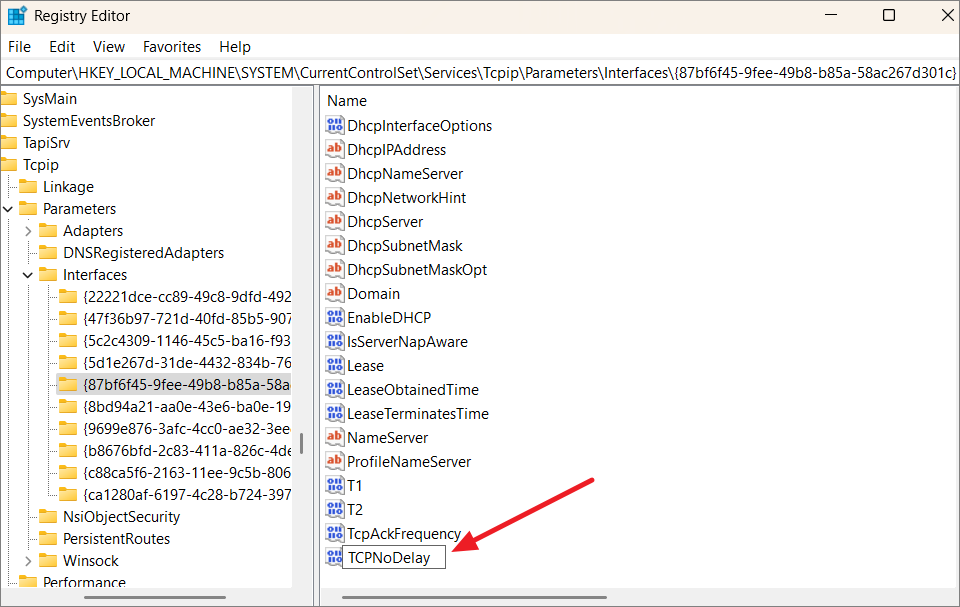 Then, set its 'Value data' to 1 as well.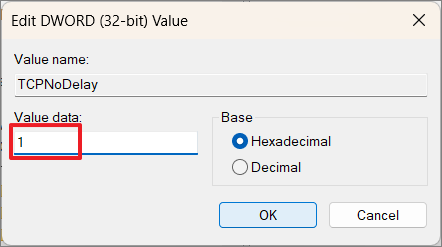 Once it's done, close the registry editor and restart your computer. To re-enable Nagle's Algorithm, simply go back to the above location, and set the 'TcpAckFrequency' and 'TCPNoDelay' values to 0.
15. Adjust Windows Visual Effects
Windows 11 has several visual effects settings that enhance the appearance and performance of the Windows. Nevertheless, by disabling or reducing some of these effects, you can free up additional resources for gaming.
Open the Start menu, type 'Adjust Performance', and select 'Adjust the Appearance and Performance of Windows' from the search results.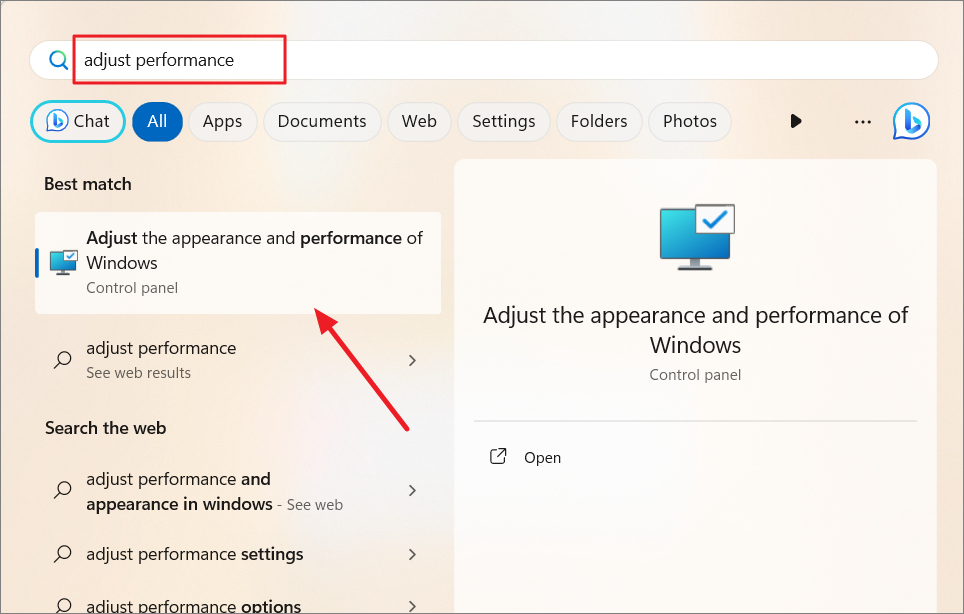 Now, select the 'Adjust for best performance' option and click 'Apply'.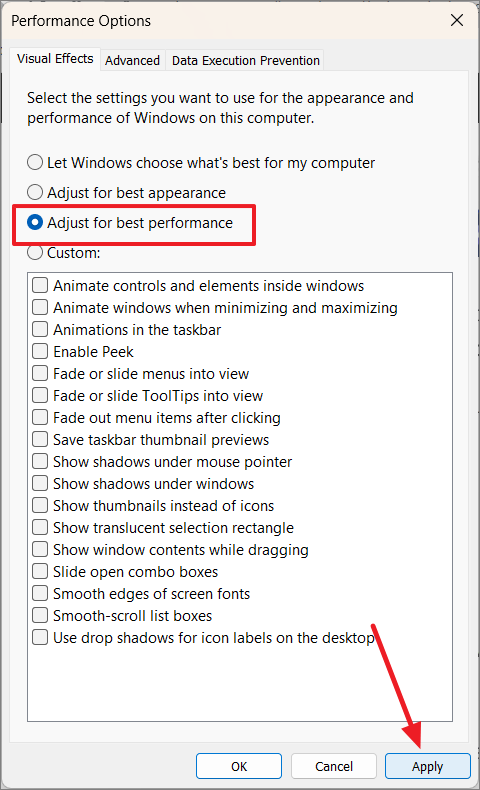 Then, switch to the 'Advanced' tab, and ensure that the 'Adjust the best performance'is set to 'Programs'.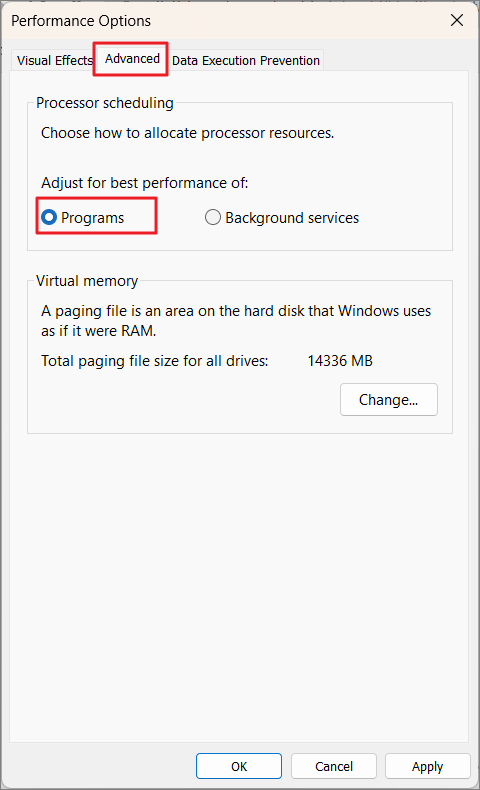 Then, click 'Apply' and then 'OK' to save the changes.
16. Stop Background Downloads in Steam
Steam can automatically update 0r download games in the background while you're playing, which can cut down your game performance. By disabling the auto-updates feature on games, you can prevent Steam from using more resources while gaming, resulting in a more seamless gameplay experience on your PC.
Open the Steam app, then click Steam in the upper-left corner, and select 'Settings'.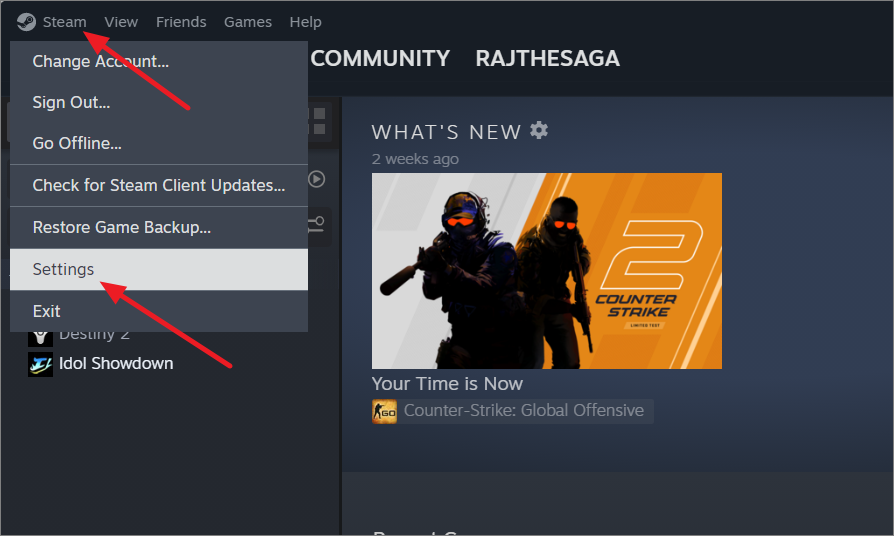 In the Steam Settings, head to the 'Downloads' section on the left.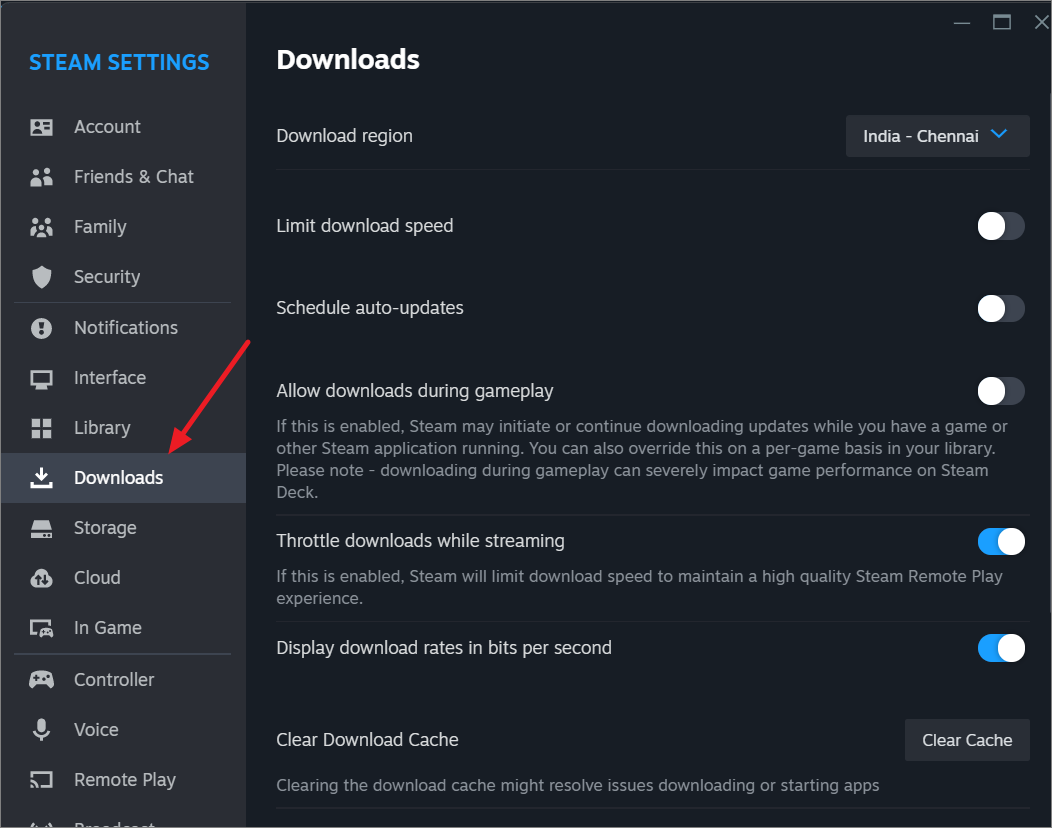 Then, turn off the 'Allow downloads during gameplay' toggle.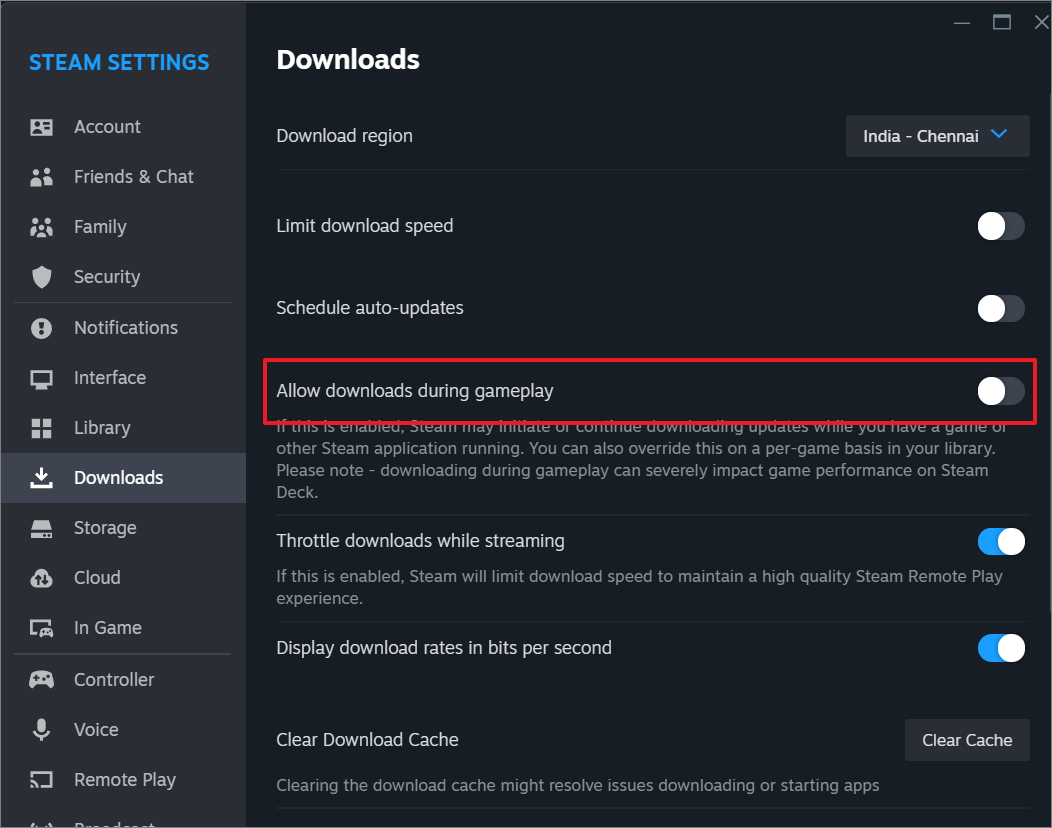 You can also schedule game updates for times when you're not using your computer. Just turn on the 'Schedule auto-updates' toggle and choose a time when your system is typically idle or when you're not actively playing games. This way, updates won't interfere with your gaming.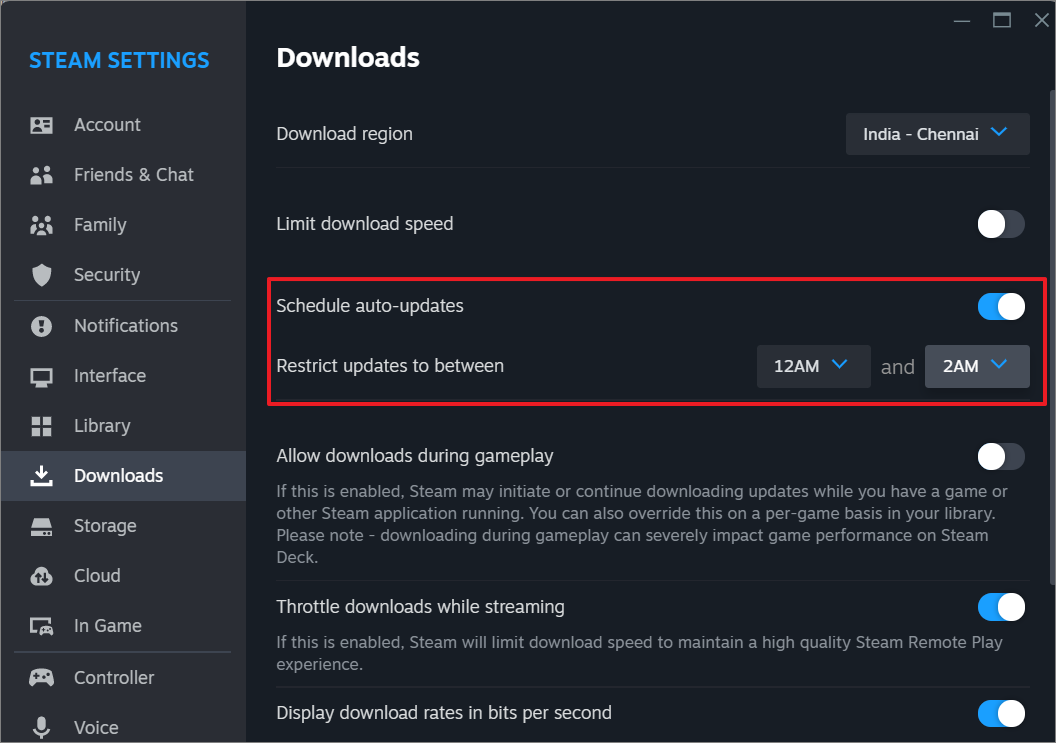 You can also set auto-updates and background downloads per-game basis. To do that, click 'Library' in the menu bar, and select 'Home'.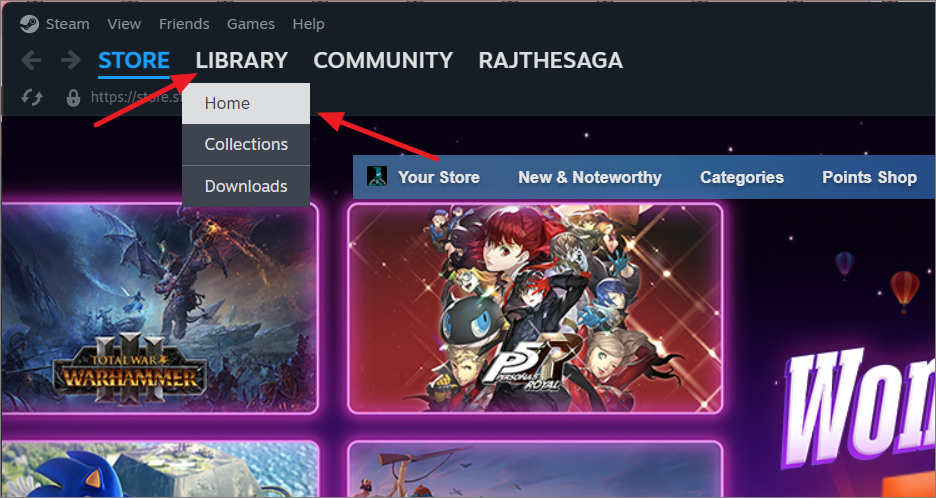 Right-click on the game in the left panel and select 'Properties'.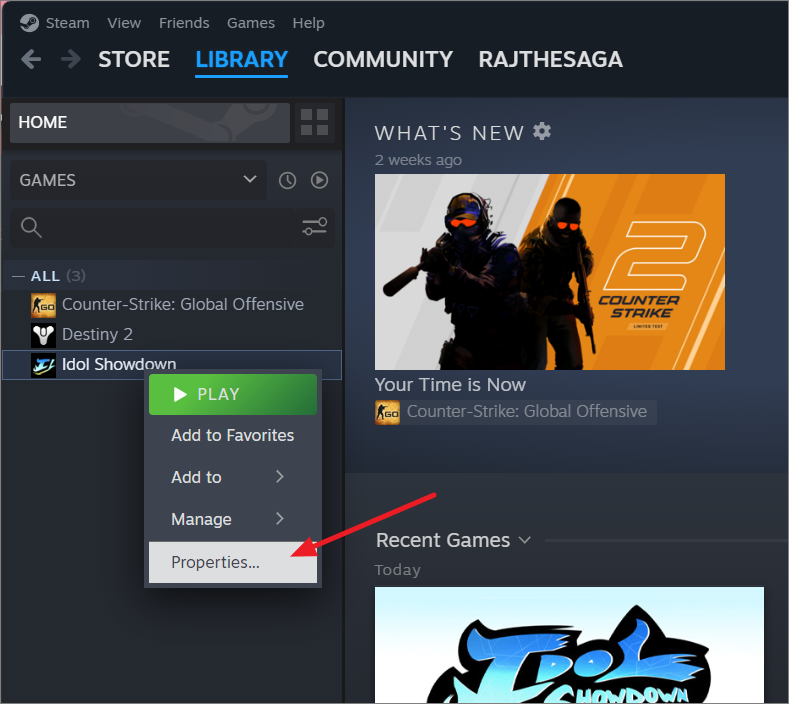 In another window that appears, go to 'Updates' and select 'Pause background downloads while I'm playing' from the drop-down below 'Background Downloads'.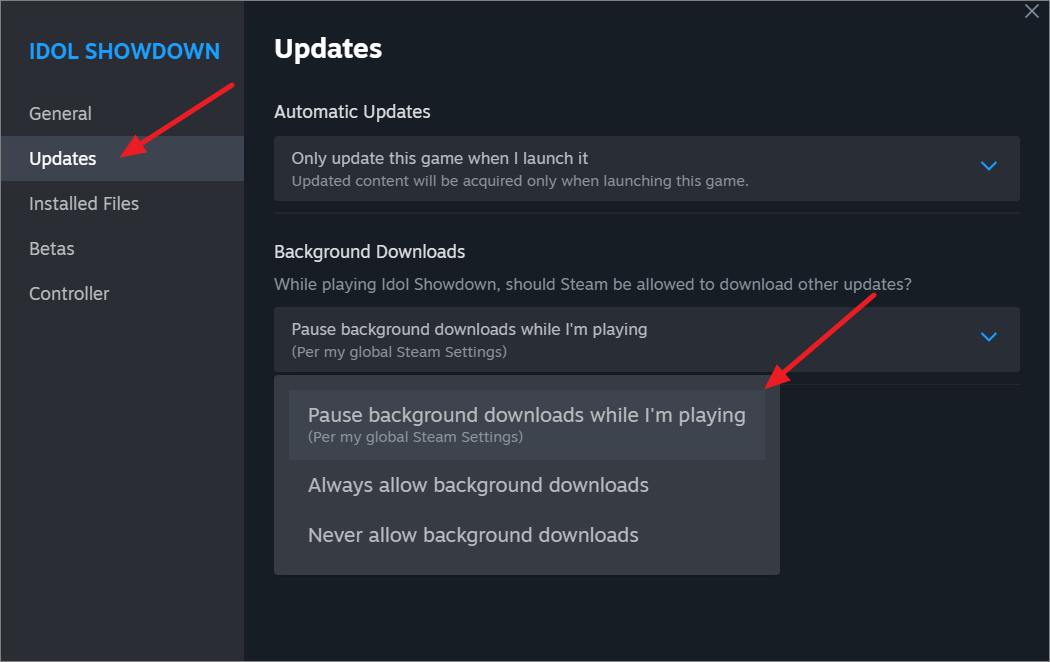 17. Disable Notifications
Getting notifications while gaming can be a real buzzkill. They're not just annoying; they can also interfere with full-screen games, sometimes causing them to crash. Game Mode and apps like Game Booster can temporarily silence notifications, but if you want to get rid of them completely, make sure that the notifications are disabled before your next game.
Open Windows Settings and 'Notifications' under the 'System' settings.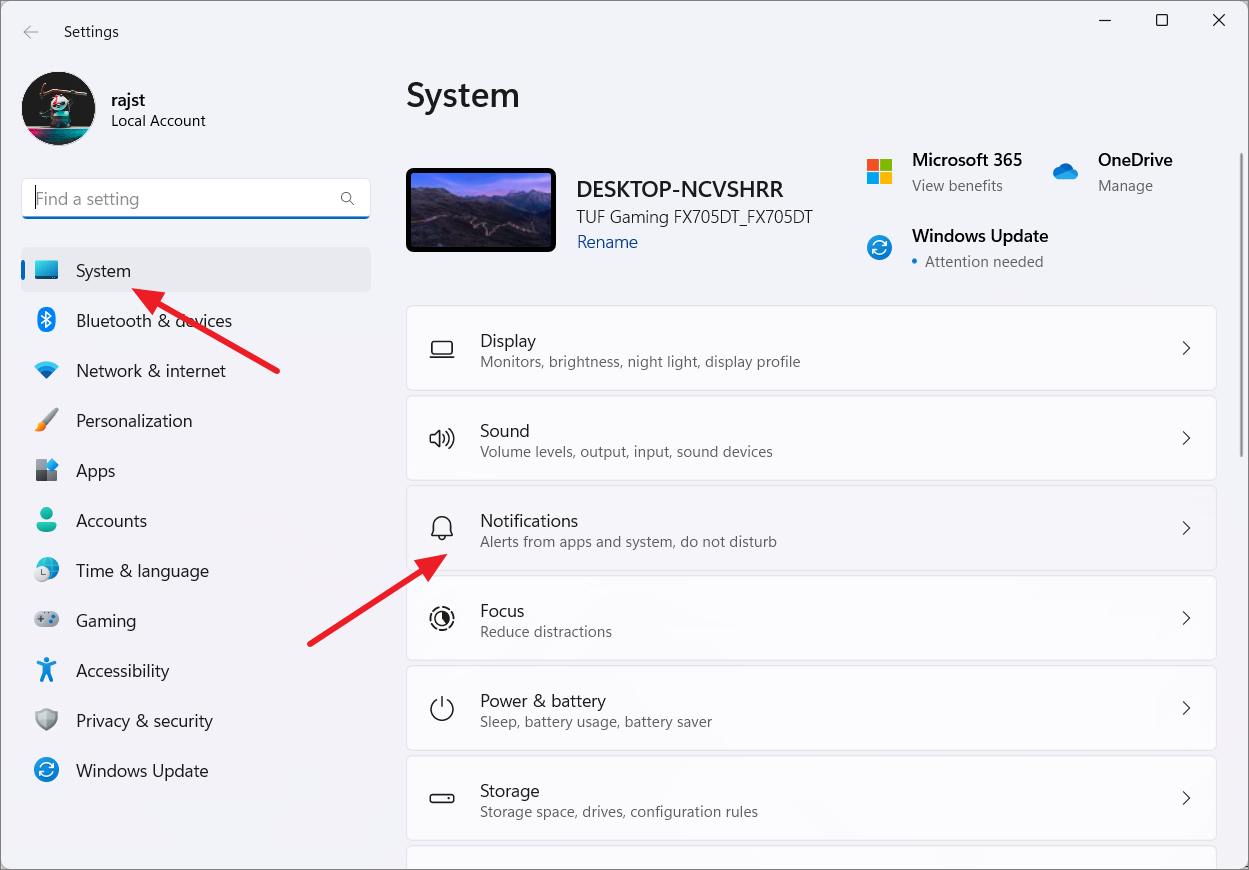 Then, turn off the 'Notifications' toggle to completely disable it.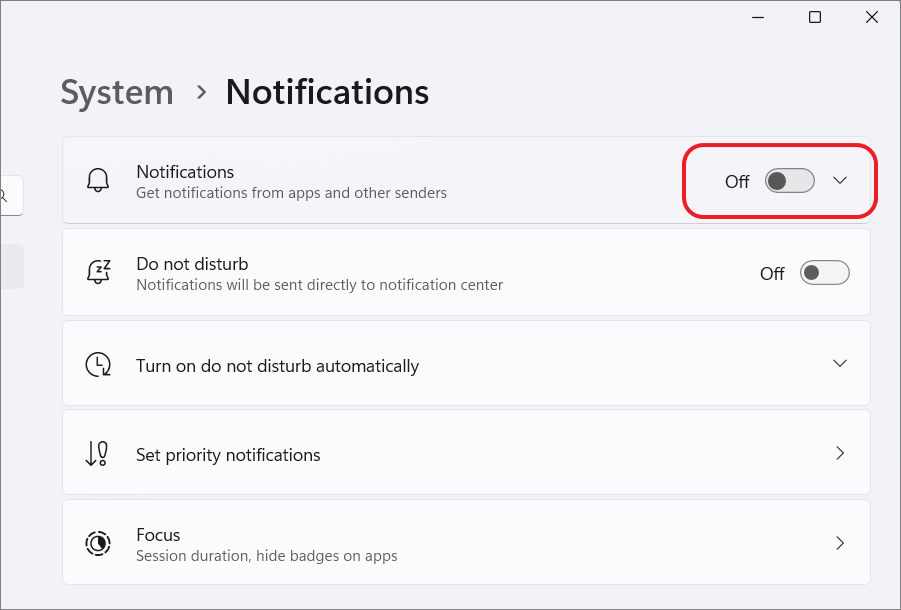 18. Tweak In-Game Graphics Settings
If you notice your game starts to lag, it could be because your graphics card may not be up to the task, or you might be trying to play a graphics-intensive game on a less powerful system. So, the best thing to do is to lower or disable some of the game's graphics-intensive settings, as it can improve FPS by reducing the load on the graphics card.
Every game offers graphical settings that can be fine-tuned to enhance performance according to your hardware's capabilities.
Launch your game and navigate to the 'Graphics' settings.
Most recent gaming computers can easily handle 1080p ( 1920 x 1080) gaming at 60FPS without much trouble. However, when it comes to supporting higher resolutions like 4K or 2K, some PCs might struggle, and your typical office laptop might even have a hard time with 1080p gaming. So, try lowering your screen resolution to find a good balance between quality and higher FPS.
Tweaking your in-game graphics settings, like anti-aliasing, shadow quality, V-sync, ambient occlusion, and texture quality, can make our gameplay smoother. It's all about finding the right balance between visual appeal and performance to ensure the best gaming experience.
In some games, you'll come across simple graphical options like ultra, high, medium, and low presets. You can try changing it to Low or Medium to achieve optimal performance.
19. Configure your GPU software
Both Nvidia and AMD graphics drivers come with their own control panels, which enable you to customize and adjust various graphics settings. Adjusting a couple of settings in the GPU control panel can do a lot for your gaming performance.
Open the system tray in the taskbar corner, right-click the NVIDIA icon, and select 'NVIDIA Control Panel' from the context menu.
Once the NVIDIA Control Panel opens, click the 'Manage 3D settings' in the left panel and make sure, you're on the 'Global Settings' tab on the right.
Then, click on the drop-down next to 'Max Frame Rate'.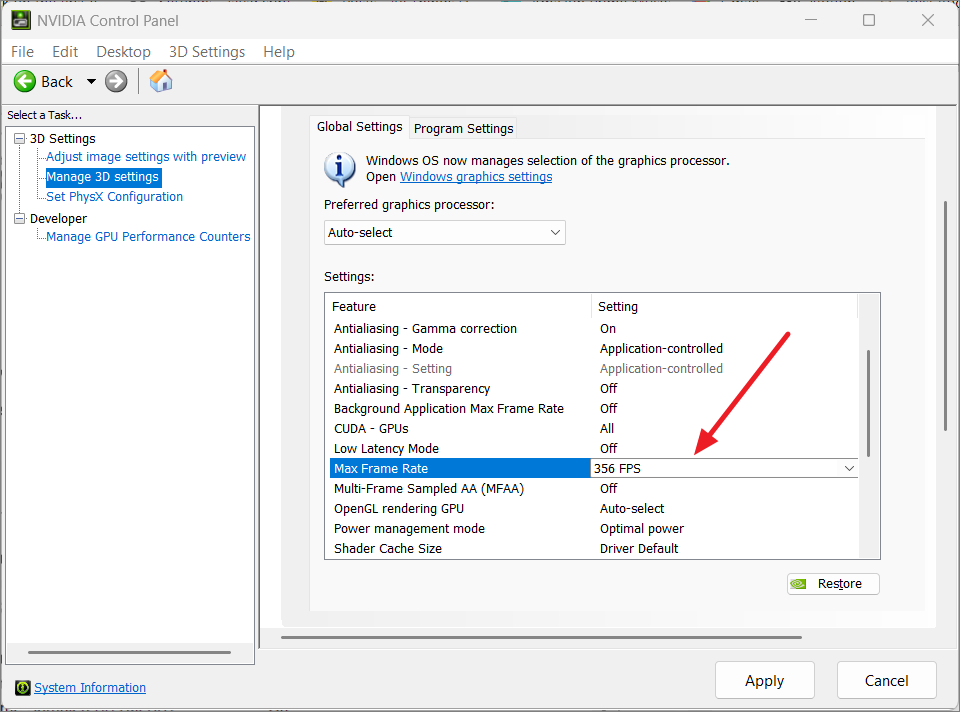 Set the Max frame rate to the refresh rate of your monitor and click 'OK' to save the setting.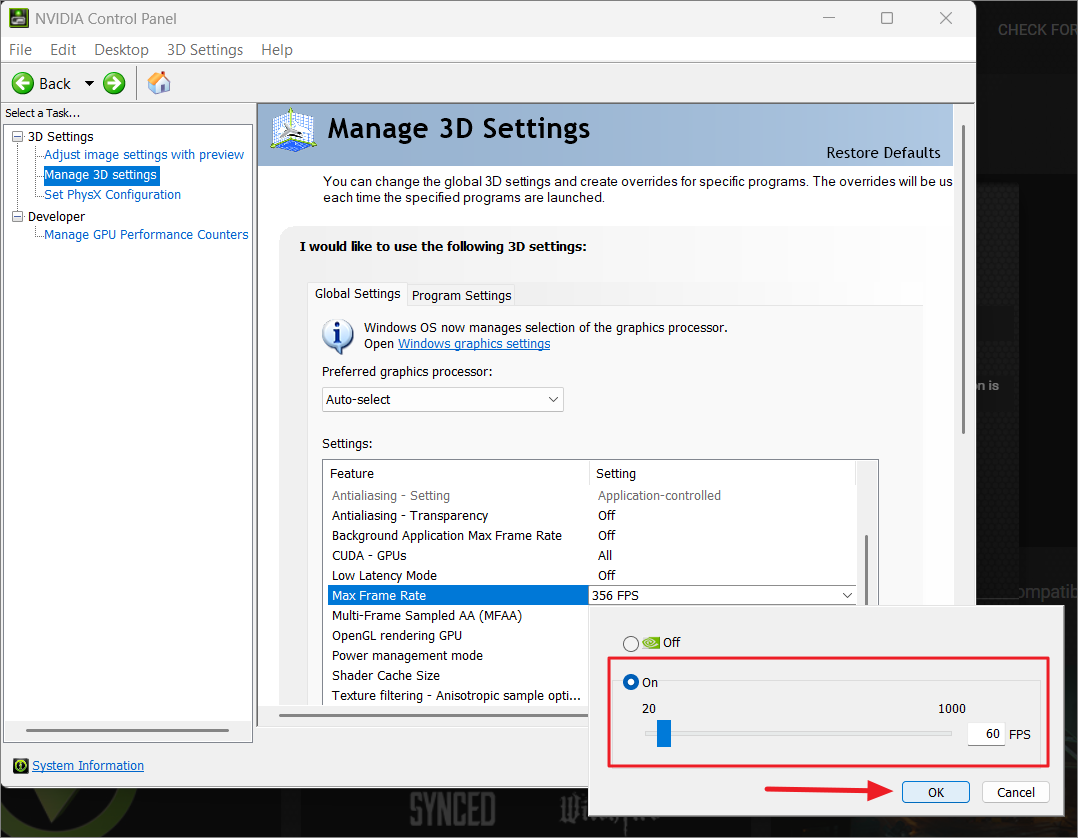 After that, set 'Power management mode' to 'Prefer maximum performance'.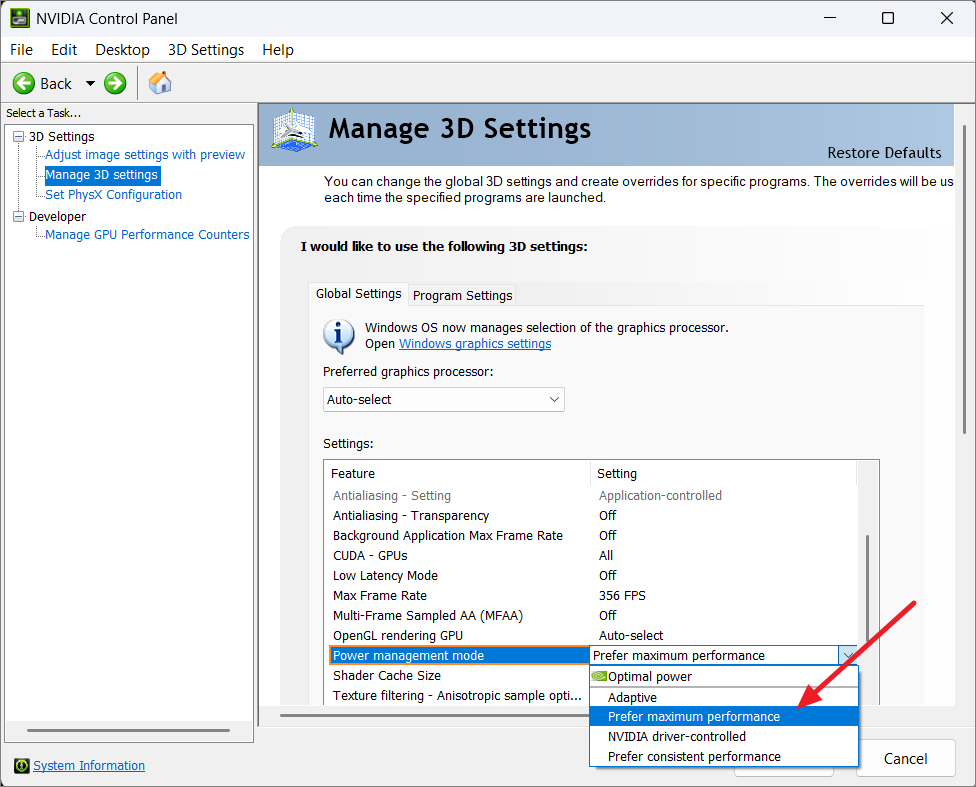 Finally, click 'Apply' to save the changes.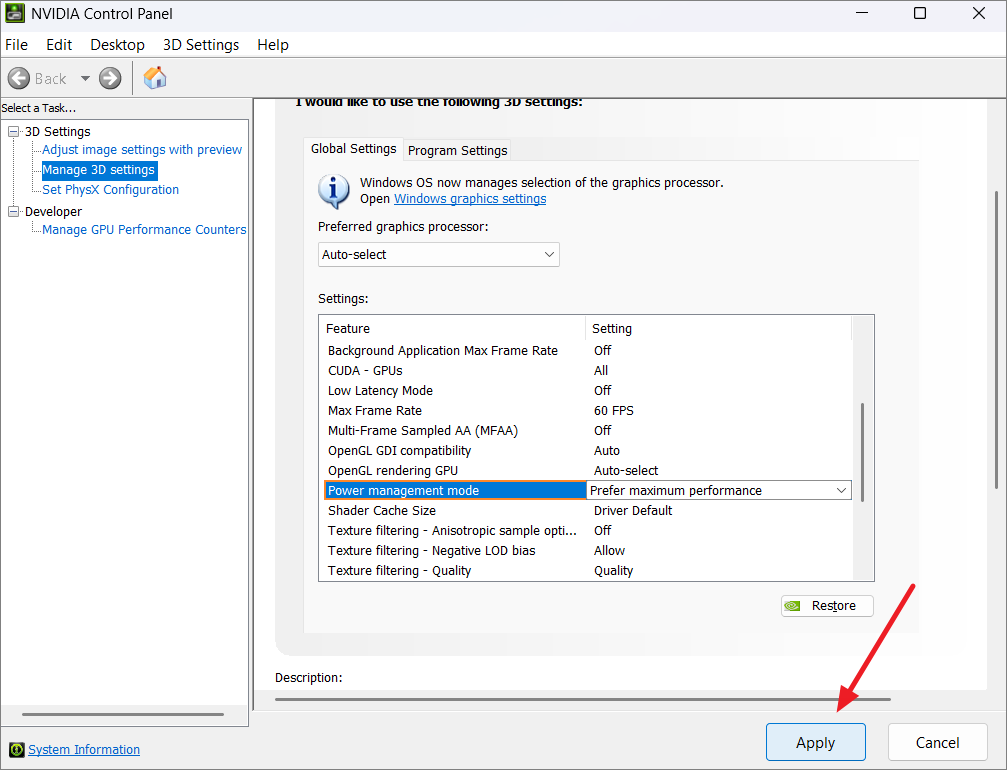 For AMD GPUs:
If your computer has AMD graphics, right on the desktop, select 'Show more options'.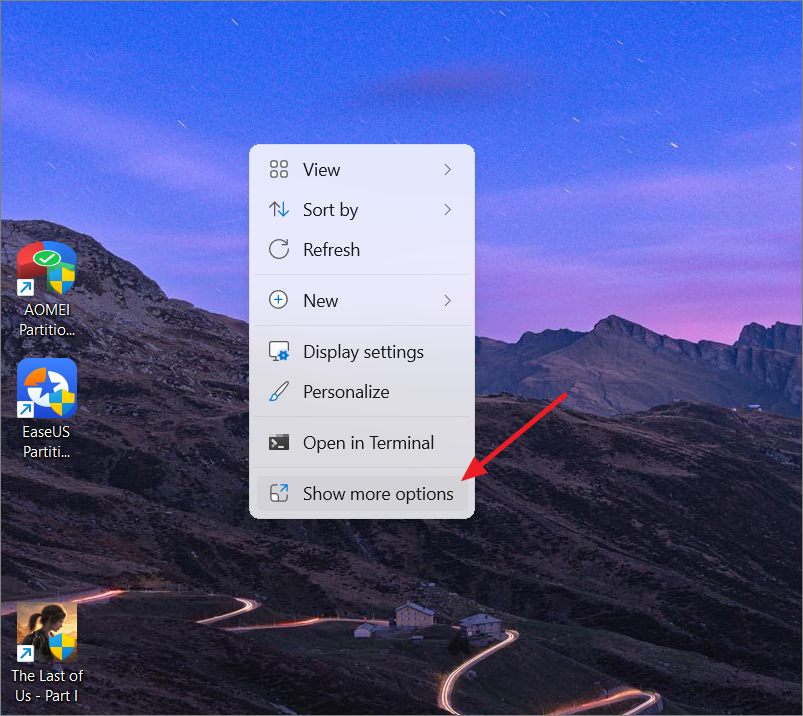 Then, select 'AMD Radeon Software' from the classic context menu.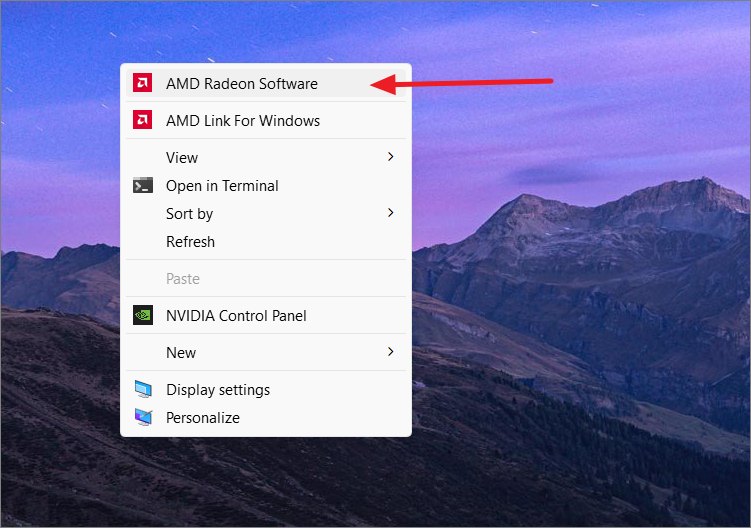 When the AMD Radeon Software opens, switch to the 'Graphics' tab and select the 'Gaming' profile. After that, turn off the 'Radeon Anti-Lag' toggle.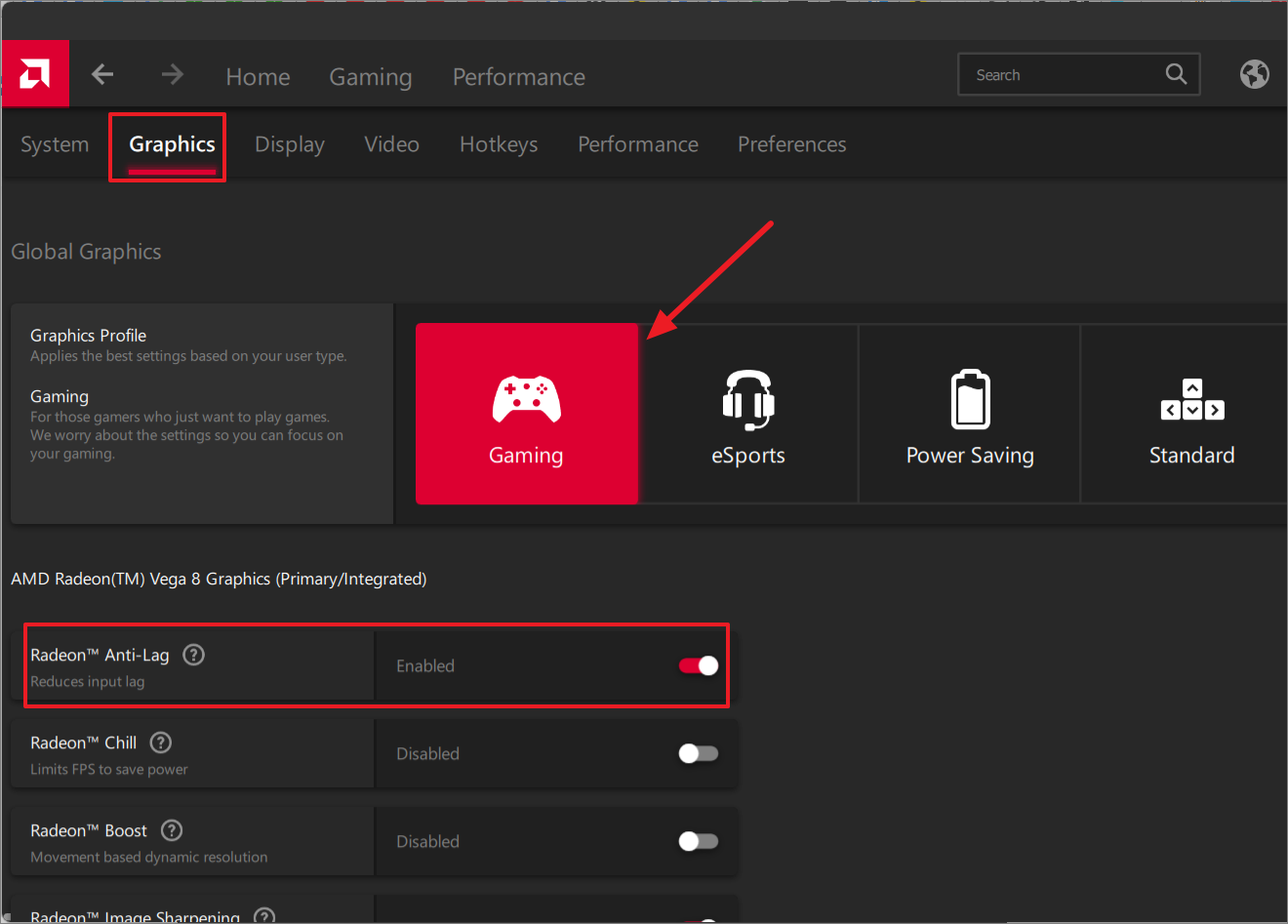 20. Turn Off Animations
If you're more interested in speed over aesthetics, you might want to think about disabling animations. Windows 11 has some sleek animation effects that enhance its overall look, but they can potentially slow down your system.
In the Windows Settings, navigate to 'Accessibility'from the left menu, and select 'Visual effects'on the right side.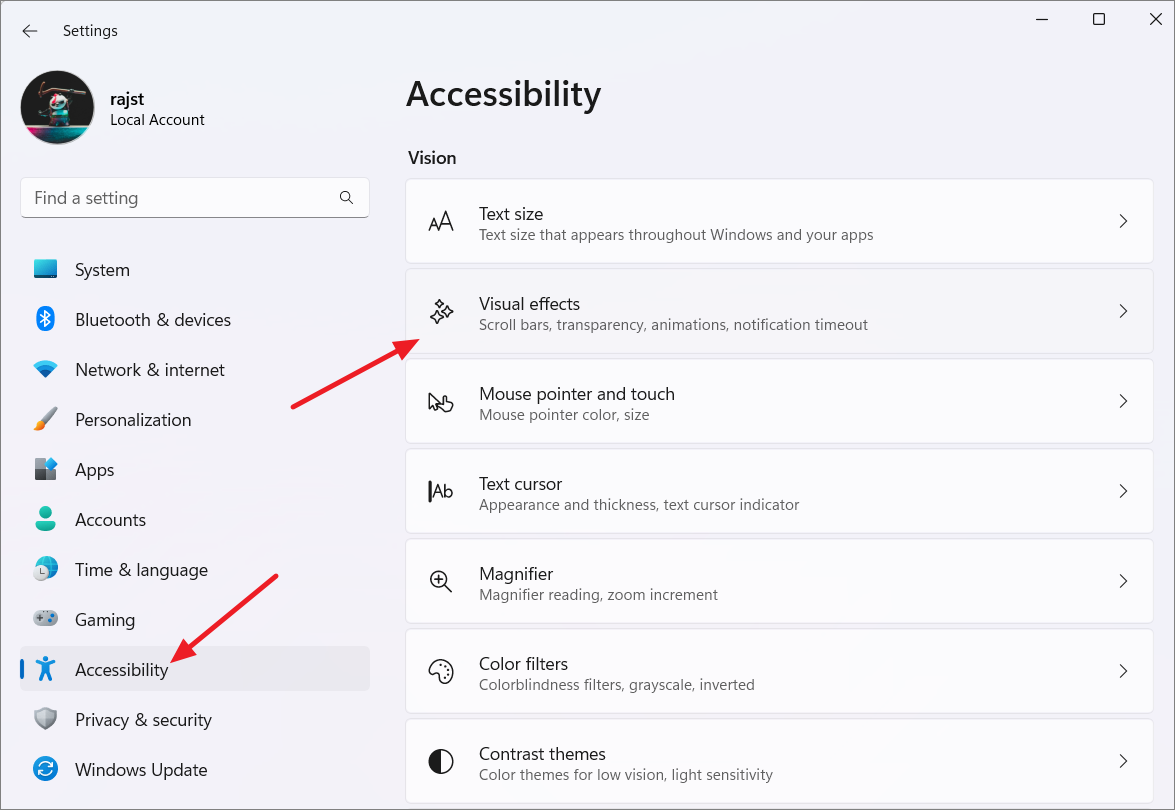 Next, turn off the 'Animation effects' toggle.
21. Pause Automatic Windows Updates
The new updates should help your system by providing security patches and bug fixes. However, there have been many cases where new updates caused problems with the games. Therefore, it might be a good idea to turn off the automatic update feature during your gaming sessions and choose when to update Windows according to your own schedule.
Open the Settings app and head to 'Windows Update'.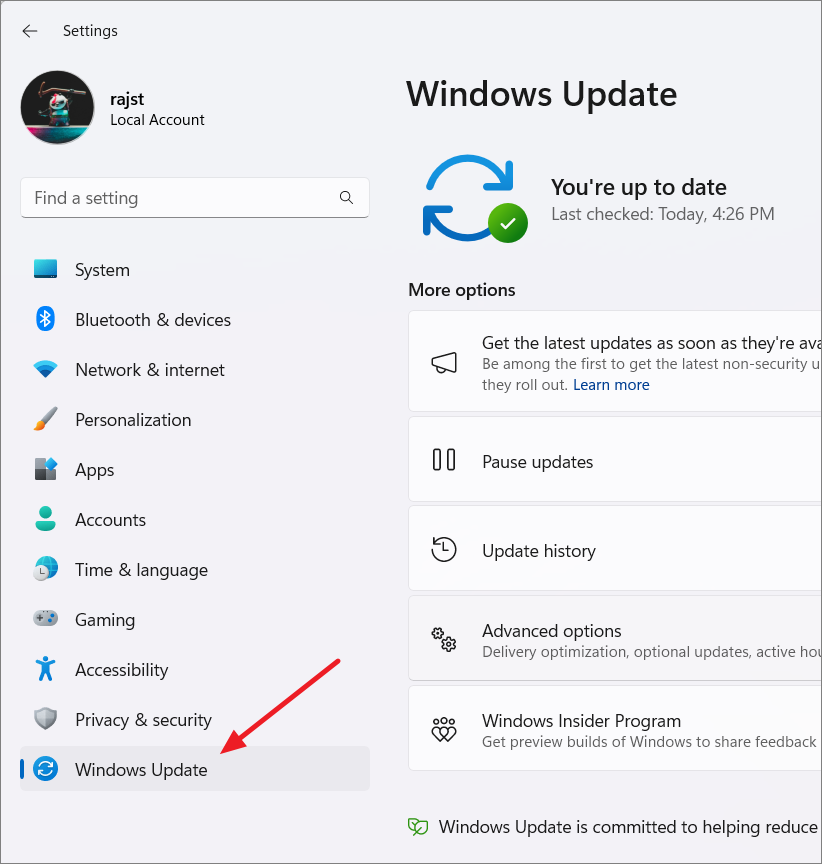 Now, you can pick how long you'd like to temporarily stop updates drop-down next to the 'Pause updates' option.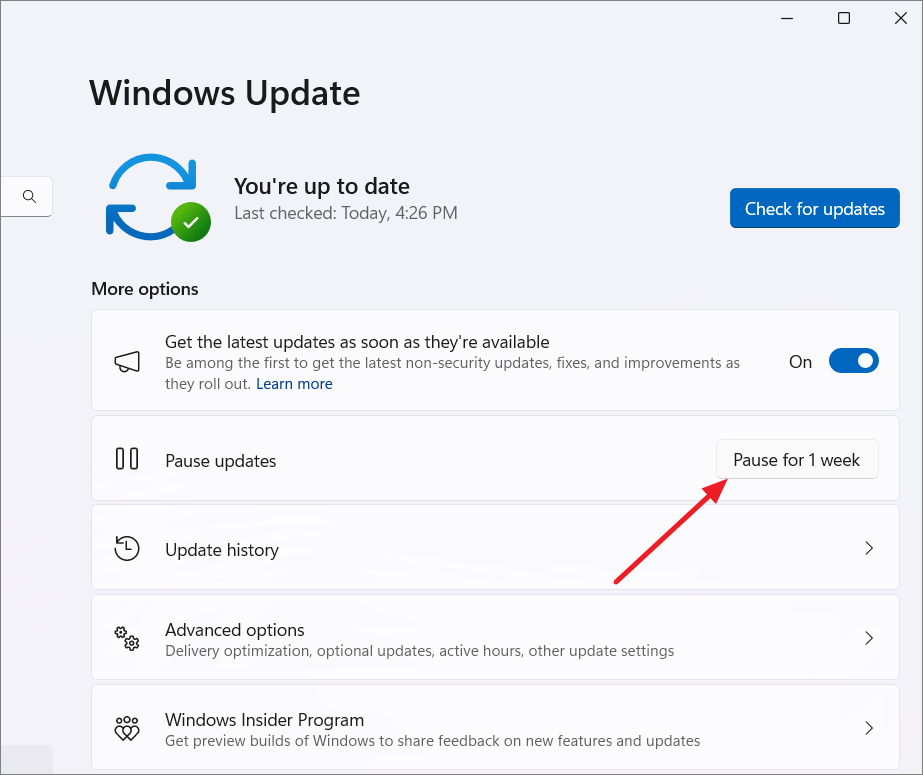 22. Upgrade to SSD
If your computer or laptop runs on a traditional hard disk (HDD), consider upgrading to Solid State Drive (SSD). SSDs are much faster than traditional Hard Disk Drives (HDDs) when it comes to reading and writing data.
Installing games on an SSD enhances your gaming experience by offering faster loading times, smoother gameplay, and quicker updates. SSDs are also more reliable than traditional HDDs, although they can be a bit pricier. Overall, they're a great investment for a better gaming experience.
23. Switch to Faster DNS
Your gaming performance can suffer due to DNS problems, especially in online gaming. Many internet service providers (ISPs) have their own DNS servers, but they may not always be reliable. It's a good idea to consider switching to faster and more secure DNS providers like Google or Cloudflare to address this issue.
If you notice a drop in gaming performance, especially in online gaming but not during regular gaming, your DNS or internet connection may be the culprit.
To assign a manual DNS address, launch Windows Settings. Head to 'Network & internet' and select your correct network adaptor. (Wi-Fi or Ethernet).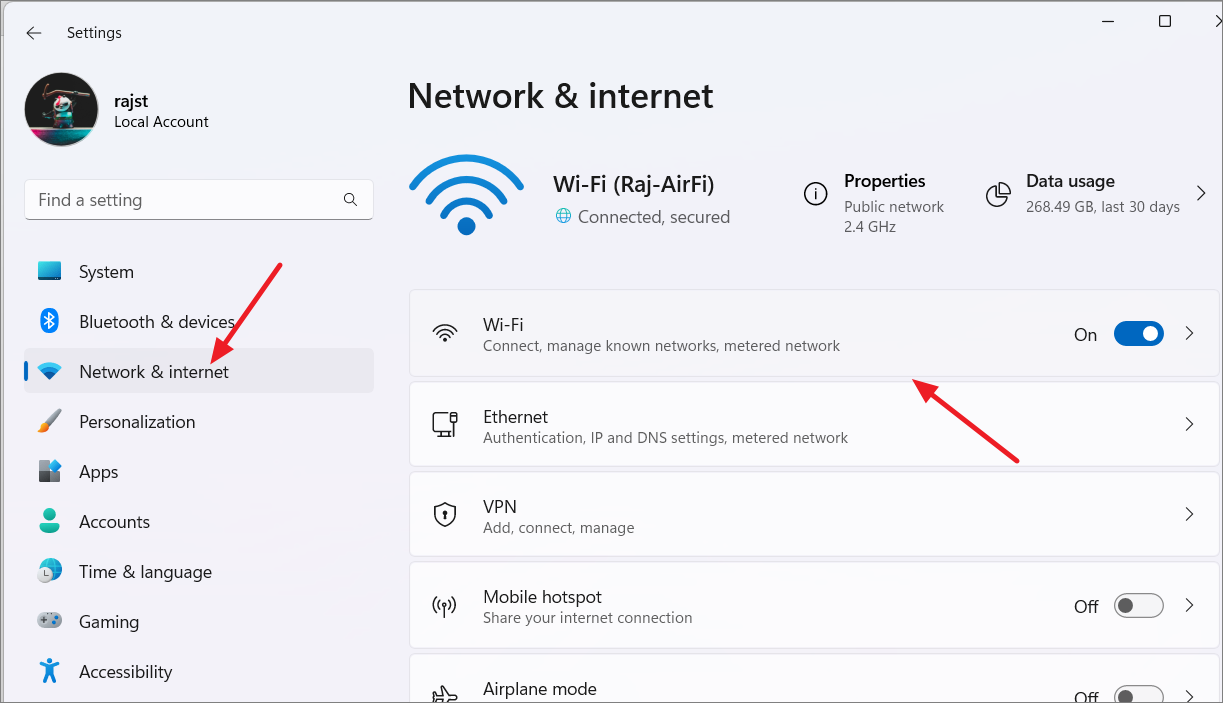 Next, choose 'Hardware properties'.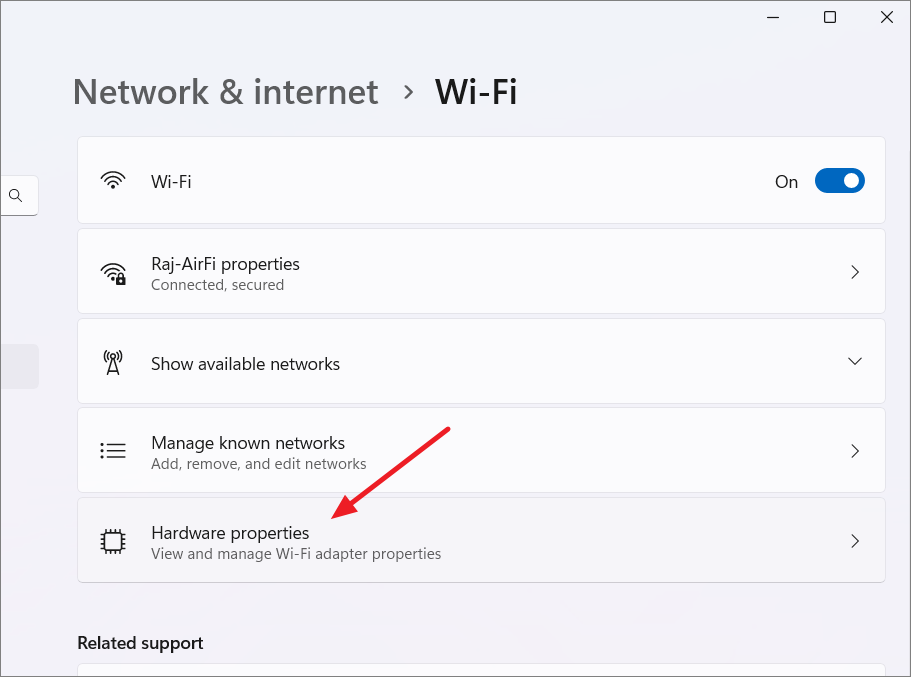 After that, click the 'Edit' button next to the DNS server assignment.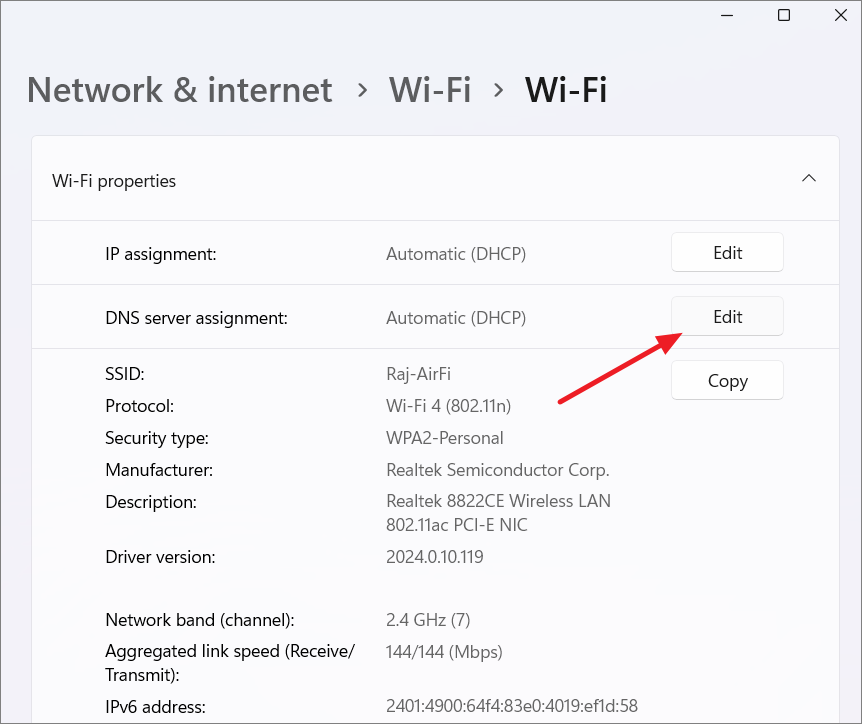 Select 'Manual' from the menu and turn on the 'IPv4' toggle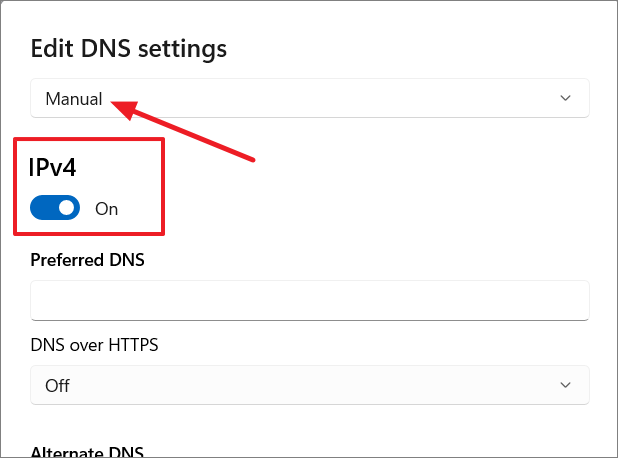 Type in your Preferred and Alternate DNS addresses, and click 'Save'.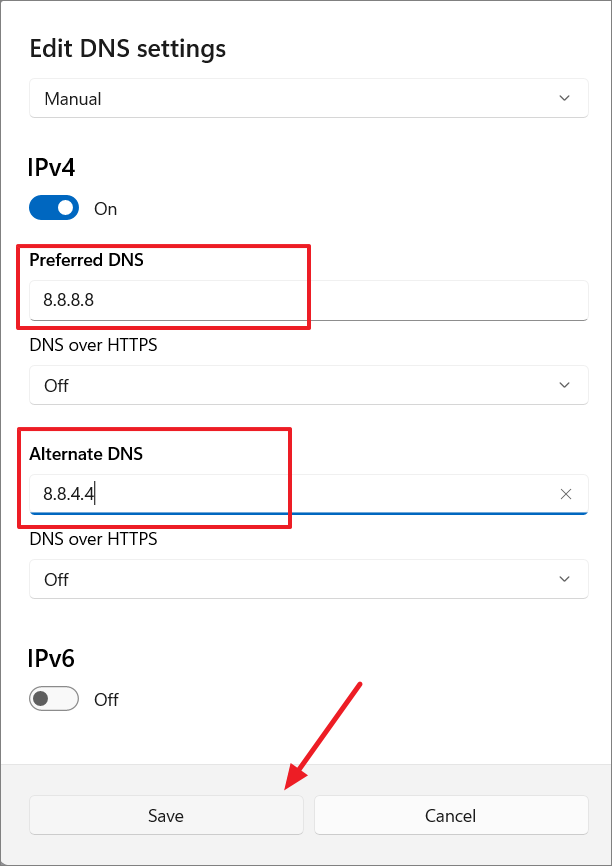 If your internet connection is slow with high latency, it can result in game lag and delays. A fast, low-latency broadband connection won't boost your FPS directly but can reduce the lag significantly.
Check your broadband quality; if it's not fast enough or has a high ping when connecting to your favorite game's server, you might want to consider upgrading to a better plan. You can easily test your internet speed using tools like Ookla, Fast.com, Google, and various other websites and apps.
24. Keep your PC from Overheating
While overheating doesn't directly affect gaming performance, it indirectly affects overall system performance and stability. When your CPU or GPU gets too hot, it can start to throttle, which means it slows down its performance to prevent overheating.
A major reason why PCs can overheat is because dust and cobwebs accumulate on the fans and other parts inside your computer case. To prevent your PC from freezing or slowing down, regularly clean your computer case to keep it within its ideal temperature range.
25. Overclock Your GPU and CPU
Another quick way to boost your gaming performance is by Overclocking. When you overclock your graphics card, you can boost its clock frequency and voltage, and you also have the option to control the fan speed. This enables you to find the perfect balance between performance and temperature.
If your BIOS settings have the option to overclock your PC, you can use it to overclock your PC, or you can use third-party tools like MSI Afterburner for the GPU and CPU Tweaker for the CPU. Be cautious, though, as it can potentially damage your hardware if not done correctly.
26. Disable Record What Happened
In Windows 11, there's a 'Record what happened' feature that allows you to capture video of your in-game moments using a shortcut. However, keeping this feature enabled means it runs in the background, using up system resources and potentially affecting your computer's performance, especially if you're using lower-end PCs.
Although the feature effect on gaming performance is generally minimal, disabling it may improve performance on some PCs. Here's how you do it:
In the Settings app, navigate to 'Gaming', and then select 'Captures'.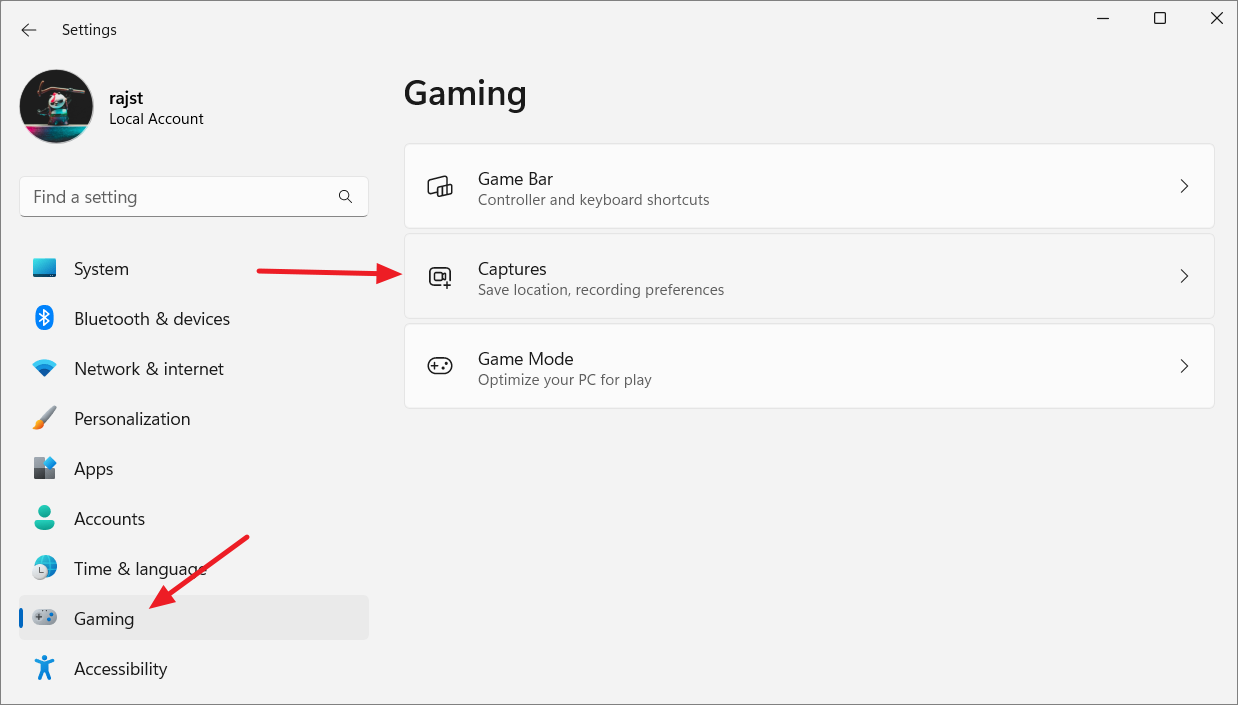 Then, turn the 'Record what happened switch' to the off position.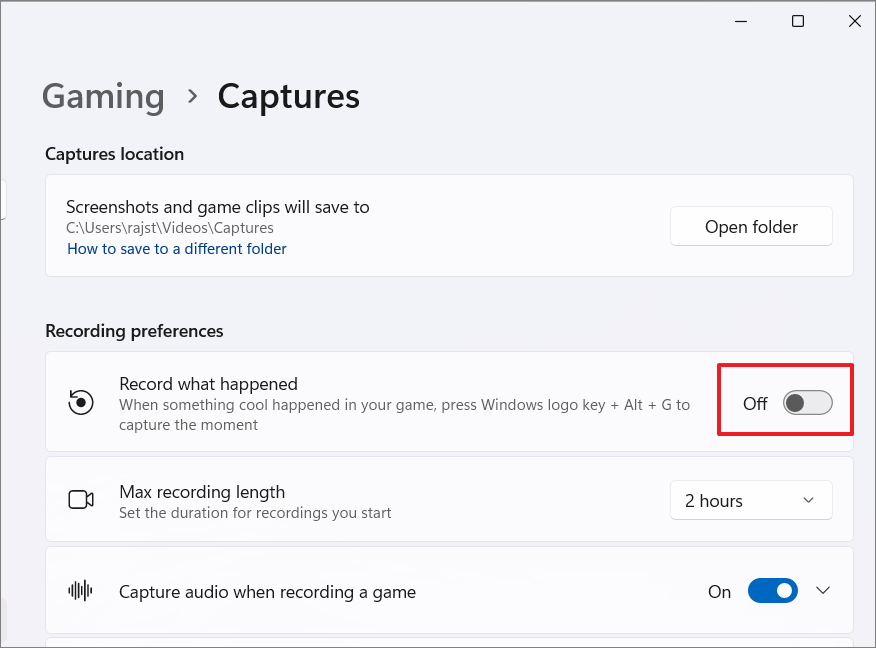 To start improving your Windows 11 for gaming, make sure you've installed the most up-to-date graphics drivers as the first step.
The first step towards optimizing your Windows 11 for gaming is to ensure you have the latest graphics drivers installed. Graphics drivers play a crucial role in rendering images and videos on your screen. Keeping them up-to-date ensures you have access to the latest bug fixes, optimizations, and performance improvements specific to your GPU.
27. Using Game Optimization Software
There are various third-party software tools available that can help boost your PC's gaming performance. They often do this by turning off unnecessary background processes and services, which frees up valuable CPU and RAM resources for your games.
Additionally, some game optimizers allow you to customize in-game settings to find the right balance of performance and visual quality. Some of the popular optimizer tools used by gamers to enhance their gaming performance are Razer Cortex, MSI Afterburner, and Game Fire.
Each of these methods plays a role in maximizing your gaming setup's capabilities, ensuring you have a more enjoyable time playing games on your PC.
28. Reinstall Windows 11
If everything else fails and your older PC struggles with modern games, your last resort is a complete system upgrade, which may be costly but offers the best gaming experience.
Alternatively, consider reinstalling Windows 11 if you don't want to spend money on new hardware. Sometimes, years of use can lead to accumulated errors, corrupting Windows files beyond repair, and a reinstallation might improve performance without any extra cost.
Reinstalling Windows can improve performance by providing a clean slate, updating drivers, optimizing the registry, removing malware, reducing bloatware, and allowing for optimized settings.