Panasonic's flagship TV gets a serious upgrade with the adoption of a high brightness MLA (Micro Lens Array) OLED display and new Luminance Boosting technologies. Panasonic designates this combo as 'Master OLED Ultimate.'
The MLA panel uses tiny lenses to better reflect light out of the screen, thereby increasing luminance without requiring additional power. The result is the brightest performer yet from the brand.
To reinforce its cinematic credentials, it comes with a Hollywood-tuned HCX Pro AI and universal HDR support. There's no need to budget for an additional soundbar either, as the set comes with a 150W audio package that is tailor-made for home theatre.
So is this the blockbuster TV you've been waiting for?
the MZ2000 is both good looking and easy to accommodate
Design & Features
Wafer thin bezel and swivel stand
My Home Screen TV smart platform
4K 120Hz HDMI inputs
With a fashionably thin panel border and swivelling pedestal stand, the MZ2000 is both good looking and easy to accommodate.
Admittedly this model isn't as slim as some rivals, at 69mm, but for good reason. It carries a full complement of speakers, which make up its 360°Soundscape Pro Dolby Atmos system. In addition to a forward facing soundbar-style array, there are a pair of side-firing drivers and two up-firing speakers on the rear.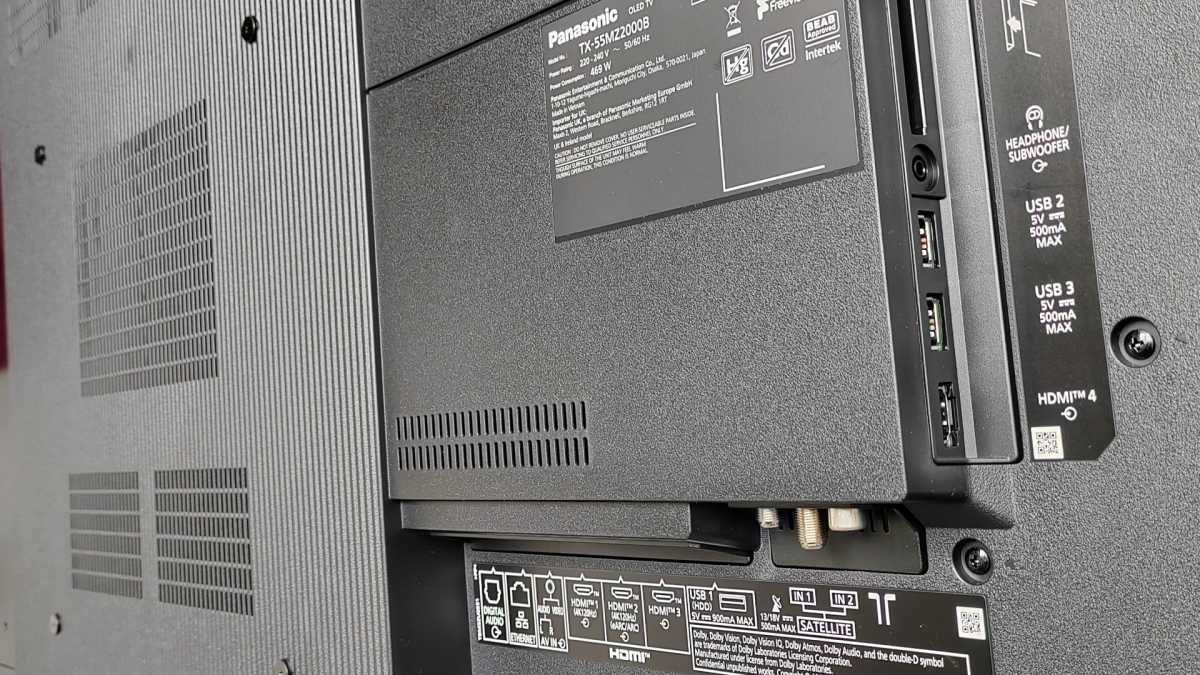 Steve May / Foundry
Connectivity includes four HDMI inputs, of which the first two are 4K 120Hz enabled. One of these is also eARC enabled.
Additionally, there's an optical digital audio output, AV mini-jack input, three USB ports, Ethernet, provided as an alternative to Wi-Fi, Bluetooth, and a Common Interface slot.
The set offers both a Freeview Play terrestrial tuner, and twin satellite tuner connections. Control comes via a single, substantial remote with dedicated buttons for Netflix, Rakuten TV, Prime Video, Disney+, YouTube and Freeview Play.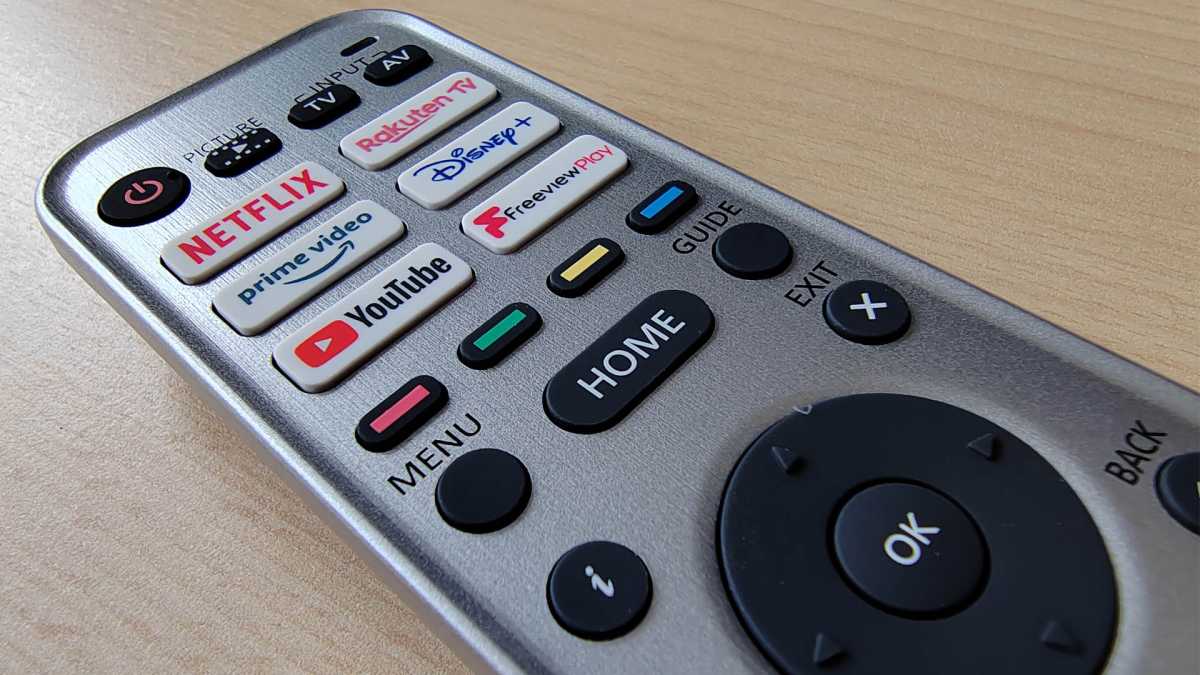 Steve May / Foundry
While Panasonic is dabbling with both Google TV and Fire TV smart platforms on cheaper sets, it has retained its own My Home Screen platform for this range-topper.
Now in its eighth iteration, it's distinguished by ease of use, and quick customisation. Users can 'pin' any service or input to the Home screen for instant access.
Beneath these shortcut buttons are content curation rails, for services and channels, starting with Freeview Play. From here you can access catch-up services, such as BBC iPlayer, ITVx, All4, My five, and CBS catch up.
There's also a dedicated Game Control Board for console owners. This provides at-a-glance info about resolution, frame rate, input lag, VRR and HDR. You can also toggle genre audio presets for FPS and RTS gaming, but sonic differences are subtle.
just how effective is the new MLA OLED panel? Very, as it happens.
Picture Quality
Micro Lens Array
OLED panel
HCX Pro AI Processor
So just how effective is the new MLA OLED panel? Very, as it happens.
HDR peak brightness was measured at just under 1700 nits, using a 10% patch, and over 1800 nits with a smaller 5% window, using the Dynamic image preset. This is significantly higher than last year's Panasonic LZ2000 model.
Measured using the Normal image mode, HDR peaks drop to (a still impressive) 1200 nits with a 10% patch, and 1500 nits at 5%.
This is comfortably bright enough to present most commercially available HDR content, without any need for onerous tone mapping.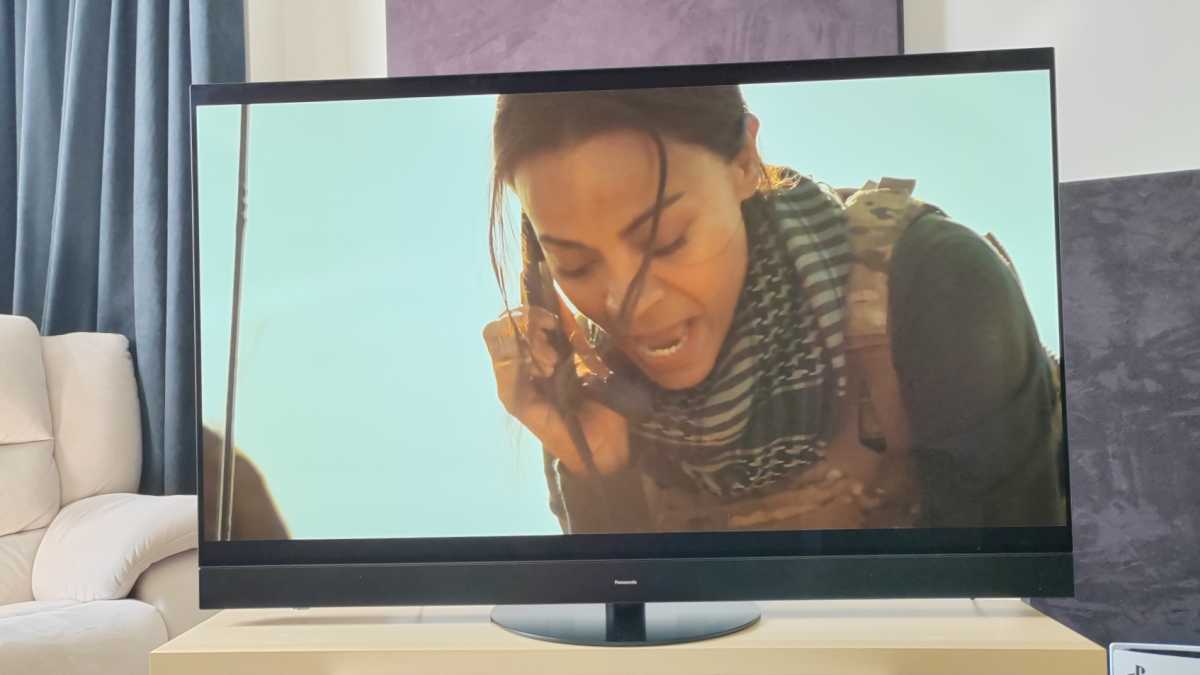 Steve May / Foundry
It's not just HDR that benefits from the set's high brightness panel and luminance boosting technologies. The average picture level of all content gets a lift, making this set a solid option for daytime viewing.
Overall image clarity is exceptional. Panasonic has always been a master of cinematic processing, and that continues here. While imagery is sharp, pictures never look overly processed. There's naturalistic depth, ideal for movies that run the gamut of bright transients and moody set pieces.
Colour accuracy is high. Hollywood colourist Stefan Sonnenfeld is responsible for the final tuning here, and when watching in one of the many cinematic modes, it's easy to imagine this Panasonic a match for a studio master monitor.
Picture presets cover most eventualities. There's Normal, Dynamic, Cinema, Filmmaker mode, True Cinema, Custom, Professional 1 & 2, and Sport. If you don't want to faff around, I would suggest leaving the set on its Auto AI setting, which does a remarkably good job of coping with different content (be it sport, news, or cinematic TV).
When watching movies, my preferred option here is Filmmaker mode, although Normal does pack a slightly more dynamic punch. With Dolby Vision content, picture presets change to Dolby Vision Vivid, Dolby Vision IQ, and Dolby Vision Dark.
Unlike rival screens from LG and Samsung, the MZ2000 offers universal HDR format support.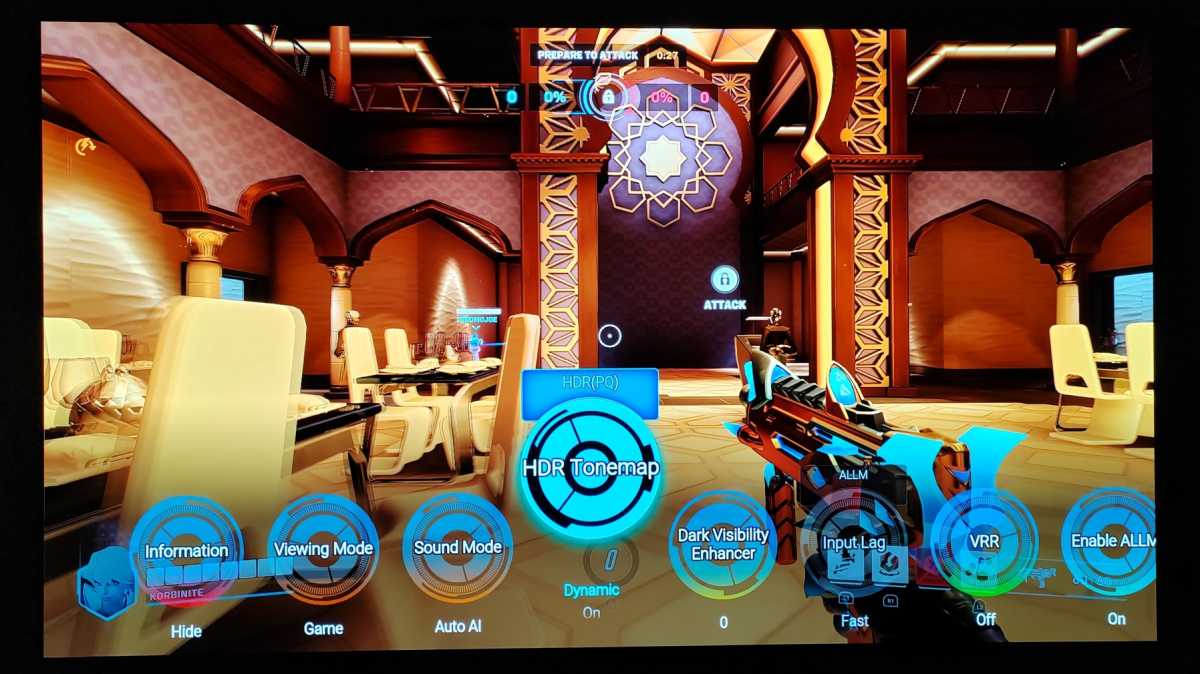 Steve May / Foundry
You get Dolby Vision IQ, HDR10+ Adaptive, HDR10, HLG, and HDR Photo. There's also a service-specific Netflix Calibrated mode, and Filmmaker mode, both now adaptive and able to dynamically adjust to suit room lighting.
Upscaling of HD is excellent and comes with no obvious processing enhancement. A run-through of Paramount +'s gritty action drama Lioness, which streams in HD, looks every bit as natively pixel dense and sharp as Ultra HD originals.
For gaming, I measured input lag at 14.5ms (1080p/60fps), which can be considered good, but not outstanding.
The MZ2000 sounds every bit as good as a well specified Dolby Atmos soundbar
Sound Quality
360°Soundscape Pro Dolby Atmos system
Beam steering
Dolby Atmos
150W amplification
The MZ2000 sounds every bit as good as a well specified Dolby Atmos soundbar, thanks to its 360°Soundscape Pro audio system. The soundstage, created by those side-firing and height drivers, is wide and dramatic, while the forward facing left/centre/right speaker array ensures excellent dialogue clarity.
There's no shortage of volume either, with some cumulative 150W on tap.
One novelty which may hold some appeal is beam steering. Using an onscreen graphic you can direct the output from the front speaker to a specific part of the room, so that its sounds louder at its target destination.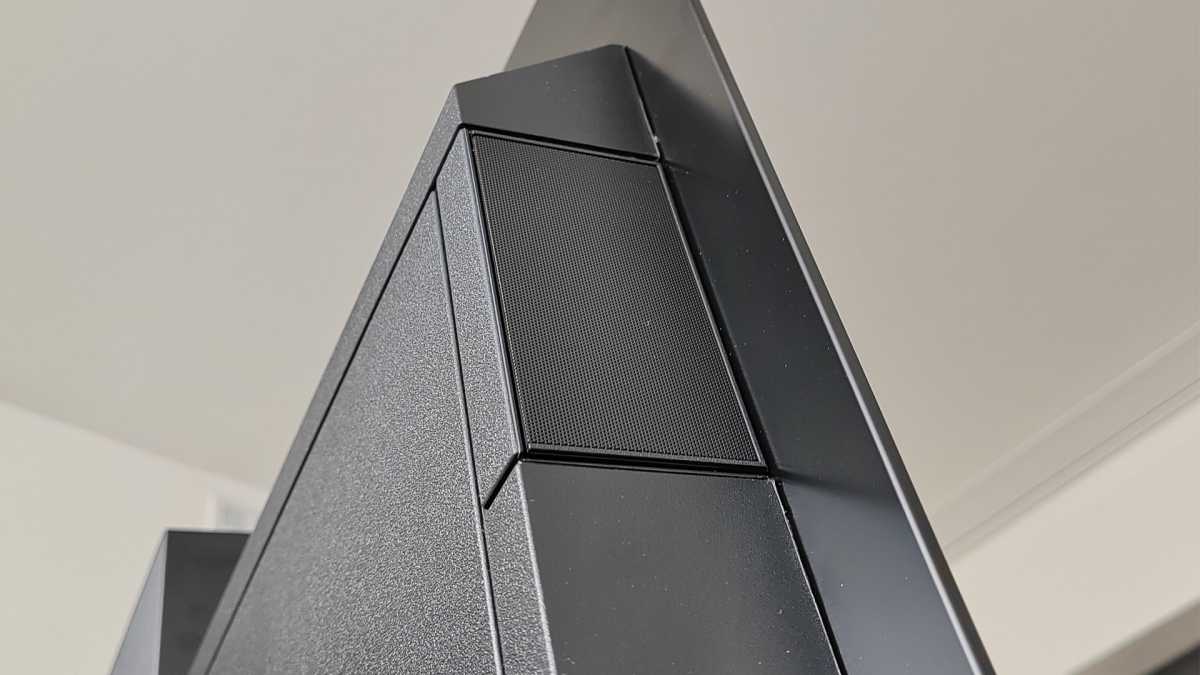 Steve May / Foundry
The sound may be monophonic but it could be useful if you want to catch up on the news, without disturbing other members of your clan.
You can also take advantage of all these physical speakers using a Sound Field Creation menu, You can select various degrees of DSP to suit different genres – Sport, Live theatre, Standard or Talk. Opt for Direct and the sound passes through unhindered.
Price & Availability
Hitting stores now, the Panasonic MZ2000 is available in three screen sizes, 55-, 65-, and 77in (TX-55MZ2000, TX-65MZ2000 and TX-77MZ2000). These are priced at £2,699, £3,599 and £4,499 respectively.
We have the 55in model on the test bench. It's worth noting that the 77in model does not use an MLA panel, unlike its smaller stablemates and the MZ2000 is not available in North America.
It's an expensive TV up there with the LG G3 OLED which also has an MLA panel. If you need something cheaper then Panasonic's MZ980 might suit or we have other options in our best TV chart.
Should you buy the Panasonic MZ2000?
The Panasonic MZ2000 can be considered a stunner of a 4K TV. The adoption of an MLA panel has brought dramatically increased luminance, which benefits HDR and everyday SDR content.
It's simply brighter and more three dimensional than any Panasonic OLED we've seen to date.
Couple this with a solid, intuitive smart platform, and an extremely accomplished Dolby Atmos sound system, and you have a high-end TV well worth saving up for.
Specs
Sizes: 55/65/77in
Model tested: 55in
OLED 4k display technology
Resolution: 3840 x 2160
HDMI: x4
HDR support: HDR10, HDR10+Adaptive, HLG, HDR Photo, Dolby Vision IQ
My Home screen v.8 TV smart platform
150W Dolby Atmos sound system
Dimensions: 1,227 x 764 x 69mm
Weight: 25.5kg