In this guide, we will discover: Top 10 Best TinyURL Alternatives in 2023 – Easy Beginners Guide 2023
So, let's begin!
The ecosystem of the internet has evolved to include URL-shortening providers. They make it simple for users to track and analyze link performance and exchange lengthy and complex URLs. While TinyURL has long been a well-liked option for URL shortening, several additional options have special advantages and capabilities.
You will thoroughly understand the various URL-shortening services available by the end of this article and be capable of choosing the one that best meets your needs.
What is TinyURL?

TinyURL is a free web service that allows users to shorten long, complex URLs into a shorter, more manageable format. The service was created in 2002 by Kevin Gilbertson, and it quickly became popular due to the rise of social media platforms like Twitter, which limit the number of characters per post.
TinyURL takes a long URL and creates a unique, shortened version that redirects users to the original webpage when clicked. This makes it easier to share links on platforms with character limits and allows users to track the performance of their links using basic analytics. In addition, TinyURL does not require users to create an account, and the service is entirely free.
The 10 best TinyURL Alternatives
Here are the top 10 TinyURL Alternatives:
1. Bitly
Bitly is a business-grade URL shortener that also provides a free service for occasional link shortening. Simply paste your long URL on the homepage, click Shorten, and you're done. However, Bitly's real strength lies in its business offerings. It has a user-friendly dashboard allows you to track over 20 real-time data points, such as visitor location and organic shares.
While Bitly's free limited account used to be good, it's not as great anymore, especially for small businesses. The old free plan provided analytics for 10,000 links per month, but the new one only offers 100 links per month with 50 customizable URLs.
The Basic plan costs $35 per month and includes a free custom domain, 1,500 links per month, and more detailed data about link clicks. If you need even more, the Premium plan at $200 per month offers 3,000 links per month, more detailed analytics, and unbranded QR codes.
2. BL.INK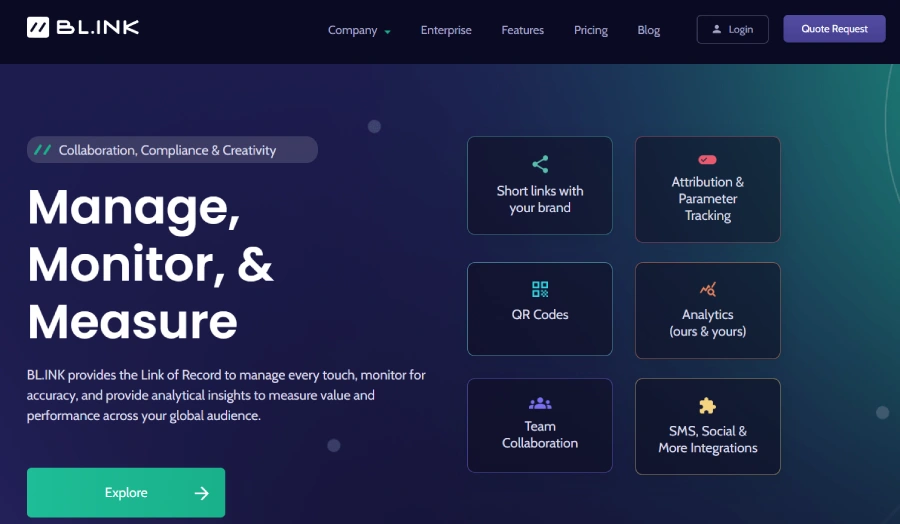 BL.INK is a URL shortener that shortens long URLs and tracks traffic from the links. Its dashboard displays trending links and statistics, while the analytics page provides traffic information by device, location, and referrers. You can also analyze clicks by the time of day. Tags can be added to your links for tracking and coordinating campaigns.
BL.INK has four paid plans that cater to small businesses, teams, and enterprises based on the number of links you need to generate and track. With a free account, you can create 1,000 active links, track 1,000 clicks per link, and use a custom domain for branded links. If you're a business looking for a comprehensive URL shortener that the whole team can use, BL.INK is a great choice, especially if Bitly's enterprise-grade plan is too much for your needs.
3. GLinkz
GLinkz is a URL shortener service that allows users to create short links that redirect to longer URLs. In addition, it offers features such as custom domains, link tracking and analytics, and password protection for links. GLinkz is designed to be easy to use and useful for individuals and businesses looking to share links on social media, email marketing campaigns, and other online platforms.
You can use your custom domain with GLinkz, creating branded links that match your business or personal brand. GLinkz can generate QR codes for your links, making sharing them in print materials like business cards and flyers easy. GLinkz enables team collaboration, allowing you to share links and analytics data with team members. GLinkz provides detailed analytics on link clicks, including location, device, and referral source. You can use this data to understand your audience better and optimize your marketing efforts.
4. Rebrandly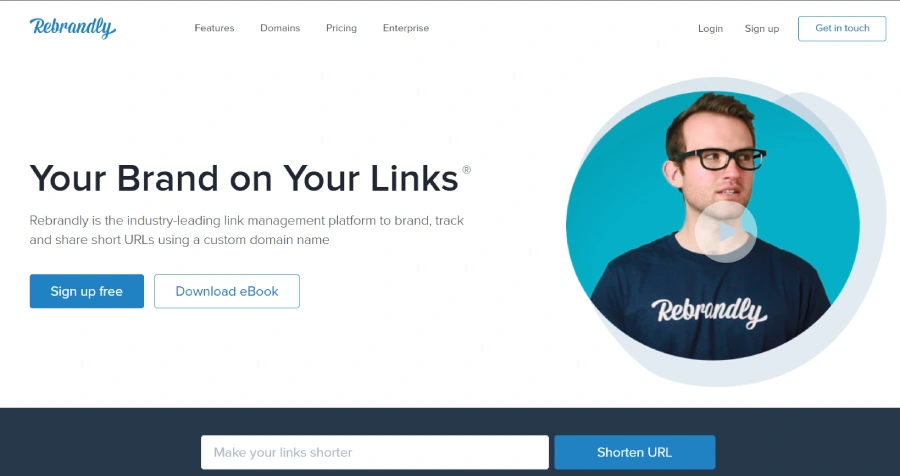 Rebrandly is a unique URL shortener that lets you customize links with your branding. Its free plan offers five custom domains, the most of any app we considered. This means you can customize the entire short URL, not just the end of it.
Rebrandly's free plan provides tools to track link popularity, click data, and create automatic QR codes. However, there is a limit of 500 branded links and 5,000 tracked clicks per month.
5. Short.io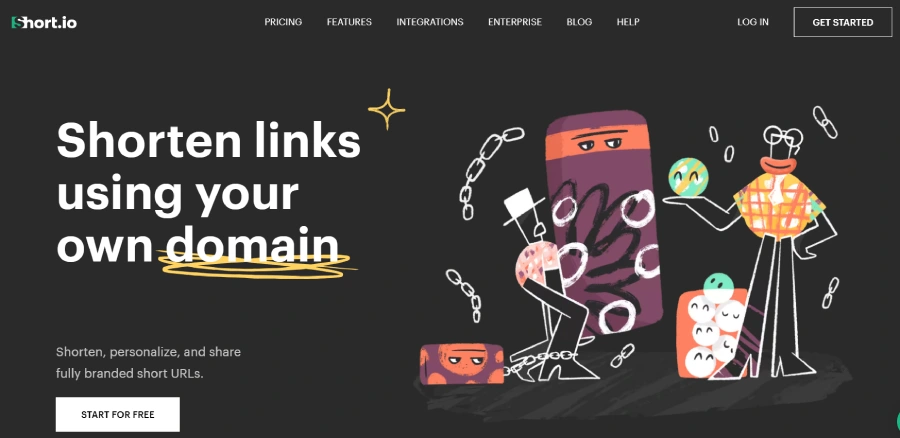 Short.io offers a unique feature that enables you to target visitors based on their location or device and send them to different links. This is useful for ensuring that the right customers see the right content. Short.io also provides standard analytics such as click tracking, device usage, and location. To use this feature, you simply need to add a link and select how you want to target your clickers using the Apple, Android, or globe icon. However, using this feature only when you have a good reason to send different types of visitors to other web pages is best.
Short.io is a good URL shortener, but it's different from most options in that you must use your custom domain. You can set a default domain for any short link that doesn't work, and you can check detailed statistics on when, where, and how people are clicking on your links in the Statistics and Clicks Stream sections.
6. Sniply.io
Sniply.io is a unique link shortener that not only creates custom links for your brand but also allows you to design call-to-action (CTA) blocks that you can add to your website, blog posts, and social media. In addition, you can customize the design and add buttons, images, and forms. You can also run A/B tests to optimize your conversions and track clicks, conversions, and other data via the Analytics tab, filtering it by brand, campaigns, and timeframes.
Sniply.io also offers browser extensions for Google Chrome, Firefox, and other browsers. This allows you to easily generate your customized link with a CTA block while browsing the internet or using social media marketing tools like Buffer or Sprout Social.
7. JotURL
JotURL is a marketing tool that helps businesses optimize their marketing campaign links for lead generation and increased revenue. It offers over 100 features for monitoring and tracking links to ensure they perform well. With branded links, it provides a consistent and trustworthy experience for your audience. The Social Opt-in CTA feature enhances branded links with a call-to-action message that can be shared on social media.
JotURL is a marketing tool that offers over 100 features to help optimize marketing campaigns. It includes branded links, social opt-in CTA, 24/7 monitoring, and click-fraud monitoring. The analytics can be viewed in a straightforward dashboard and sorted through keywords, channels, and sources. JotURL also includes InstaURL to create mobile-optimized social media landing pages.
8. T2M
T2M is a link shortener with a dashboard full of statistics and link activity for analysis. It allows the creation of custom branded links that never expire and bulk link creation for saving time. Also, sharing links to social media is possible with just one click.
T2M offers several impressive features, such as the ability to:
Target specific geographic locations with your links
Password protect URLs
Create unlimited links and access tracking statistics
Prohibit any advertisements or spam
Manage links easily with a user-friendly dashboard that includes a search function
Get a free Let's Encrypt SSL certificate
Set up 404 redirects
Ensure GDPR privacy compliance
Import and export data with a CSV tool.
The basic plan of this service has a $5 startup fee, but it's free to use forever with a monthly limit on creating and tracking links. For more advanced features, premium plans start at $9.99 per month.
9. Tiny.cc

Tiny.cc is a simple yet efficient URL shortener that allows you to create personalized links for branding purposes. It offers link tracking stats that don't require an account, including metrics based on returning clicks, location of origin, browsers used, unique visitors, and more. In addition, you can easily manage your URLs by editing or deleting them and using the filter, tag, and search functions.
Additionally, Tiny.cc allows you to bookmark the tool, create links for SMS messages, email campaigns, social media, and ads, and use links in QR codes with statistics tracking. The free plan offers 500 short URLs, edit links, and tags, while the premium plans start at $5/month and include features like a custom domain, multiple users, more links and clicks, and geolocation reporting.
10. Polr
Polr is a unique open-source URL shortener that requires some technical knowledge of PHP, Lumen, and MySQL. It provides a modern interface and tools for analyzing link activity and custom domain name branding to establish your business. Unlike many other URL shorteners, Polr offers a demo page to test it out before committing. Creating an account makes it easier to manage your short links.
Conclusion
Different URL shorteners serve different needs, so choosing one that suits your requirements is important. For a free and versatile option, GLinkz is an excellent choice, with offerings that provide to both individual and enterprise users. TinyURL is a straightforward option for those seeking a simple, easy-to-use solution. With these top URL shorteners, there's a tool to fit your needs, whatever they may be.