With an enormous prospect, technology is applied to almost all aspects of our lives. From sharing our personal space to the business landscape, we have a digital presence everywhere. There was a time when USB sticks were used for sharing files, but today file sharing sites have opened up an endless possibility when it comes to sharing data, be it personal or professional.
The process is seamless, fast, and convenient as you do not require an additional device while exchanging files between multiple devices. File sharing sites have their terms and conditions; some sites where you need to sign up before you upload your files while others will restrict file-size limit until you go for a subscription plan. Nonetheless, there is something for everyone.
With so many file sharing sites on the go, our team has listed the best free file sharing site on the web, which does not depend on cloud storage.  We have gone beyond Google Drive, Dropbox, iCloud, SkyDrive, and several cloud storage sites to pick the one that goes well with your requirements.
Top 14 Free File Sharing Sites That You Must Bookmark
1. Hightail
With the motto of "Keep your ideas moving," one of the features of Hightail that makes it an advanced level file collaboration service for official use is file sharing. You can also gather feedback and form an online collaboration. This web-based file-sharing site service limits your file size up to 100 MB, but it is convenient and fast to use with the drag and drop feature.
You can track the delivery and download of your shared files. You do not need to do any registration to use the file-sharing services. Your recipient will get a link to download your data, which will be available only for seven days.
The free file sharing version of Hightail is called Lite. The rest of the versions are on a subscription basis.
Visit Hightail here
2. WeTransfer
Are you looking for a perfect solution for how to share files without using cloud storage? WeTransfer beats some of the best file transfer sites due to its simplicity and easy-to-use interface. You may not find it advanced like Hightail, but it does its job well without any kind of hassle.
You don't need to register for an account to use WeTransfer though you will be asked to enter your email address. The process is simple; you have to enter the recipient's email id, your email ID, and upload the file that you want to share, then click on Transfer, and it's done.
You can either copy or email the link to the files that will be active for seven days. WeTransfer is a free to use service until you need advanced features like a password to protect a file, customizing the look of the sharing screen, or set the time limits to your file downloads, etc. WeTransfer Plus cost you $29 for an annual package and $3 for the monthly one.
Visit WeTransfer here
3. Send Anywhere
Send Anywhere has a sleek and clean interface that is lightweight but has multiple file-sharing options, unlike other file sharing sites. Send Anywhere allows you can send files up to 10 GB for free. You can send files directly using a code provided by the site, via email, via a URL link. The file download link will be active for 48 hours.
If you don't want to use the web version, you can also use the apps meant for Mac, Android, and iOS, respectively. Send Anywhere elevates the file-sharing approach as it is easier, quicker, and versatile. With the premium version with $5.99/month, you can extend the link expiration time and much more.
Visit Send Anywhere here
4. JustBeamIt
Making it to our list of best file sharing sites, JustBeamIt is another online way to transfer files with user-friendly interface and drag and drop features. You can click on the parachute and select your data to use the drag and drop function.
However, remember that while the transfer process is going in, do not close the page as it will terminate the transfer. To download the files, the recipient will receive a download link that will be active only for 10 minutes. Once the expiration time limit is exceeded, the receiver will see the message "Sorry, this download link no longer exists". There is no limit for file size or the number of file transfers. There is no password protection feature available on this file-sharing site.
Visit JustBeamIt here
5. UploadFiles
UploadFiles does not require you to register for an account. It comes with unlimited uploads with a 100 GB of file size limit if you are a business user. Free users can transfer files for up to 5GB.
Your files will remain active for 30 days. If you are looking for a less complicated and restricted file sharing sites, we would recommend UploadFiles for the online file transfer service.
Visit UploadFiles here
6. FileSharing24
As the name suggests, FileSharing24 deletes your shared files from the database after 24 hours. All the downloads are password-protected, and you can send files up to 100MB.
Your files can be shared either by email or as a link. FileSharing24 is amongst the best free file sharing sites with a quick and comfortable transfer. To use the service, first, you will have to agree to the terms and conditions made by the website.
Visit FileSharing24 here
7. File Dropper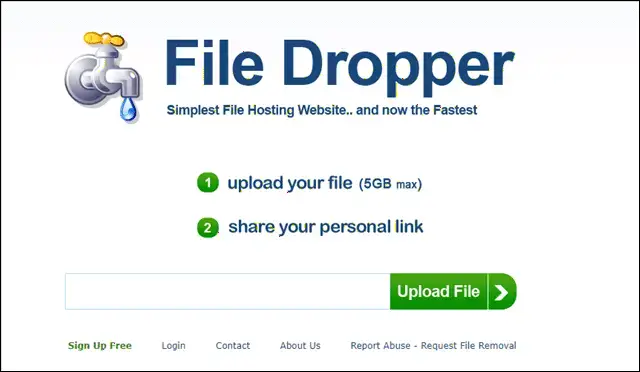 File Dropper is another best way to share large files online. You can upload files up to 5GB. You can create unlimited uploads, but there is no password protection or encryption available.
With nothing special to mention, File Dropper gets the job done with its clean and easy to use interface. Well, it has not been said anywhere on the site as to how long your files will be live on the server.
Visit File Dropper here
8. Plus Transfer
With PlusTransfer you can share files up to 5GB with no password protection or encryption available with the service. One thing to know about this file-sharing site is that you can choose your timeline preference, as in, you can decide the timeline for your files to be on the server between 1 to 14 days.
You don't need to register to transfer files with Plus Transfer. With unlimited uploads, it is one of the top file sharing sites. You just have to enter the recipient's email address (email ID can be more than one if required) and upload your files.
Visit PlusTransfer here
9. MailBigFile
MailBigFile goes beyond the basic needs and has four versions, including the free one. If you want to go free, then it allows you to send files up to 2GB. Your data will be available for ten days.
There is a limit per file download; that is 20. It means one file can be downloaded 20 times. If you want more features like extending the file size limit, file availability days, downloads per file, then the pro and business versions are appropriate.
Visit MailBigFile here
10. SendSpace
Send Space is another best file-sharing site with the usual drag and drop feature where you can send, receive, track, and share big files. If you don't want to use the web version, Send Space also has its Android app to try.
Password protection is available but only in the paid version. You can upload files up to 300 MB if you are a free user. The process is quite simple. Browse your data, enter your and the recipient's email ID and click on Upload.
Visit SendSpace here
11. Firefox Send
Yes, the popular browser Firefox also has its online file sharing service. After signing up with Firefox Send, you can send files up to 2.5 GB. However, if you don't want to register, the file size drops down to 1GB.
It allows you to send files with end to end encryption, and the link automatically expires (you can set this between 5 minutes to 7 days). It makes sure that your files do not stay online for long. When compared with other free file sharing sites, Firefox Send has many good things to offer, unlike the basic ones like File Dropper and FileSharing24.
Visit Firefox Send here
12. SendThisFile
SendThisFile has some decent features to offer for free. It needs you to register your account to share files and there is no size limit for the secured transfer. One of the top file sharing sites, it has been around since 2003 and comes with a powerful and feature-rich interface. Although it's free for the ones using the basic features, people who are looking for more can explore its paid version also.
You just have to enter the recipient's email id, attach your files and click on Send. The email will be sent to your customers with the download link, and your client has to click on that link to download the file.
Visit SendThisFile here
13. Zippyshare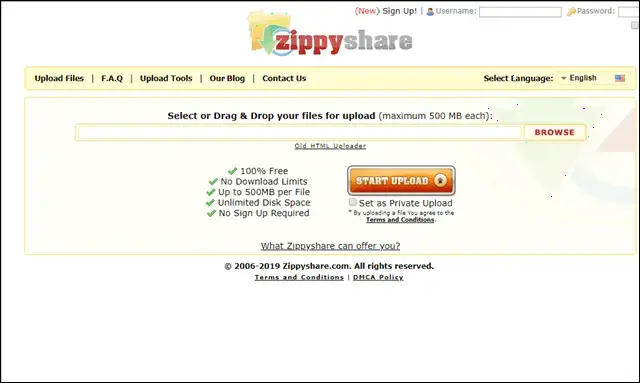 ZippyShare is a 100% free file sharing site with a most straightforward user interface. The file size that you can send using ZippyShare is 500 MB. It comes with no download limits and also does not ask you to register for an account. With drag and drop, you can upload your files easily.
You don't need to enter any email ID; neither yours nor the recipient. Browse your file, click on Start Upload. Once the file gets uploaded, it will provide you the download link; you have to copy the link and share it with your customers via email or any medium.
Visit Zippyshare here
14. Sharezy
To share files online, Sharezy is a good option. Either drag and drop the file or browse it from your file explorer. Once you have selected the file, click on Upload. You will get a link that you can copy and share it with your client. It also has a direct WhatsApp share option.
You can even opt to protect your file by setting up a password for a particular download.
Visit Sharezy here
Conclusion
The file sharing sites mentioned above serve the purpose of sharing large files online without having you to download additional software. Each website has its pros and cons. Some provide end to end encryption, while others perform the primary job. Websites like SendThisFile has a mandatory registration process where Sharezy and ZippyShare do not even ask you to enter a single email ID. You need to select the one that works in tandem with your current requirement.