Instagram is a renowned and user-friendly application that offers a plethora of features, including selfie stickers, stories, reels, custom stickers, special fonts, and an array of editing tools.
Moreover, Instagram comes equipped with built-in functionality that stores recent logins associated with your account.
Consequently, every time you sign out from any device, be it a smartphone, tablet, or computer, Instagram automatically deletes all login records associated with that particular session.
While Instagram primarily operates as a mobile application, it is also accessible through web browsers.
Users can conveniently access and manage their login activity history on the platform directly from a web browser, providing additional control and security to their Instagram experience.
In this tutorial, we are going to show how you can check and clear your login activity on Instagram with only a few short steps. Let's get started!
How to Check Your Instagram Login Activity
Here are the steps on how to check your Instagram login activity:
Log in to your Instagram app on your phone or computer.
Tap on your Profile Picture in the bottom right corner.
Click on the Three Horizontal Lines in the top right corner.
On the next screen, click the Account Centre button.
Once you're in, tap the Password and Security button.
Under Security check you will see where you're logged in tab, click on it and you will be able to see the devices from which you are logged in.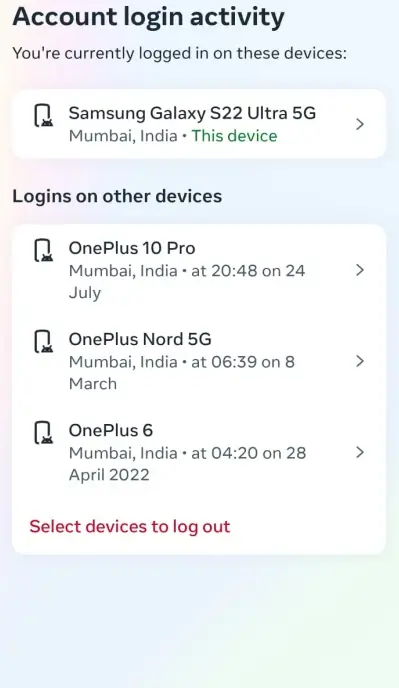 This will show you a list of all the devices that have been used to log into your Instagram account. You can see the date and time of each login as well as the device's location.
How to Clear Instagram Login Activity
If you see any logins that you don't recognize, you can tap on the Select Devices to log out icon. Select the device that you want to remove, and click on the Logout tab.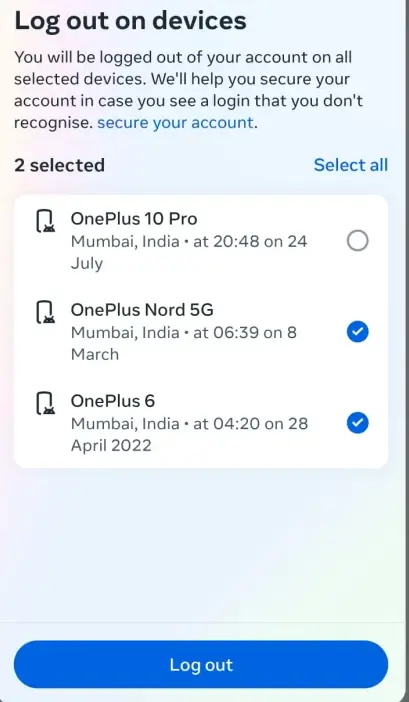 Tips to Secure Your Instagram Account
Here are some additional tips to ensure the security of your Instagram account:
Employ a robust password and update it regularly.
Enable two-factor authentication for added protection.
Exercise caution with the links you click on in direct messages.
Beware of fraud emails that may appear to be from Instagram.
If you harbor any suspicion that your account might have been compromised, it is crucial to take immediate action by reporting it promptly to Instagram.
Conclusion
Instagram has improved its security features, allowing users to conveniently review their login activity and identify all current sessions. By doing so, you can ascertain the locations on maps and access the names of the devices currently logged into your account.
This increased transparency empowers you to maintain better control over your Instagram account's security.