To launch applications or find files on your computer, you usually use the Start menu (in Windows) or the Launchpad (in macOS). However, for even faster access and to add additional functions, you can also use third-party software called a " launcher (or pitcher in French). In this sense, we present to you today Uelia free app launcher equipped with many interesting features. To learn more about this software and how it works, we invite you to continue reading this article.
Ueli, a multifunctional application launcher
Ueli is a completely free and open source application launcher available on Windows and macOS.
The program comes in the form of a search bar accessible via a simple keyboard shortcut (by default: ALT + Space). From the latter, you can launch applications or search for files much faster than if you had to go through several menus or folders.
But that's not all ! Ueli also integrates several plugins that allow it to increase its functions. You will be able to search the Web, do mathematical calculations, convert currencies or even write an e-mail.
Ueli is incredibly easy to use. Simply type in what you are looking for and Ueli will provide you with a list of matching results. All you have to do is click on one of them.
Here is the non-exhaustive list of what you can do with Ueli:
Find and run apps
Quickly find files or folders
Access your web browser's bookmarks
Do simple calculations
Convert colors to different formats (HEX, RGB, RGBA, HSL, etc.)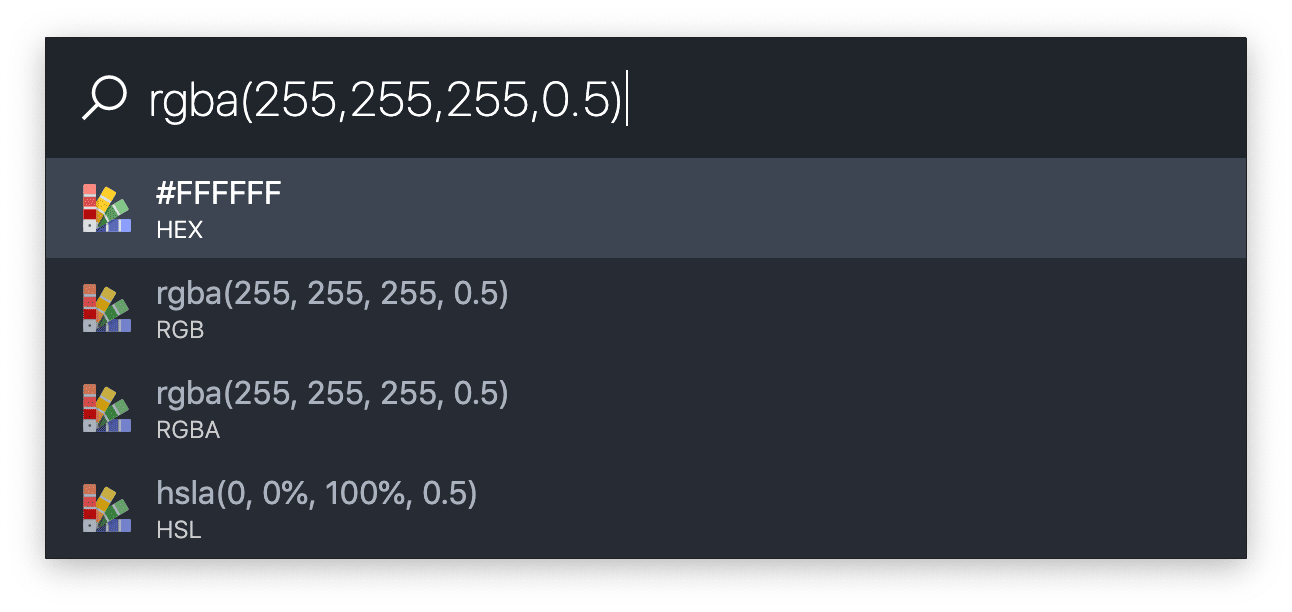 Access various Control Panel settings
Convert currencies
Look up the definition and synonyms of words
Compose an e-mail by entering an e-mail address
Browse your local file system
Execute simple commands to control the operating system (eg shut down or restart the computer).
Quickly access operating system settings
Translate words or short phrases
Open pre-installed UWP apps
Quickly open websites by typing a URL
Search the Internet with the web browser and search engine of your choice
For more information on the functionalities of Ueli, we invite you to read the available documentation at this address.
Finally, note that not all features are enabled by default. You must activate the plugin corresponding to the functionality you are interested in from the program settings. Note that active plugins are marked with a green dot, while inactive plugins are indicated by a red dot.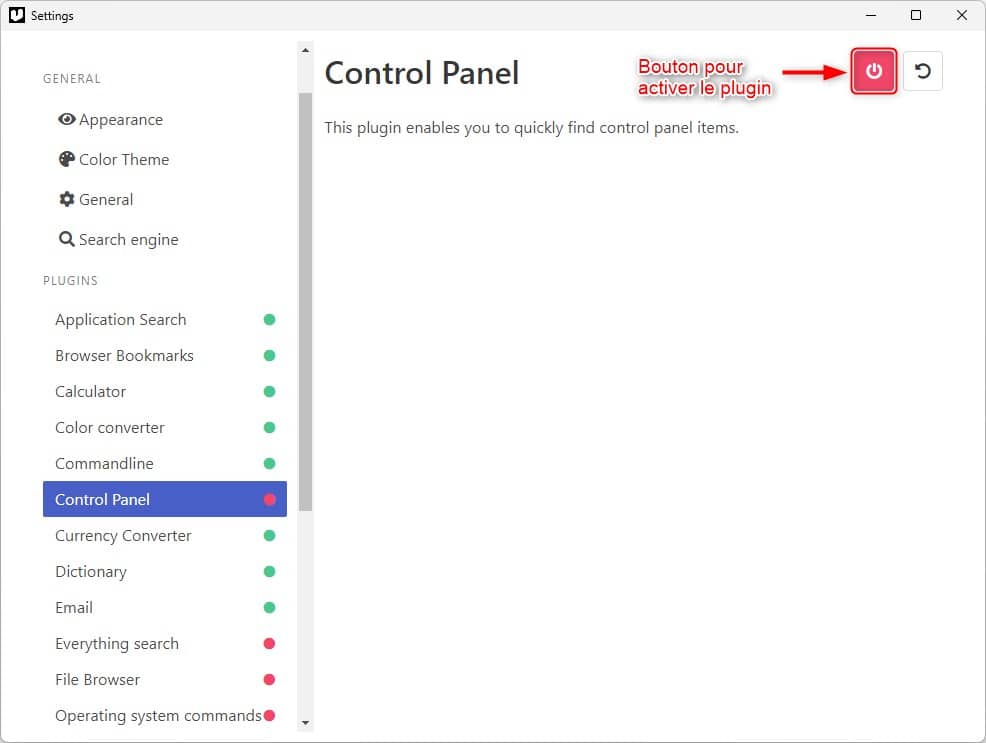 Many customization options
Ueli also offers many customization options which you will also find in the settings. In particular, you can customize the appearance of the search bar: size, font, transparency, color, etc.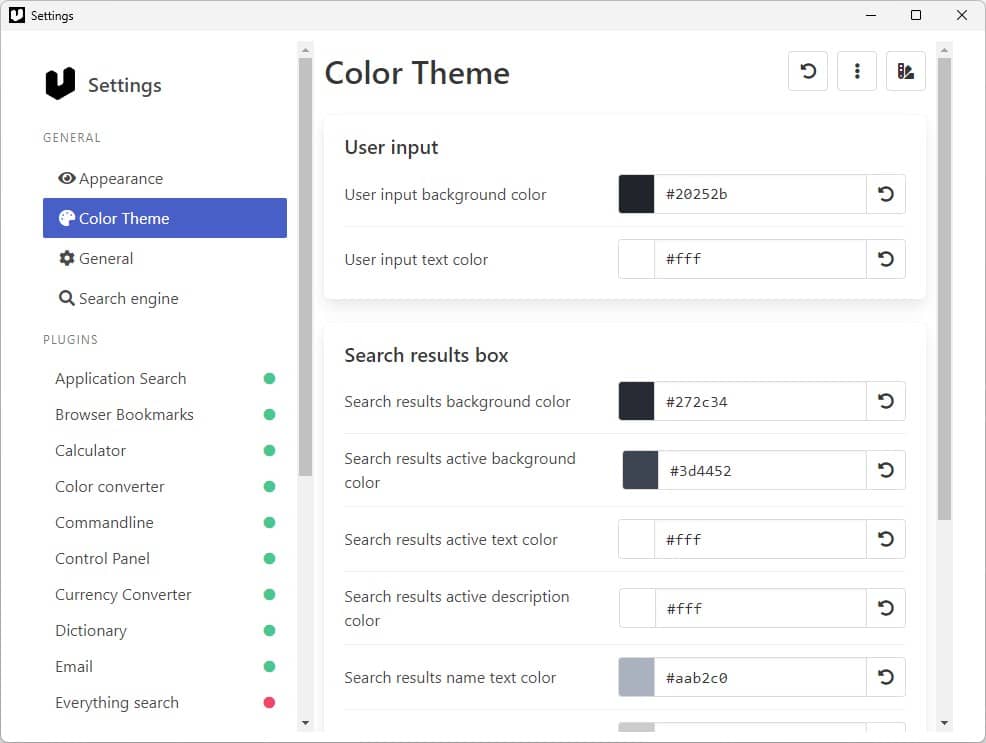 In addition, you can also change the default keyboard shortcut to launch Ueli, choose to start the program when the operating system starts or even configure the scan interval which indexes the search results.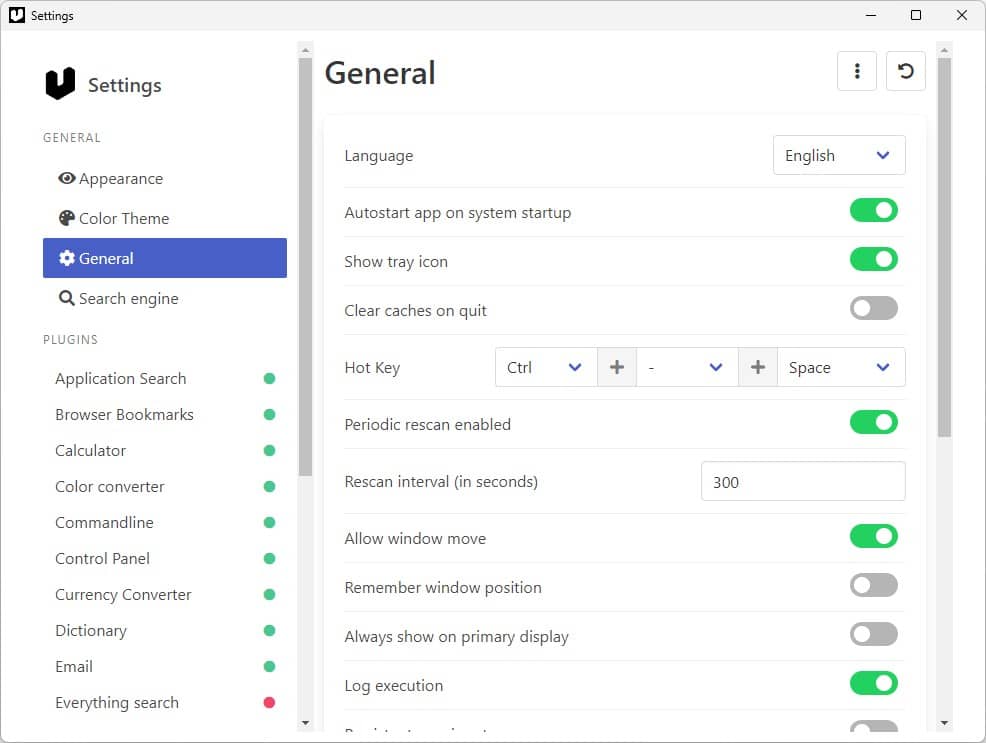 As you will have understood, Ueli is a really complete launcher that can really improve your productivity.
What you must remember
Ueli is an app launcher for Windows and macOS that makes it easy to find and launch the apps you need, when you need them. You can also use Ueli to launch websites, search the web, or perform calculations. No more digging through menus or opening multiple windows! Whether you are an experienced user or just starting to use your computer, Ueli is the ideal tool to increase your productivity. Try it now!