Among many surprises that Arc Browser packs, Little Arc has got to be the one that's the most out of the box. This feature packs a lot of power despite what its name suggests.
What exactly is Little Arc? It is a miniature browser window that opens when you click a link in another app, like iMessage, Slack, Mail, etc. (given that Arc is your default browser). It allows you a way to quickly view any links without seeing all your other open tabs, which can sometimes be distracting.
You can also summon it anytime, in any app, using a designated keyboard shortcut, allowing you to perform quick searches without having to switch between different applications or browser tabs. Since it can be accessed from anywhere in your system, it proves to be a handy tool for verifying information or reviewing links while staying within the context of your current task.
Little Arc is not the same thing as a Peek window; it is a whole browser window in and of itself. It has extensions and profiles, and you can direct the link to any Space if you want to. The only thing is that you cannot open any more tabs in it. Additionally, it only has a back button and no forward button.
Opening and Configuring Little Arc
Whether you want to open a link from another app or summon it using keyboard shortcuts, using Little Arc is very easy.
By default, Little Arc is configured to appear whenever you open a link in any other app. So, all you need to do is click a link in any other app, and it will open automatically in a Little Arc window. Note that Arc Browser should be your default browser for this; otherwise, the link will open in your default browser.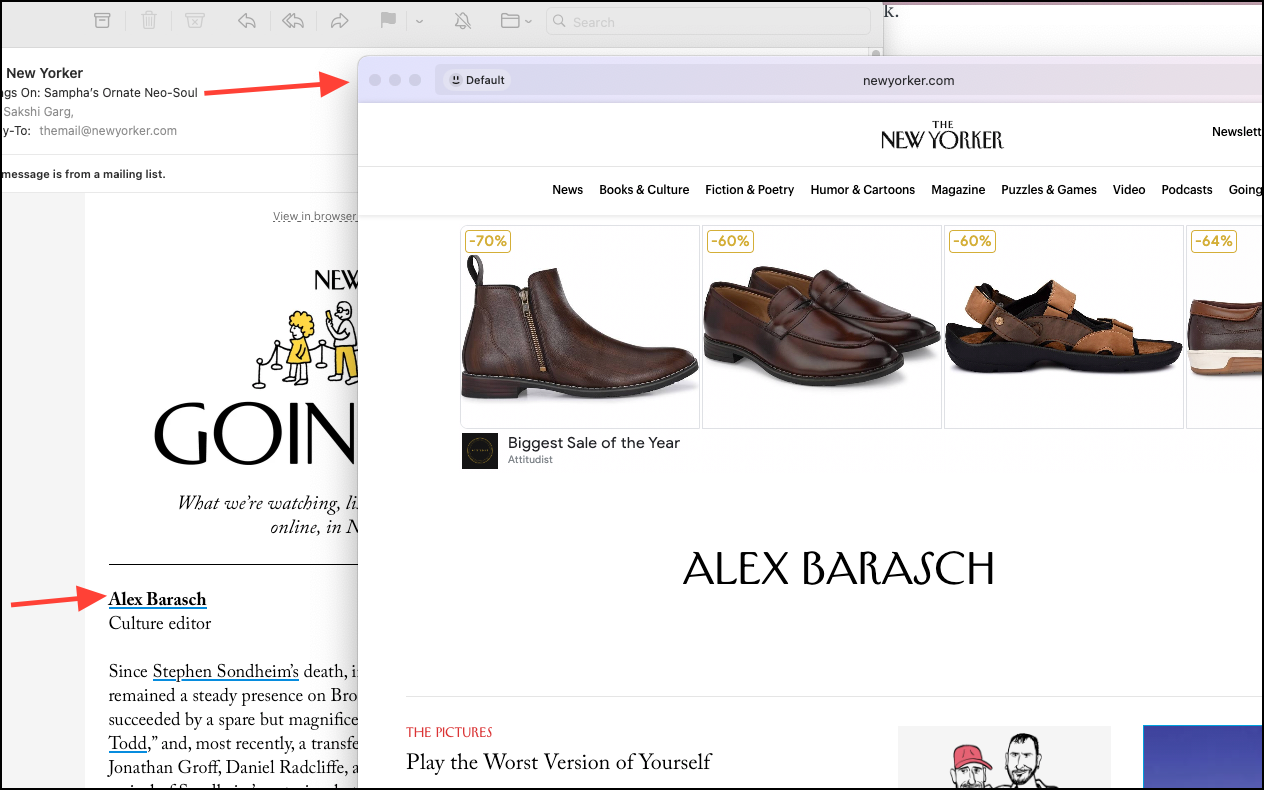 You can also use the Cmd + Option + N keyboard shortcut to open a command bar search that would open in Little Arc in any app (including Arc) across your system.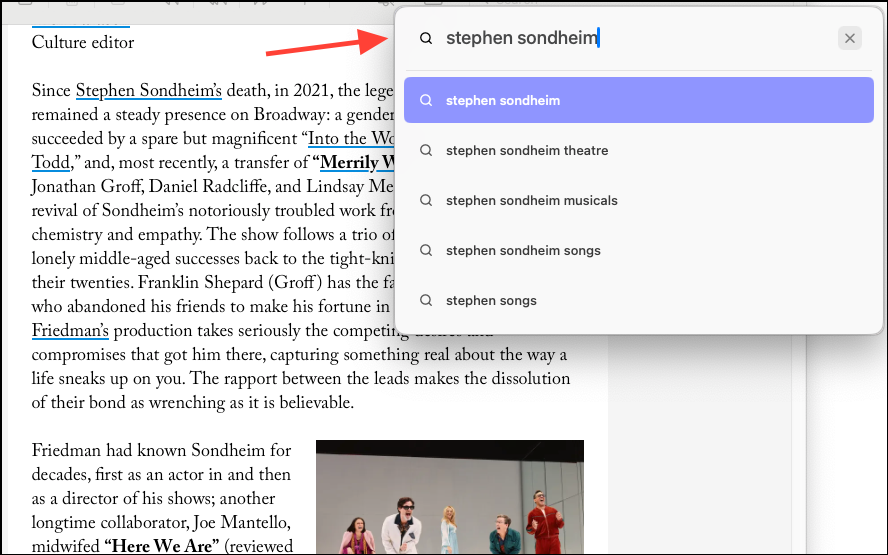 Searching using the Command Bar will open the search results in a Little Arc window.
You can also open any links in Little Arc if you click on them while holding down the Cmd + Option keys on your keyboard. This works within and outside of Arc.
You can easily configure the behavior of Little Arc from Arc Settings.
Go to the menu bar at the top-left. Then, navigate to Arc > Settings.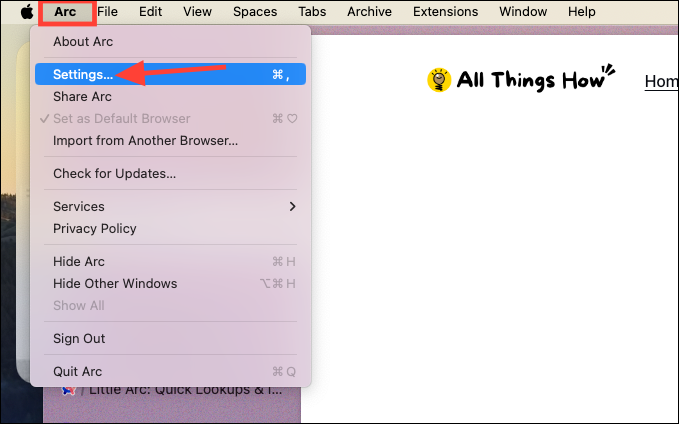 In the Settings window, switch to the 'Links' tab.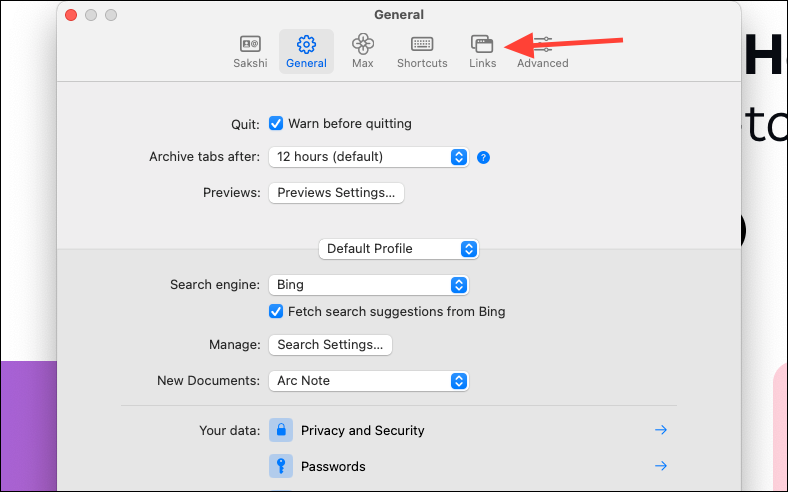 Here, you can choose whether you want links from other apps to open in Little Arc and if the keyboard shortcuts for Little Arc should work.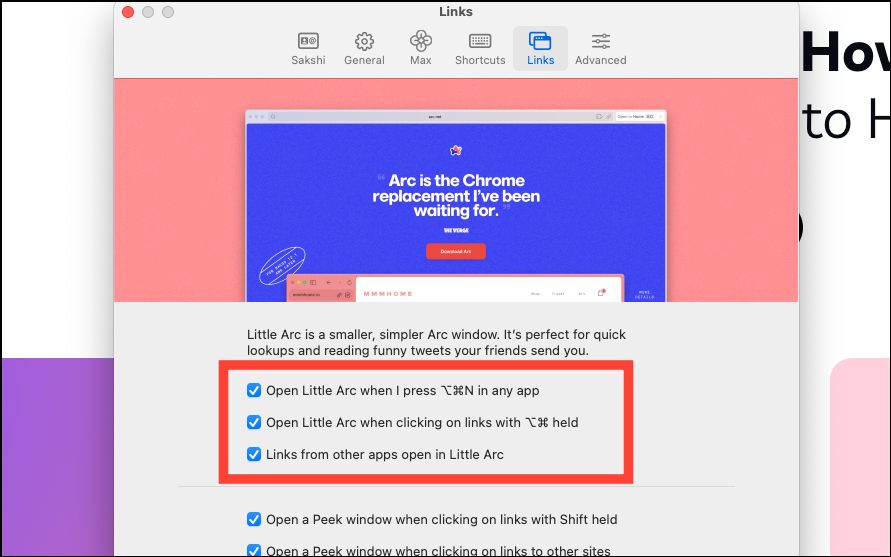 You can also change the keyboard shortcut for opening a Little Arc window. Switch to the 'Shortcuts' tab in the settings window. Then, search for 'Little Arc' and go to the 'Open Little Arc' option. Click the shortcut next to it so that it is highlighted in blue.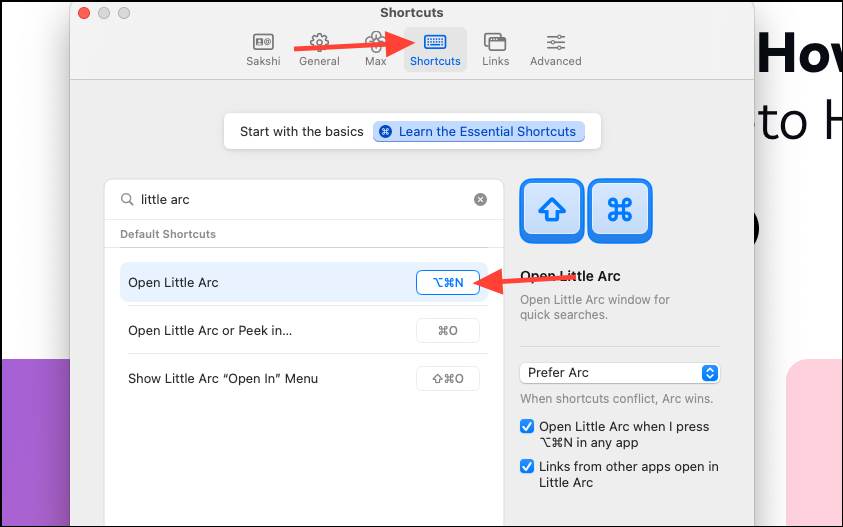 Press the keys on your keyboard that you want to assign to this shortcut.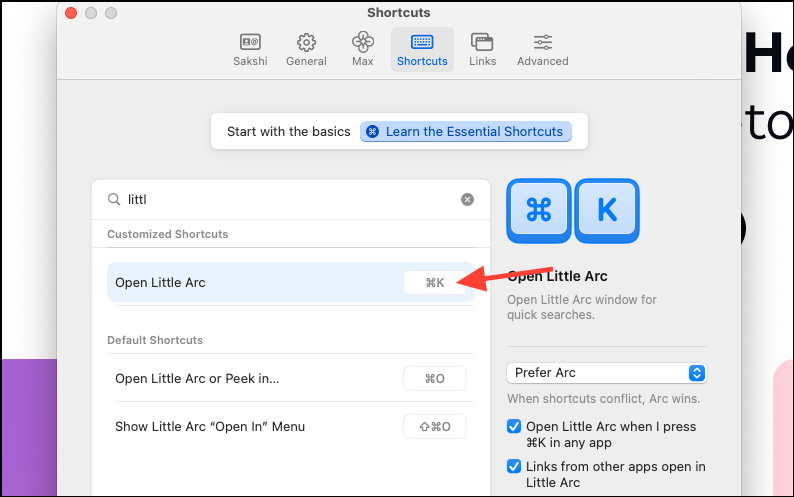 Moving Little Arc Links to the Sidebar
Any links that you open in the Little Arc can be easily moved to the sidebar of your main browser window with a click.
To open it in the default Space, hit the 'Open in [Space]' button at the top-right corner of the Little Arc window. Otherwise, hit the caret icon (v) next to it.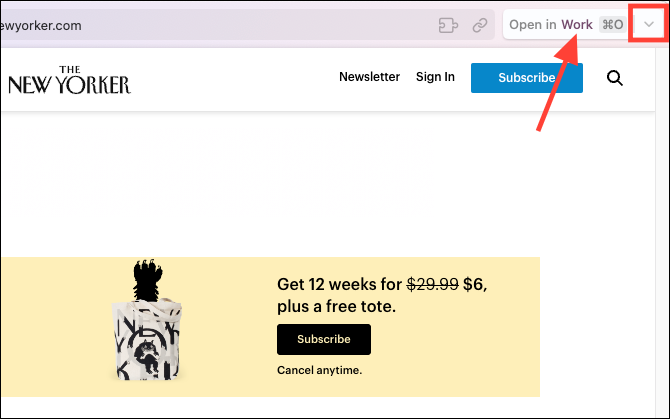 Then, select the 'Space' where you want to move the link to.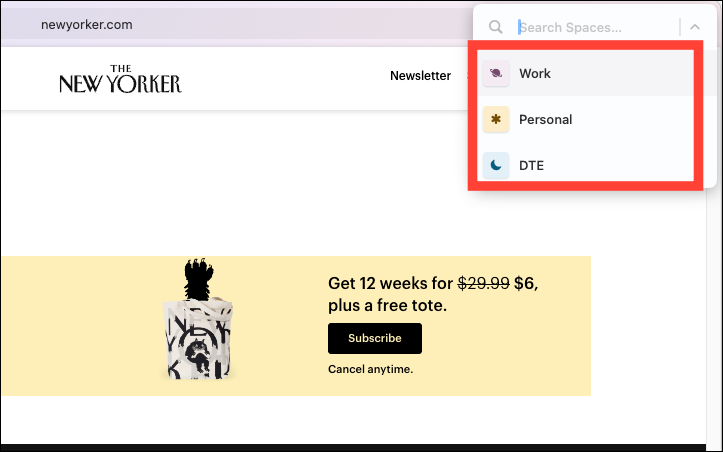 If the Space is using a different profile than your default Space, in which Little Arc links open, you'll get a confirmation message asking if you want to go ahead (as you might lose some information if you're logged in with separate accounts in the two profiles, for instance).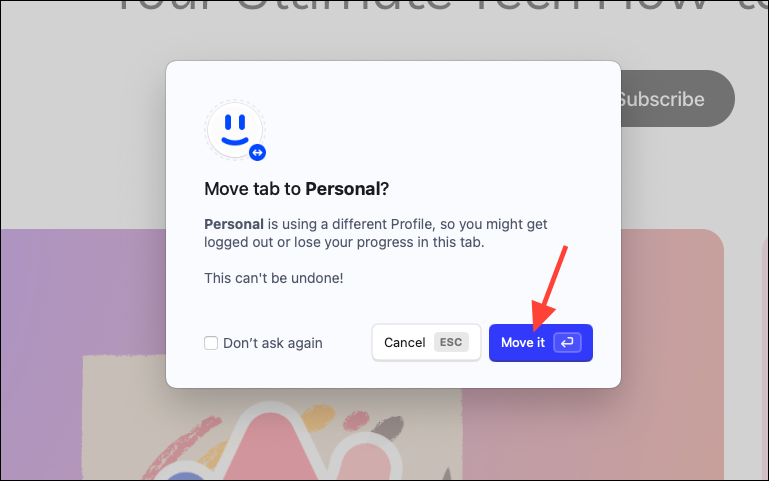 Keyboard aficionados can use the keyboard shortcut Cmd + O to move the link to the current space and the shortcut Cmd + Option + O to open it in any other space.
---
Little Arc embodies the innovative approach of the Arc Browser in facilitating a more fluid and integrated browsing experience. You can swiftly handle web-related tasks and interactions without losing track of the task at hand with Little Arc.